/

News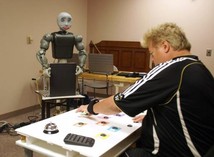 03.07.2012
Socially assistive robots provide a break for patients
After a stroke in April left Steve Dimon paralyzed and on life support, he felt trapped inside his own body, unable to move a finger or wiggle his toes on his left side.
"A stroke is the cruelest joke to mankind," says Dimon, who can now walk unassisted. "It's like reading aStephen King novel. … It's like, will I ever move again? Will I ever talk again?"
Weeks of rigorous rehabilitation at Rancho Los Amigos National Rehabilitation Center in California also were exhausting, until a different kind of therapist paid a visit to the Los Angeles native: a robot named Bandit.
At first glance, Bandit lacks many of the qualities of a good coach or companion. But with its shiny gray metal face, cameras for eyes and a simple wire mouth, it has been using its well-honed social skills to help improve the quality of life of stroke victims.
Designed by researchers at the University of Southern California's Viterbi School of Engineering, Bandit motivates and corrects patients as they carry out strenuous exercises. It's one of several efforts nationwide to tap the abilities of robots to provide assistance and social interaction in health care.
Other researchers are developing the use of socially assistive robots in working with patients who have Alzheimer's disease and children with autism spectrum disorders. Rancho Los Amigos and USC launched a study in mid-June that aims to compare improvements in stroke patients working with robots with those working only with humans.
Patients seem to readily accept their robot companions and trainers — even older adults who might be leery of other new technology take to the "cute" Bandit as if it were a child. And patients often practice strenuous and repetitive exercises for longer periods with the robot, and sometimes even engage in banter.
"It was definitely fun," says Dimon, 63, who spent three hours "playing" with the robot. "It was like a diversion from the tediousness of rehab."
Others seem to agree. Instead of putting off rehab, some patients ask to return to spend more time with Bandit, researcher Eric Wade says.
That extra therapy can make all the difference, says Mindy Aisen, chief medical officer at Rancho Los Amigos. "The social robot (is like) the cheerleader that never gets fatigued — and it's fun to mimic."
Wade says patients should exercise weakened limbs for at least six months, but many get far less rehabilitation because of the costs. Robots can serve as an additional resource in fields already stretched thin to meet growing demand for services, researchers say.
Though social robots are at least a decade away from market, one study in the works already is looking into how robots can adapt to a home environment. As now designed, robots may malfunction if they have to navigate around new furniture or adapt to new sounds.
The KUKA youBot, a flat, boxy robot that can roll and grab objects, may help cross that hurdle. The Robot Autonomy and Interactive Learning lab at the Worcester (Mass.) Polytechnic Institute put one in a model apartment. Internet users will be able to log on later this summer to teach it tasks such as knocking items off a table, so the team can collect data on how people teach robots, says lab director Sonia Chernova.
The field of socially assistive robotics has grown slowly over 20 years, but it got a boost in April when the National Science Foundation granted $10 million to a Yale-led team of 17 principal investigators at four universities, including USC, to develop a robot that would adapt while working with a preschool-age child for months or even a year.
As the field grows, researchers expect robots to be embraced as a tool for therapy, rehab and even to learn skills such as speaking a second language.
"It may seem counterintuitive to say, 'Do we want robots in people's lives?' says Maja Mataric of USC. "But I think that's going back to people's natures. We're very social creatures."
Tweet
Founded by Russian entrepreneur Dmitry Itskov in February 2011 with the participation of leading Russian specialists in the field of neural interfaces, robotics, artificial organs and systems.
The main goals of the 2045 Initiative: the creation and realization of a new strategy for the development of humanity which meets global civilization challenges; the creation of optimale conditions promoting the spiritual enlightenment of humanity; and the realization of a new futuristic reality based on 5 principles: high spirituality, high culture, high ethics, high science and high technologies.
The main science mega-project of the 2045 Initiative aims to create technologies enabling the transfer of a individual's personality to a more advanced non-biological carrier, and extending life, including to the point of immortality. We devote particular attention to enabling the fullest possible dialogue between the world's major spiritual traditions, science and society.
A large-scale transformation of humanity, comparable to some of the major spiritual and sci-tech revolutions in history, will require a new strategy. We believe this to be necessary to overcome existing crises, which threaten our planetary habitat and the continued existence of humanity as a species. With the 2045 Initiative, we hope to realize a new strategy for humanity's development, and in so doing, create a more productive, fulfilling, and satisfying future.
The "2045" team is working towards creating an international research center where leading scientists will be engaged in research and development in the fields of anthropomorphic robotics, living systems modeling and brain and consciousness modeling with the goal of transferring one's individual consciousness to an artificial carrier and achieving cybernetic immortality.
An annual congress "The Global Future 2045" is organized by the Initiative to give platform for discussing mankind's evolutionary strategy based on technologies of cybernetic immortality as well as the possible impact of such technologies on global society, politics and economies of the future.
Future prospects of "2045" Initiative for society
2015-2020
The emergence and widespread use of affordable android "avatars" controlled by a "brain-computer" interface. Coupled with related technologies "avatars' will give people a number of new features: ability to work in dangerous environments, perform rescue operations, travel in extreme situations etc.
Avatar components will be used in medicine for the rehabilitation of fully or partially disabled patients giving them prosthetic limbs or recover lost senses.
2020-2025
Creation of an autonomous life-support system for the human brain linked to a robot, 'avatar', will save people whose body is completely worn out or irreversibly damaged. Any patient with an intact brain will be able to return to a fully functioning bodily life. Such technologies will greatly enlarge the possibility of hybrid bio-electronic devices, thus creating a new IT revolution and will make all kinds of superimpositions of electronic and biological systems possible.
2030-2035
Creation of a computer model of the brain and human consciousness with the subsequent development of means to transfer individual consciousness onto an artificial carrier. This development will profoundly change the world, it will not only give everyone the possibility of cybernetic immortality but will also create a friendly artificial intelligence, expand human capabilities and provide opportunities for ordinary people to restore or modify their own brain multiple times. The final result at this stage can be a real revolution in the understanding of human nature that will completely change the human and technical prospects for humanity.
2045
This is the time when substance-independent minds will receive new bodies with capacities far exceeding those of ordinary humans. A new era for humanity will arrive! Changes will occur in all spheres of human activity – energy generation, transportation, politics, medicine, psychology, sciences, and so on.
Today it is hard to imagine a future when bodies consisting of nanorobots will become affordable and capable of taking any form. It is also hard to imagine body holograms featuring controlled matter. One thing is clear however: humanity, for the first time in its history, will make a fully managed evolutionary transition and eventually become a new species. Moreover, prerequisites for a large-scale expansion into outer space will be created as well.
Key elements of the project in the future
• International social movement
• social network immortal.me
• charitable foundation "Global Future 2045" (Foundation 2045)
• scientific research centre "Immortality"
• business incubator
• University of "Immortality"
• annual award for contribution to the realization of the project of "Immortality".