/

News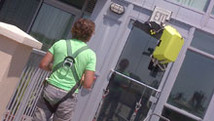 13.07.2012
SAM the robot could inspect Toronto highrises
Entrepreneur Filip Sobotka says the solution to Toronto's falling glass problems could be a robot named SAM.
The device, which was developed by his family, could speed up the way building inspections are done, and give engineers more information to determine the health of a building, he says.
The invention comes at a time when Toronto has been site of a number of incidents involving highrise glass crashing onto the streets below.
"The amount of highrises that are going up in this city and the issues that keep coming up … it keeps going so we think this is very important, before someone gets injured," Sobotka told CBC News.
Right now, most building inspections are done by engineers using a swing stage or bosun's chair, inspecting a few selected spots to determine the overall health of the building. Sobotka says SAM can scan the entire exterior of the building in a lot less time and for a fraction of the cost.
Inspectors "pick and choose where they want to go on the building, what they note down, what to take pictures of," he said.
"Sam is pretty unbiased — it's automated, it captures everything, and then you go and inspect it and you can have multiple people look at it," Sobotka said.
The setup involves an SLR camera attached to a motorized platform that travels up and down two metal cables. Rigging on the roof and the ground keep SAM steady, allowing it to take photos of the exterior of a building.
The robot is controlled via a WiFi connection to an iPad.
The photos taken can show engineers everything from window seals to poor caulking to cracks in cement or brick. He says SAM could detect cracks in balcony glass or other deficiencies that could lead to problems later on.
"We scan everything. When a person's up there they can make errors, they can miss something; they only have one shot unless they go up again to view it," Sobotka said.
$200K startup
SAM was developed by Sobotka, his brother Thomas and father Jozef.
The elder Sobotka, a tradesman, came up with the idea six years ago when he saw building inspections that were incomplete and problems missed. They developed the prototype over the last two years, sinking $200,000 of their own money into the nascent company.
Recently they pitched the idea to the CBC Television program Dragon's Den. They're waiting to hear if they make the cut in the fall.
Sobotka said the industry has been slow to take to the idea because there is no other product to compare it to, but says the need is there.
But whether SAM could detect the problems that have led to falling balcony glass it up for debate.
Doug Perovic at the University of Toronto's engineering department says the problem is often traced to microcopic inclusions or impurities in the glass that went undetected during the manufacturing process. He says it would be hard to detect that with just a camera.
"The robotic camera can help find some problems so it's certainly a help but it's not going to solve this main problem that we've seen responsibile for the … large majority of the glass fractures we've seen in Toronto going back to last summer," Perovic says.
Sobotka said this is just the first prototype of SAM and future upgrades will include more sophisticated diagnostic equipment. For now he stresses that while falling glass may garner the most headlines, there are problems SAM can detect that could save condo boards a lot of money in repairs.
"It's a lot of money, thousands, hundreds of thousands, depending on what the problem is. If you attack the problem early enough, you can save boatloads," he said.
Tweet
Founded by Russian entrepreneur Dmitry Itskov in February 2011 with the participation of leading Russian specialists in the field of neural interfaces, robotics, artificial organs and systems.
The main goals of the 2045 Initiative: the creation and realization of a new strategy for the development of humanity which meets global civilization challenges; the creation of optimale conditions promoting the spiritual enlightenment of humanity; and the realization of a new futuristic reality based on 5 principles: high spirituality, high culture, high ethics, high science and high technologies.
The main science mega-project of the 2045 Initiative aims to create technologies enabling the transfer of a individual's personality to a more advanced non-biological carrier, and extending life, including to the point of immortality. We devote particular attention to enabling the fullest possible dialogue between the world's major spiritual traditions, science and society.
A large-scale transformation of humanity, comparable to some of the major spiritual and sci-tech revolutions in history, will require a new strategy. We believe this to be necessary to overcome existing crises, which threaten our planetary habitat and the continued existence of humanity as a species. With the 2045 Initiative, we hope to realize a new strategy for humanity's development, and in so doing, create a more productive, fulfilling, and satisfying future.
The "2045" team is working towards creating an international research center where leading scientists will be engaged in research and development in the fields of anthropomorphic robotics, living systems modeling and brain and consciousness modeling with the goal of transferring one's individual consciousness to an artificial carrier and achieving cybernetic immortality.
An annual congress "The Global Future 2045" is organized by the Initiative to give platform for discussing mankind's evolutionary strategy based on technologies of cybernetic immortality as well as the possible impact of such technologies on global society, politics and economies of the future.
Future prospects of "2045" Initiative for society
2015-2020
The emergence and widespread use of affordable android "avatars" controlled by a "brain-computer" interface. Coupled with related technologies "avatars' will give people a number of new features: ability to work in dangerous environments, perform rescue operations, travel in extreme situations etc.
Avatar components will be used in medicine for the rehabilitation of fully or partially disabled patients giving them prosthetic limbs or recover lost senses.
2020-2025
Creation of an autonomous life-support system for the human brain linked to a robot, 'avatar', will save people whose body is completely worn out or irreversibly damaged. Any patient with an intact brain will be able to return to a fully functioning bodily life. Such technologies will greatly enlarge the possibility of hybrid bio-electronic devices, thus creating a new IT revolution and will make all kinds of superimpositions of electronic and biological systems possible.
2030-2035
Creation of a computer model of the brain and human consciousness with the subsequent development of means to transfer individual consciousness onto an artificial carrier. This development will profoundly change the world, it will not only give everyone the possibility of cybernetic immortality but will also create a friendly artificial intelligence, expand human capabilities and provide opportunities for ordinary people to restore or modify their own brain multiple times. The final result at this stage can be a real revolution in the understanding of human nature that will completely change the human and technical prospects for humanity.
2045
This is the time when substance-independent minds will receive new bodies with capacities far exceeding those of ordinary humans. A new era for humanity will arrive! Changes will occur in all spheres of human activity – energy generation, transportation, politics, medicine, psychology, sciences, and so on.
Today it is hard to imagine a future when bodies consisting of nanorobots will become affordable and capable of taking any form. It is also hard to imagine body holograms featuring controlled matter. One thing is clear however: humanity, for the first time in its history, will make a fully managed evolutionary transition and eventually become a new species. Moreover, prerequisites for a large-scale expansion into outer space will be created as well.
Key elements of the project in the future
• International social movement
• social network immortal.me
• charitable foundation "Global Future 2045" (Foundation 2045)
• scientific research centre "Immortality"
• business incubator
• University of "Immortality"
• annual award for contribution to the realization of the project of "Immortality".