/

News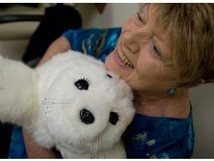 19.07.2012
Cuddly robots soothe patients in UCI study
Kirsten Osgood would love a visit from an adorable therapy dog during her long hours of chemotherapy, but her compromised immune system has made her sensitive to dander.
So she accepted an unlikely alternative cuddling companion, a robot named Paro.
The white fur-covered device is modeled after a squealing harp seal, vastly different from a clunky metal machine circling the floor like Osgood imagined.
"Isn't it cute?" Osgood said, stroking Paro's face. "Open your eyes."
The seal blinked open its lashed eyes and squealed.
Osgood, who is being treated for ovarian cancer at UC Irvine Medical Center in Orange, found herself instantly charmed by the $8,000 device. Five kinds of sensors allow Paro to respond to its name, fall asleep when the lights go out, coo and flap when petted and look in the direction of a human voice.
Researchers elsewhere have found that Paro reduces stress among Alzheimer's patients and improves their motivation and socialization. Now a UCI study is exploring whether the robot can improve quality of life for women with gynecological cancers.
"We know that quality of life is a very important predictor of survival in ovarian cancer," said Dr. Krishnansu Tewari, director of research in gynecological oncology at UCI. "The theory is patients who have a good quality of life have a stronger immune system, and a stronger immune system lets you fight the cancer better."
The year-long study began last month. Some participants are randomly selected to interact with Paro, while others read, watch TV or rest. Both sets of patients are surveyed before and after their treatment on mood, pain and quality of life.
"I found it soothing," Osgood said. "I was surprised I could like a toy that much. It just acted like a pet."
Osgood, an artist who lives in Apple Valley, was diagnosed with ovarian cancer in August 2009, with a tumor larger than a cantaloupe. She has had two surgeries and many rounds of chemo.
"It did make the day go much, much better, much faster because of all the interaction," Osgood said. "The nurses all came in and took pictures, which is different than when they come in with the needles."
Tewari said studies have shown that patients benefit from visits with therapy animals. He said Paro might be able to mimic the nurturing experience for patients who feel anxiety about the chemo and their long-term prognosis.
Paro's Japanese manufacturer donated four robots to UCI for the study. The robot's designers intentionally chose a seal rather than a companion animal.
"They purposely picked an animal people don't really interact with regularly," Tewari said. "It makes the reality check a little less. If they had made a golden retriever dog robot, they'd think of it as more of a toy."
Dr. Ramez Eskander, a gynecological oncologist, said patients have chemo anywhere from once a week to every three weeks. Sessions can last a few hours or all day. A pacifier-looking device takes two and a half hours to charge Paro. The robot can operate for 90 minutes.
On a recent morning, like Osgood, Eskander found himself talking to Paro and scratching its chin
"Even though it's not real, you develop a relationship with this animal," Eskander said.
Tweet
Founded by Russian entrepreneur Dmitry Itskov in February 2011 with the participation of leading Russian specialists in the field of neural interfaces, robotics, artificial organs and systems.
The main goals of the 2045 Initiative: the creation and realization of a new strategy for the development of humanity which meets global civilization challenges; the creation of optimale conditions promoting the spiritual enlightenment of humanity; and the realization of a new futuristic reality based on 5 principles: high spirituality, high culture, high ethics, high science and high technologies.
The main science mega-project of the 2045 Initiative aims to create technologies enabling the transfer of a individual's personality to a more advanced non-biological carrier, and extending life, including to the point of immortality. We devote particular attention to enabling the fullest possible dialogue between the world's major spiritual traditions, science and society.
A large-scale transformation of humanity, comparable to some of the major spiritual and sci-tech revolutions in history, will require a new strategy. We believe this to be necessary to overcome existing crises, which threaten our planetary habitat and the continued existence of humanity as a species. With the 2045 Initiative, we hope to realize a new strategy for humanity's development, and in so doing, create a more productive, fulfilling, and satisfying future.
The "2045" team is working towards creating an international research center where leading scientists will be engaged in research and development in the fields of anthropomorphic robotics, living systems modeling and brain and consciousness modeling with the goal of transferring one's individual consciousness to an artificial carrier and achieving cybernetic immortality.
An annual congress "The Global Future 2045" is organized by the Initiative to give platform for discussing mankind's evolutionary strategy based on technologies of cybernetic immortality as well as the possible impact of such technologies on global society, politics and economies of the future.
Future prospects of "2045" Initiative for society
2015-2020
The emergence and widespread use of affordable android "avatars" controlled by a "brain-computer" interface. Coupled with related technologies "avatars' will give people a number of new features: ability to work in dangerous environments, perform rescue operations, travel in extreme situations etc.
Avatar components will be used in medicine for the rehabilitation of fully or partially disabled patients giving them prosthetic limbs or recover lost senses.
2020-2025
Creation of an autonomous life-support system for the human brain linked to a robot, 'avatar', will save people whose body is completely worn out or irreversibly damaged. Any patient with an intact brain will be able to return to a fully functioning bodily life. Such technologies will greatly enlarge the possibility of hybrid bio-electronic devices, thus creating a new IT revolution and will make all kinds of superimpositions of electronic and biological systems possible.
2030-2035
Creation of a computer model of the brain and human consciousness with the subsequent development of means to transfer individual consciousness onto an artificial carrier. This development will profoundly change the world, it will not only give everyone the possibility of cybernetic immortality but will also create a friendly artificial intelligence, expand human capabilities and provide opportunities for ordinary people to restore or modify their own brain multiple times. The final result at this stage can be a real revolution in the understanding of human nature that will completely change the human and technical prospects for humanity.
2045
This is the time when substance-independent minds will receive new bodies with capacities far exceeding those of ordinary humans. A new era for humanity will arrive! Changes will occur in all spheres of human activity – energy generation, transportation, politics, medicine, psychology, sciences, and so on.
Today it is hard to imagine a future when bodies consisting of nanorobots will become affordable and capable of taking any form. It is also hard to imagine body holograms featuring controlled matter. One thing is clear however: humanity, for the first time in its history, will make a fully managed evolutionary transition and eventually become a new species. Moreover, prerequisites for a large-scale expansion into outer space will be created as well.
Key elements of the project in the future
• International social movement
• social network immortal.me
• charitable foundation "Global Future 2045" (Foundation 2045)
• scientific research centre "Immortality"
• business incubator
• University of "Immortality"
• annual award for contribution to the realization of the project of "Immortality".