/

News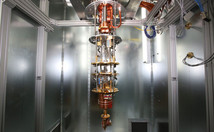 22.03.2013
A Strange Computer Promises Great Speed
VANCOUVER, British Columbia — Our digital age is all about bits, those precise ones and zeros that are the stuff of modern computer code.
But a powerful new type of computer that is about to be commercially deployed by a major American military contractor is taking computing into the strange, subatomic realm of quantum mechanics. In that infinitesimal neighborhood, common sense logic no longer seems to apply. A one can be a one, or it can be a one and a zero and everything in between — all at the same time.
It sounds preposterous, particularly to those familiar with the yes/no world of conventional computing. But academic researchers and scientists at companies like Microsoft, I.B.M. and Hewlett-Packard have been working to develop quantum computers.
Now, Lockheed Martin — which bought an early version of such a computer from the Canadian company D-Wave Systems two years ago — isconfident enough in the technology to upgrade it to commercial scale, becoming the first company to use quantum computing as part of its business.
Skeptics say that D-Wave has yet to prove to outside scientists that it has solved the myriad challenges involved in quantum computation.
But if it performs as Lockheed and D-Wave expect, the design could be used to supercharge even the most powerful systems, solving some science and business problems millions of times faster than can be done today.
Ray Johnson, Lockheed's chief technical officer, said his company would use the quantum computer to create and test complex radar, space and aircraft systems. It could be possible, for example, to tell instantly how the millions of lines of software running a network of satellites would react to a solar burst or a pulse from a nuclear explosion — something that can now take weeks, if ever, to determine.
"This is a revolution not unlike the early days of computing," he said. "It is a transformation in the way computers are thought about." Many others could find applications for D-Wave's computers. Cancer researchers see a potential to move rapidly through vast amounts of genetic data. The technology could also be used to determine the behavior of proteins in the human genome, a bigger and tougher problem than sequencing the genome. Researchers at Google have worked with D-Wave on using quantum computers to recognize cars and landmarks, a critical step in managing self-driving vehicles.
Quantum computing is so much faster than traditional computing because of the unusual properties of particles at the smallest level. Instead of the precision of ones and zeros that have been used to represent data since the earliest days of computers, quantum computing relies on the fact that subatomic particles inhabit a range of states. Different relationships among the particles may coexist, as well. Those probable states can be narrowed to determine an optimal outcome among a near-infinitude of possibilities, which allows certain types of problems to be solved rapidly.
D-Wave, a 12-year-old company based in Vancouver, has received investments from Jeff Bezos, the founder of Amazon.com, which operates one of the world's largest computer systems, as well as from the investment bank Goldman Sachs and from In-Q-Tel, an investment firm with close ties to the Central Intelligence Agency and other government agencies.
"What we're doing is a parallel development to the kind of computing we've had for the past 70 years," said Vern Brownell, D-Wave's chief executive.
Mr. Brownell, who joined D-Wave in 2009, was until 2000 the chief technical officer at Goldman Sachs. "In those days, we had 50,000 servers just doing simulations" to figure out trading strategies, he said. "I'm sure there is a lot more than that now, but we'll be able to do that with one machine, for far less money."
"There's no reason quantum computing shouldn't be possible, but people talked about heavier-than-air flight for a long time before the Wright brothers solved the problem," said Scott Aaronson, a professor of computer science at the Massachusetts Institute of Technology. D-Wave, he said, "has said things in the past that were just ridiculous, things that give you very little confidence."
Kim Stallknecht for The New York Times/ The processor of a quantum computer at D-Wave Systems' lab in Burnaby, British Columbia.
But others say people working in quantum computing are generally optimistic about breakthroughs to come. Quantum researchers "are taking a step out of the theoretical domain and into the applied," said Peter Lee, the head of Microsoft's research arm, which has a team in Santa Barbara, Calif., pursuing its own quantum work. "There is a sense among top researchers that we're all in a race."
If Microsoft's work pans out, he said, the millions of possible combinations of the proteins in a human gene could be worked out "fairly easily."
Quantum computing has been a goal of researchers for more than three decades, but it has proved remarkably difficult to achieve. The idea has been to exploit a property of matter in a quantum state known as superposition, which makes it possible for the basic elements of a quantum computer, known as qubits, to hold a vast array of values simultaneously.
There are a variety of ways scientists create the conditions needed to achieve superposition as well as a second quantum state known as entanglement, which are both necessary for quantum computing. Researchers have suspended ions in magnetic fields, trapped photons or manipulated phosphorus atoms in silicon.
The D-Wave computer that Lockheed has bought uses a different mathematical approach than competing efforts. In the D-Wave system, a quantum computing processor, made from a lattice of tiny superconducting wires, is chilled close to absolute zero. It is then programmed by loading a set of mathematical equations into the lattice.
The processor then moves through a near-infinity of possibilities to determine the lowest energy required to form those relationships. That state, seen as the optimal outcome, is the answer.
The approach, which is known as adiabatic quantum computing, has been shown to have promise in applications like calculating protein folding, and D-Wave's designers said it could potentially be used to evaluate complicated financial strategies or vast logistics problems.
However, the company's scientists have not yet published scientific data showing that the system computes faster than today's conventional binary computers. While similar subatomic properties are used by plants to turn sunlight into photosynthetic energy in a few million-billionths of a second, critics of D-Wave's method say it is not quantum computing at all, but a form of standard thermal behavior.
Tweet
Founded by Russian entrepreneur Dmitry Itskov in February 2011 with the participation of leading Russian specialists in the field of neural interfaces, robotics, artificial organs and systems.
The main goals of the 2045 Initiative: the creation and realization of a new strategy for the development of humanity which meets global civilization challenges; the creation of optimale conditions promoting the spiritual enlightenment of humanity; and the realization of a new futuristic reality based on 5 principles: high spirituality, high culture, high ethics, high science and high technologies.
The main science mega-project of the 2045 Initiative aims to create technologies enabling the transfer of a individual's personality to a more advanced non-biological carrier, and extending life, including to the point of immortality. We devote particular attention to enabling the fullest possible dialogue between the world's major spiritual traditions, science and society.
A large-scale transformation of humanity, comparable to some of the major spiritual and sci-tech revolutions in history, will require a new strategy. We believe this to be necessary to overcome existing crises, which threaten our planetary habitat and the continued existence of humanity as a species. With the 2045 Initiative, we hope to realize a new strategy for humanity's development, and in so doing, create a more productive, fulfilling, and satisfying future.
The "2045" team is working towards creating an international research center where leading scientists will be engaged in research and development in the fields of anthropomorphic robotics, living systems modeling and brain and consciousness modeling with the goal of transferring one's individual consciousness to an artificial carrier and achieving cybernetic immortality.
An annual congress "The Global Future 2045" is organized by the Initiative to give platform for discussing mankind's evolutionary strategy based on technologies of cybernetic immortality as well as the possible impact of such technologies on global society, politics and economies of the future.
Future prospects of "2045" Initiative for society
2015-2020
The emergence and widespread use of affordable android "avatars" controlled by a "brain-computer" interface. Coupled with related technologies "avatars' will give people a number of new features: ability to work in dangerous environments, perform rescue operations, travel in extreme situations etc.
Avatar components will be used in medicine for the rehabilitation of fully or partially disabled patients giving them prosthetic limbs or recover lost senses.
2020-2025
Creation of an autonomous life-support system for the human brain linked to a robot, 'avatar', will save people whose body is completely worn out or irreversibly damaged. Any patient with an intact brain will be able to return to a fully functioning bodily life. Such technologies will greatly enlarge the possibility of hybrid bio-electronic devices, thus creating a new IT revolution and will make all kinds of superimpositions of electronic and biological systems possible.
2030-2035
Creation of a computer model of the brain and human consciousness with the subsequent development of means to transfer individual consciousness onto an artificial carrier. This development will profoundly change the world, it will not only give everyone the possibility of cybernetic immortality but will also create a friendly artificial intelligence, expand human capabilities and provide opportunities for ordinary people to restore or modify their own brain multiple times. The final result at this stage can be a real revolution in the understanding of human nature that will completely change the human and technical prospects for humanity.
2045
This is the time when substance-independent minds will receive new bodies with capacities far exceeding those of ordinary humans. A new era for humanity will arrive! Changes will occur in all spheres of human activity – energy generation, transportation, politics, medicine, psychology, sciences, and so on.
Today it is hard to imagine a future when bodies consisting of nanorobots will become affordable and capable of taking any form. It is also hard to imagine body holograms featuring controlled matter. One thing is clear however: humanity, for the first time in its history, will make a fully managed evolutionary transition and eventually become a new species. Moreover, prerequisites for a large-scale expansion into outer space will be created as well.
Key elements of the project in the future
• International social movement
• social network immortal.me
• charitable foundation "Global Future 2045" (Foundation 2045)
• scientific research centre "Immortality"
• business incubator
• University of "Immortality"
• annual award for contribution to the realization of the project of "Immortality".