/

News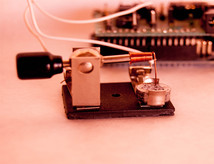 07.06.2013
The Memristor's Fundamental Secrets Revealed
You would expect that a new fundamental passive circuit element, first postulated a mere 42 years ago, and first identified in the wild in 2008, would be as rare as hen's teeth. You'd be wrong. It turns out they're as common as cat's whiskers.
Two researchers from mLabs in India, along with Prof. Leon Chua at the University of California Berkeley, who first postulated the memristor in a paper back in 1971, have discovered the simplest physical implementation for the memristor, which can be built by anyone and everyone.

In two separate papers, one published in arXiv ("Bipolar electrical switching in metal-metal contacts") and the other in the IEEE's own Circuits and Systems Magazine ("The First Radios Were Made Using Memristors!"), Chua and the researchers, Varun Aggarwal and Gaurav Gandhi, discovered that simple imperfect point contacts all around us act as memristors.

"Our arXiv paper talks about the coherer, which comprises an imperfect metal-metal contact in embodiments such as a point contact between two metallic balls, granular media or a metal-mercury interface," Gandhi explained to me via e-email. "On the other hand, the CAS paper comprises an imperfect metal-semiconductor contact (Cat's Whisker) which was also the first solid-state diode. Both the systems have as their signature an imperfect point contact between two conducting/partially-conducting elements. Both act like memristor."

Gandhi says that this ubiquitous presence of memristors in simple physical systems around us strongly points towards the fundamental nature of the memristor.

While the two papers are connected via their similarity in construction, there is also a historic connection, according to Gandhi.

"Whereas coherers were used for radio-signal demodulation till the early 1900s (including Marconi's famous Transatlantic radio experiement and Tesla's Colarado Spring Experiment), Cat's Whiskers (the first diode) followed it as a more efficient alternative," Gandhi explained to me. "Thus both the devices were historically developed and used for receiving radio signals. Interestingly, both are memristive, but got forgotten due to the invention of the vacuum tube. Thus, 100 years back, in our quest of finding a diode, we missed the memristor."

Until now, there has not been what is known as a "canonical implementation" of a memristor. For the three other passive components—resistor, capacitor, and inductor—there have been canonical implementations. For a resistor it is a simple wire; for a capacitor it is parallel plates; and for an inductor it is a coiled wire. There was no counterpart for the memristor.

"We have found that imperfect point contacts comprise the memristor," says Gandhi. "Cat's whisker and coherers are both imperfect point contacts. Thus imperfect point contacts comprise the canonical implementation of memristors. This completes the set of canonical implementations for the four passive components."

By last account, it seems HP is moving along on pace to commercialize the memristor by 2014 with memristors finding their way into electronic devices found on store shelves.

As memristors speed towards commercialization, the researchers believe that their work will contribute significantly to further developing memristor technology.

"Stan William's 2008 Nature paper had helped unite two different fields: resistive RAMs and the memristor," says Gandhi. "Now, our work unites these two fields with a third one: granular media. Understanding of granular media [anything that is made up of distinct grains such as ball bearings] over a period of various decades by physicists will aid memristor research and vice versa. Learnings from both together shall help advance science faster."

Perhaps the clearest impact that this work will have on future memristor research is that it opens up the field to just about everyone to experiment with.

"Till now people have been talking of building better computer architectures, better circuits and even emulating the brain using memristors," says Gandhi. "Now, they can actually implement these, test their hypotheses and yield a break-through. Our research brings memristors within the reach of everyone: scientists at the most sophisticated lab, students in institutions and the garages of the hobbyists. We are keen to see how everyone uses this new device to do new electronics."
Image: mLabs
Tweet
Founded by Russian entrepreneur Dmitry Itskov in February 2011 with the participation of leading Russian specialists in the field of neural interfaces, robotics, artificial organs and systems.
The main goals of the 2045 Initiative: the creation and realization of a new strategy for the development of humanity which meets global civilization challenges; the creation of optimale conditions promoting the spiritual enlightenment of humanity; and the realization of a new futuristic reality based on 5 principles: high spirituality, high culture, high ethics, high science and high technologies.
The main science mega-project of the 2045 Initiative aims to create technologies enabling the transfer of a individual's personality to a more advanced non-biological carrier, and extending life, including to the point of immortality. We devote particular attention to enabling the fullest possible dialogue between the world's major spiritual traditions, science and society.
A large-scale transformation of humanity, comparable to some of the major spiritual and sci-tech revolutions in history, will require a new strategy. We believe this to be necessary to overcome existing crises, which threaten our planetary habitat and the continued existence of humanity as a species. With the 2045 Initiative, we hope to realize a new strategy for humanity's development, and in so doing, create a more productive, fulfilling, and satisfying future.
The "2045" team is working towards creating an international research center where leading scientists will be engaged in research and development in the fields of anthropomorphic robotics, living systems modeling and brain and consciousness modeling with the goal of transferring one's individual consciousness to an artificial carrier and achieving cybernetic immortality.
An annual congress "The Global Future 2045" is organized by the Initiative to give platform for discussing mankind's evolutionary strategy based on technologies of cybernetic immortality as well as the possible impact of such technologies on global society, politics and economies of the future.
Future prospects of "2045" Initiative for society
2015-2020
The emergence and widespread use of affordable android "avatars" controlled by a "brain-computer" interface. Coupled with related technologies "avatars' will give people a number of new features: ability to work in dangerous environments, perform rescue operations, travel in extreme situations etc.
Avatar components will be used in medicine for the rehabilitation of fully or partially disabled patients giving them prosthetic limbs or recover lost senses.
2020-2025
Creation of an autonomous life-support system for the human brain linked to a robot, 'avatar', will save people whose body is completely worn out or irreversibly damaged. Any patient with an intact brain will be able to return to a fully functioning bodily life. Such technologies will greatly enlarge the possibility of hybrid bio-electronic devices, thus creating a new IT revolution and will make all kinds of superimpositions of electronic and biological systems possible.
2030-2035
Creation of a computer model of the brain and human consciousness with the subsequent development of means to transfer individual consciousness onto an artificial carrier. This development will profoundly change the world, it will not only give everyone the possibility of cybernetic immortality but will also create a friendly artificial intelligence, expand human capabilities and provide opportunities for ordinary people to restore or modify their own brain multiple times. The final result at this stage can be a real revolution in the understanding of human nature that will completely change the human and technical prospects for humanity.
2045
This is the time when substance-independent minds will receive new bodies with capacities far exceeding those of ordinary humans. A new era for humanity will arrive! Changes will occur in all spheres of human activity – energy generation, transportation, politics, medicine, psychology, sciences, and so on.
Today it is hard to imagine a future when bodies consisting of nanorobots will become affordable and capable of taking any form. It is also hard to imagine body holograms featuring controlled matter. One thing is clear however: humanity, for the first time in its history, will make a fully managed evolutionary transition and eventually become a new species. Moreover, prerequisites for a large-scale expansion into outer space will be created as well.
Key elements of the project in the future
• International social movement
• social network immortal.me
• charitable foundation "Global Future 2045" (Foundation 2045)
• scientific research centre "Immortality"
• business incubator
• University of "Immortality"
• annual award for contribution to the realization of the project of "Immortality".