/

News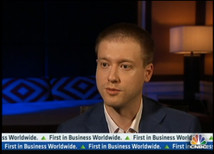 14.06.2013
CNBC / Immortality by 2035?
How's this for a weekend conference: Some of the smartest people in the world are gathering in New York to try to figure out how to build lifelike copies of humans ... to be eventually uploaded with the contents of a real human brain.
It's the brainchild of a Russian multimillionaire, Dmitry Itskov. ... And he says he's perfectly serious, and that it could be accomplished by 2035.
Crazy? The New York Times gave Itskov a front-page profile on its Sunday Business page a week and a half ago.
Imagine this ... a digital copy of your brain in a different life form that could live for hundreds of years and be replaced.
(Read More: Russian Tycoon Aims to Make Immortality a Reality Using Robots)
There are several stages to his proposal, including an early stage (Avatar A) where lifelike avatars (androids) are created, but without an actual brain in them. Instead you would be able to mentally "occupy" the avatar and would have the same sensations.
If you have ever seen the movie "Surrogates" with Bruce Willis, a 2009 film, this is the first stage. In that movie, Willis remotely moves around an android that is an optimized version of himself. He is in a darkened room and has a live telepresence of that avatar, including all senses.
Dmitry says that we could have the first phase—that will enable people to operate a nonbiological body—in the next seven years. And he believes that the concept can be proved to be viable in the next three years. He is talking about an artificial body with sensations—the sensation that you would be walking in the body.
The next phase (Avatar B) is brain transplantation. Instead of your dying, neurosurgeons isolate the brain and some of the spinal chord, put it in a life support system, and that is inserted into the android developed in Avatar A. The timetable: 2020-25.
In the next phase (Avatar C), you make the brain non-biological by uploading it into a computer. The timetable: 2030-35.
Sounds crazy? One of the speakers, Theodore Berger, will show how he has already replaced the hippocampus of a rat with a computer chip. The hippocampus is the part most heavily associated with memory — Berger has shown that rats implanted with these computer chips can have a memory without the original biological part.
The final phase (Avatar D) is replacement of the physical body with a nonphysical, hologram-like body. You are essentially living inside a computer, but you can physically manifest yourself as a hologram. Think Princess Leia in "Star Wars." The goal: 2045.
Work has already started in Avatars A, B and C. These are parallel threads of scientific research, Itskov said.
Heady stuff indeed, but some impressive scientists from Harvard, MIT and Berkeley are attending the Global Future 2045 World Conference in New York City this weekend, a showpiece for Itskov and ideas around the concept of life extension.
Many investors are attending, including, according to the sponsors, Allen & Co.,Citigroup, Barclays, and several VCs and hedge funds. Credit Suisse, which has a heavy investment in a Swiss robotics lab along with the Swiss government, will also be there.
Why the interest from business? The intersection of humans and machines involves many fields with huge investment potential: robotics, defense, computers, anti-aging, genetics, prosthetics.
Uploading a human brain may be a couple of decades away, if ever, but along the way a lot of new, highly profitable technologies may be developed. Itskov will be unveiling a series of products that are immediately investable to the investors present.
IBM, for example, scored a huge PR hit when its Watson computer defeated the reigning "Jeopardy" champion. Watson is essentially a state-of-the-art artificial intelligence; it is now being tested for use as an advisor to doctors for medical diagnoses. The potential market: every doctor in the world.
Itskov acknowledges the importance of developing artificial intelligence, but his main interest is in allowing humans to develop their full potential—and that includes the options to occupy a new life form.
"The avatar is a transition for human beings ... a transition which will allow us to stop aging ... get rid of diseases ... and finally to be almost immortal," he said.
To show how far these technologies have come, Itskov plans to unveil a robotic model of his own head that will move and talk in tandem with his movements, built by Hanson Robotics.
Here is the conference agenda: http://gf2045.com/program/
—By CNBC's Bob Pisani
Tweet
Founded by Russian entrepreneur Dmitry Itskov in February 2011 with the participation of leading Russian specialists in the field of neural interfaces, robotics, artificial organs and systems.
The main goals of the 2045 Initiative: the creation and realization of a new strategy for the development of humanity which meets global civilization challenges; the creation of optimale conditions promoting the spiritual enlightenment of humanity; and the realization of a new futuristic reality based on 5 principles: high spirituality, high culture, high ethics, high science and high technologies.
The main science mega-project of the 2045 Initiative aims to create technologies enabling the transfer of a individual's personality to a more advanced non-biological carrier, and extending life, including to the point of immortality. We devote particular attention to enabling the fullest possible dialogue between the world's major spiritual traditions, science and society.
A large-scale transformation of humanity, comparable to some of the major spiritual and sci-tech revolutions in history, will require a new strategy. We believe this to be necessary to overcome existing crises, which threaten our planetary habitat and the continued existence of humanity as a species. With the 2045 Initiative, we hope to realize a new strategy for humanity's development, and in so doing, create a more productive, fulfilling, and satisfying future.
The "2045" team is working towards creating an international research center where leading scientists will be engaged in research and development in the fields of anthropomorphic robotics, living systems modeling and brain and consciousness modeling with the goal of transferring one's individual consciousness to an artificial carrier and achieving cybernetic immortality.
An annual congress "The Global Future 2045" is organized by the Initiative to give platform for discussing mankind's evolutionary strategy based on technologies of cybernetic immortality as well as the possible impact of such technologies on global society, politics and economies of the future.
Future prospects of "2045" Initiative for society
2015-2020
The emergence and widespread use of affordable android "avatars" controlled by a "brain-computer" interface. Coupled with related technologies "avatars' will give people a number of new features: ability to work in dangerous environments, perform rescue operations, travel in extreme situations etc.
Avatar components will be used in medicine for the rehabilitation of fully or partially disabled patients giving them prosthetic limbs or recover lost senses.
2020-2025
Creation of an autonomous life-support system for the human brain linked to a robot, 'avatar', will save people whose body is completely worn out or irreversibly damaged. Any patient with an intact brain will be able to return to a fully functioning bodily life. Such technologies will greatly enlarge the possibility of hybrid bio-electronic devices, thus creating a new IT revolution and will make all kinds of superimpositions of electronic and biological systems possible.
2030-2035
Creation of a computer model of the brain and human consciousness with the subsequent development of means to transfer individual consciousness onto an artificial carrier. This development will profoundly change the world, it will not only give everyone the possibility of cybernetic immortality but will also create a friendly artificial intelligence, expand human capabilities and provide opportunities for ordinary people to restore or modify their own brain multiple times. The final result at this stage can be a real revolution in the understanding of human nature that will completely change the human and technical prospects for humanity.
2045
This is the time when substance-independent minds will receive new bodies with capacities far exceeding those of ordinary humans. A new era for humanity will arrive! Changes will occur in all spheres of human activity – energy generation, transportation, politics, medicine, psychology, sciences, and so on.
Today it is hard to imagine a future when bodies consisting of nanorobots will become affordable and capable of taking any form. It is also hard to imagine body holograms featuring controlled matter. One thing is clear however: humanity, for the first time in its history, will make a fully managed evolutionary transition and eventually become a new species. Moreover, prerequisites for a large-scale expansion into outer space will be created as well.
Key elements of the project in the future
• International social movement
• social network immortal.me
• charitable foundation "Global Future 2045" (Foundation 2045)
• scientific research centre "Immortality"
• business incubator
• University of "Immortality"
• annual award for contribution to the realization of the project of "Immortality".