/

News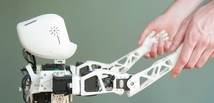 23.10.2013
Poppy, a 3D-printed humanoid robot that defies conventions
A new 3D-printed robot called Poppy is helping a team of French researchers study bipedal walking and human-robot interaction. They were able to design, fabricate, and assemble a relatively large robot for around €8,000 (US$11,000) including servo motors and electronics. That's about a third the cost of commercial robots in the same size category like the RQ-TITAN, and is still cheaper than smaller humanoids like the Aldebaran Robotics NAO. And best of all, they plan to make their design open source.
One of the ways they managed to keep the cost down is by using lightweight materials, which means the robot requires less powerful (and cheaper) servo motors. Standing 84 cm (33 in) tall, Poppy weighs in at just 3.5 kg (7.7 lb). The Sony QRIO, by comparison, was 26 cm (10 in) shorter yet it weighed twice as much. Still, most of the cost lies in the robot's 25 servo motors: it utilizes 21 high-end Robotis Dynamixel MX-28s, two MX-64s, and two AX-12s. It's powered by a Raspberry Pi, and is equipped with 16 force-sensing resistors, two HD cameras, a stereo microphone, and an inertial measurement unit. Poppy's "face" is an LCD screen which can be used to show emotions (or to debug).
Making a more human robot
One of the main reasons the INRIA Flowers (FLOWing Epigenetic Robots and Systems) team opted to build its own robot is because none of the available commercial kits are truly biologically inspired. By rapidly-prototyping their own robot, Poppy could challenge some of the usual robot design conventions.
To begin with, it has an articulated spine with five motors – almost unheard of in robots of this size, but one of the ongoing topics at INRIA Flowers since its first humanoid, ACROBAN, from several years ago. The spine not only allows Poppy to move more naturally, but helps to balance the robot by adjusting its posture. The added flexibility also helps when physically interacting with the robot, such as guiding it by its hands, which is currently required to help the robot walk.
Looking at the knees, you'll see some springs spanning the upper and lower leg joints. The tension in the springs helps to keep the supporting leg straight during each step without motorization. And farther down, its feet are smaller than most robots of Poppy's size, and its toes are thin, allowing them to bend. Rather than planting each foot parallel to the ground, which is how most robots this size walk, the toes help the robot achieve "heel to toe" walking. And as for those children's shoes Poppy wears? They're equipped with five pressure sensors on each sole, which provide useful data.
One of the more obvious deviations in design can be seen in its upper legs, which bend inwards at an angle of six degrees. Despite the fact that this more closely models the human femur, most humanoid robot designs have opted for straight leg linkages. By bending the thighs in, the distance between the two feet is shortened, moving the supporting leg's foot closer to the robot's center of gravity. And that makes it more stable when standing on one leg and when walking.
Here you can see the dramatic difference in lateral movement between the Poppy with bent thighs (left) and straight thighs (right) (Photo: Inria / H. Raguet)
The INRIA team produced two versions of Poppy: one with straight thighs and another with the bent ones. Experiments showed that the robot with bent thighs swayed far less during its walking gait, making it much more stable. However, the robot still can't balance on its own, so for now it needs a human trainer.
In the future, the team hopes to get Poppy walking on its own, and plans to share its designs with other labs to promote more biologically-inspired humanoid robot designs.
You can see Poppy in the following video.
Sources: INRIA Flowers, Poppy Project via 3ders
Tweet
Founded by Russian entrepreneur Dmitry Itskov in February 2011 with the participation of leading Russian specialists in the field of neural interfaces, robotics, artificial organs and systems.
The main goals of the 2045 Initiative: the creation and realization of a new strategy for the development of humanity which meets global civilization challenges; the creation of optimale conditions promoting the spiritual enlightenment of humanity; and the realization of a new futuristic reality based on 5 principles: high spirituality, high culture, high ethics, high science and high technologies.
The main science mega-project of the 2045 Initiative aims to create technologies enabling the transfer of a individual's personality to a more advanced non-biological carrier, and extending life, including to the point of immortality. We devote particular attention to enabling the fullest possible dialogue between the world's major spiritual traditions, science and society.
A large-scale transformation of humanity, comparable to some of the major spiritual and sci-tech revolutions in history, will require a new strategy. We believe this to be necessary to overcome existing crises, which threaten our planetary habitat and the continued existence of humanity as a species. With the 2045 Initiative, we hope to realize a new strategy for humanity's development, and in so doing, create a more productive, fulfilling, and satisfying future.
The "2045" team is working towards creating an international research center where leading scientists will be engaged in research and development in the fields of anthropomorphic robotics, living systems modeling and brain and consciousness modeling with the goal of transferring one's individual consciousness to an artificial carrier and achieving cybernetic immortality.
An annual congress "The Global Future 2045" is organized by the Initiative to give platform for discussing mankind's evolutionary strategy based on technologies of cybernetic immortality as well as the possible impact of such technologies on global society, politics and economies of the future.
Future prospects of "2045" Initiative for society
2015-2020
The emergence and widespread use of affordable android "avatars" controlled by a "brain-computer" interface. Coupled with related technologies "avatars' will give people a number of new features: ability to work in dangerous environments, perform rescue operations, travel in extreme situations etc.
Avatar components will be used in medicine for the rehabilitation of fully or partially disabled patients giving them prosthetic limbs or recover lost senses.
2020-2025
Creation of an autonomous life-support system for the human brain linked to a robot, 'avatar', will save people whose body is completely worn out or irreversibly damaged. Any patient with an intact brain will be able to return to a fully functioning bodily life. Such technologies will greatly enlarge the possibility of hybrid bio-electronic devices, thus creating a new IT revolution and will make all kinds of superimpositions of electronic and biological systems possible.
2030-2035
Creation of a computer model of the brain and human consciousness with the subsequent development of means to transfer individual consciousness onto an artificial carrier. This development will profoundly change the world, it will not only give everyone the possibility of cybernetic immortality but will also create a friendly artificial intelligence, expand human capabilities and provide opportunities for ordinary people to restore or modify their own brain multiple times. The final result at this stage can be a real revolution in the understanding of human nature that will completely change the human and technical prospects for humanity.
2045
This is the time when substance-independent minds will receive new bodies with capacities far exceeding those of ordinary humans. A new era for humanity will arrive! Changes will occur in all spheres of human activity – energy generation, transportation, politics, medicine, psychology, sciences, and so on.
Today it is hard to imagine a future when bodies consisting of nanorobots will become affordable and capable of taking any form. It is also hard to imagine body holograms featuring controlled matter. One thing is clear however: humanity, for the first time in its history, will make a fully managed evolutionary transition and eventually become a new species. Moreover, prerequisites for a large-scale expansion into outer space will be created as well.
Key elements of the project in the future
• International social movement
• social network immortal.me
• charitable foundation "Global Future 2045" (Foundation 2045)
• scientific research centre "Immortality"
• business incubator
• University of "Immortality"
• annual award for contribution to the realization of the project of "Immortality".