/

News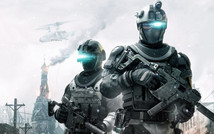 08.04.2014
DARPA's New Biotech Division Wants To Create A Transhuman Future
The Pentagon's advanced research wing has announced its latest budget — and whoa, does DARPA ever have some ambitious plans for the future. Their new Biotech unit will be harnessing biology for national security, and dealing with everything from stopping plagues to building synthetic soldiers.
DARPA's commitment to cutting-edge innovation is unquestioned. The very essence of the defense agency is to make sure that U.S. military technology is more sophisticated than that of the nation's rivals. Among its many current initiatives, DARPA is working on advanced robotics, an artificial human brain, next-gen robotic aircraft, advanced prosthetics, and self-teaching computers (if anyone's going to build a recursively improving AI it's going to be DARPA).
4The U.S. military's robopocalyptic army is starting to take shape
Everyone, say hello to WildCat, a robotic quadruped that can run 16 mph (26 kph) without tethers. It joins an already impressive cast of conceptual… Read…
The military seeks help in developing an artificial human brain
The US military's research wing, DARPA, is seeking help with a new project that would allow computers to imitate the human neocortex, the region …Read…
In addition to these projects, DARPA has been busy at work on various biotechnology-related endeavors, but these attempts to date have lacked cohesion and focus. Looking to change this, DARPA has announced the creation of its Biological Technologies Office (BTO)— an effort to "explore the the increasingly dynamic intersection of biology and the physical sciences." The new division will expand upon its Defense Sciences (DSO) and Microsystems Technology(MTO) Offices.
Speaking to the U.S. House of Representatives last week, DARPA Director Arati Prabhakar said that, "Biology is nature's ultimate innovator, and any agency that hangs its hat on innovation would be foolish not to look to this master of networked complexity for inspiration and solutions."
Indeed, the new division will look into three incredibly promising research areas.
The Transhuman Soldier
A priority for DARPA is in restoring and maintaining the abilities of its warfighters. It wants to maintain peak soldier abilities and then restore those abilities as soon as possible after an injury. This will include the development of advanced prosthetics (featuring mind-controlled limbs), neural interfaces, the ability to survive blood loss, and even neurotechnological solutions to treat psychological trauma such as PTSD.
DARPA has already made tremendous strides in this area. Speaking to NPR's Marketplace, Prabhakar noted:
We had quadriplegic volunteers who agreed to have brain surgery, essentially have a small array placed on the surface of their brains, to pick up these neural signals for motor control, and then to use those to control these new, very sophisticated, robotic, prosthetic arms. In a sense we've opened a door — a connection between the human brain and the rest of the world. You can let your imagination go wild about where that's going to take us.
No doubt — many of these therapeutic technologies will be leveraged to enhance the capacities of soldiers. For example, work on memory impairments is leading to new insights into the brain's functioning. This will inform the development of technologies that will help soldiers interact with complex systems; future interfaces and tools will deliver information to soldiers in a way that's easier for them to understand (which is a growing problem — our systems are starting to operate faster than human comprehension). As Prabhakar says, there's "going to be a future where we start learning radically new ways to interact between the complexity of the human brain and the complexity of the world around us."
And with the introduction of its biochronicity program, DARPA could get a handle on human metabolism and aging, resulting in enhanced human combat performance and freakishly resilient soldiers (both in terms of resisting and recovering from physical injury and resistance to disease).
In addition, DARPA is looking to develop technologies that will identify and protect against infectious diseases, such as tools that will neutralize biological threats.
To Seek Out — And Create — New Life
The Pentagon also wants to dabble in artificial life as a way to create completely new biological systems, products, and materials. It's hoping to gain a better understanding of natural process and the underlying design rules that govern the behavior of biological systems, and then apply that knowledge to forward-engineer new systems and products with completely novel functionality.
This is particularly interesting news considering that biologists have recently built an artificial chromosome from scratch. Once refined, this biotechnology will allow for the creation of entirely new organisms, while adding new capacities (or "features") to existing ones — including humans. Imagine a soldier who never needs to sleep, requires minimal sustenance, or who hascat-like infrared vision. Artificial chromosomes could pave the way towards this kind of future — technologies that could eventually trickle into the civilian domain (much like the Internet and GPS has — both military innovations).
Biologists Have Built An Artificial Chromosome From Scratch
In a breakthrough seven years in the making, an international team of scientists have reconstructed a synthetic and fully functional yeast… Read…
Superpower vision lets cats and dogs see in ultraviolet
A new study suggests dogs and cats can see things that are invisible to humans — from psychedelic stripes on flowers to flashy patterned feathers on… Read…
Interestingly, this meshes well with DARPA's existing BioDesign program which is studying the potential for synthetic organisms to be engineered for immortality and programmed with a kill switch that allows it to be turned off at any time. This recently prompted Motherboard's Meghan Neal to ask, "Why bother with mechanical robots when you can engineer fake human replicants to fight your battles? We haven't heard much about the Pentagon's would-be synthetic soldiers since then, but the BioDesign program got a bump from $11.4 to $19.3 million in next year's budget."
As part of the BTO initiative, DARPA's Living Foundries program will focus on:
...creating a biologically based manufacturing platform to provide rapid, scalable access to new materials with novel properties that can enable a new generation of mechanical, electrical, and optical products.
While its Chronicle of Lineage Indicative of Origins (CLIO) program aims to:
make biological engineering safer by establishing enduring control elements that protect against intentionally harmful genetic engineering, prevent illegal acquisition or misuse of proprietary strains, provide novel forensic tools to assist in the investigation of biological incidents, and allow responsible investigators to document compliance with safe biological manipulation practices.
Preventing Plagues
Smartly, DARPA is also looking into ways of preventing and mitigating the effects of a global pandemic. The complexity and unpredictability of outbreaks, it says, is a reflection of our poor understanding of the dynamics involved. In addition, the research agency wants to study larger biological and ecological phenomena, including population-level effects of relevance to agriculture and food security.
With its launch of BTO, DARPA says it also wants to consider the implications of what it's doing. To that end, DARPA will periodically converse with experts in these issues to discuss relevant ethical, legal, and social issues.
It Could Be A War Crime To Use Biologically Enhanced Soldiers
Earlier this month, a report funded by the Greenwall Foundation examined the legal and ethical implications of using biologically enhanced humans on… Read…
U.S. spy agency predicts a very transhuman future by 2030
The National Intelligence Council has just released its much anticipated forecasting report, a 140-page document that outlines major trends and…Read…
[ DARPA ]
Image: Tom Clancy Ghost Recon
Tweet
Founded by Russian entrepreneur Dmitry Itskov in February 2011 with the participation of leading Russian specialists in the field of neural interfaces, robotics, artificial organs and systems.
The main goals of the 2045 Initiative: the creation and realization of a new strategy for the development of humanity which meets global civilization challenges; the creation of optimale conditions promoting the spiritual enlightenment of humanity; and the realization of a new futuristic reality based on 5 principles: high spirituality, high culture, high ethics, high science and high technologies.
The main science mega-project of the 2045 Initiative aims to create technologies enabling the transfer of a individual's personality to a more advanced non-biological carrier, and extending life, including to the point of immortality. We devote particular attention to enabling the fullest possible dialogue between the world's major spiritual traditions, science and society.
A large-scale transformation of humanity, comparable to some of the major spiritual and sci-tech revolutions in history, will require a new strategy. We believe this to be necessary to overcome existing crises, which threaten our planetary habitat and the continued existence of humanity as a species. With the 2045 Initiative, we hope to realize a new strategy for humanity's development, and in so doing, create a more productive, fulfilling, and satisfying future.
The "2045" team is working towards creating an international research center where leading scientists will be engaged in research and development in the fields of anthropomorphic robotics, living systems modeling and brain and consciousness modeling with the goal of transferring one's individual consciousness to an artificial carrier and achieving cybernetic immortality.
An annual congress "The Global Future 2045" is organized by the Initiative to give platform for discussing mankind's evolutionary strategy based on technologies of cybernetic immortality as well as the possible impact of such technologies on global society, politics and economies of the future.
Future prospects of "2045" Initiative for society
2015-2020
The emergence and widespread use of affordable android "avatars" controlled by a "brain-computer" interface. Coupled with related technologies "avatars' will give people a number of new features: ability to work in dangerous environments, perform rescue operations, travel in extreme situations etc.
Avatar components will be used in medicine for the rehabilitation of fully or partially disabled patients giving them prosthetic limbs or recover lost senses.
2020-2025
Creation of an autonomous life-support system for the human brain linked to a robot, 'avatar', will save people whose body is completely worn out or irreversibly damaged. Any patient with an intact brain will be able to return to a fully functioning bodily life. Such technologies will greatly enlarge the possibility of hybrid bio-electronic devices, thus creating a new IT revolution and will make all kinds of superimpositions of electronic and biological systems possible.
2030-2035
Creation of a computer model of the brain and human consciousness with the subsequent development of means to transfer individual consciousness onto an artificial carrier. This development will profoundly change the world, it will not only give everyone the possibility of cybernetic immortality but will also create a friendly artificial intelligence, expand human capabilities and provide opportunities for ordinary people to restore or modify their own brain multiple times. The final result at this stage can be a real revolution in the understanding of human nature that will completely change the human and technical prospects for humanity.
2045
This is the time when substance-independent minds will receive new bodies with capacities far exceeding those of ordinary humans. A new era for humanity will arrive! Changes will occur in all spheres of human activity – energy generation, transportation, politics, medicine, psychology, sciences, and so on.
Today it is hard to imagine a future when bodies consisting of nanorobots will become affordable and capable of taking any form. It is also hard to imagine body holograms featuring controlled matter. One thing is clear however: humanity, for the first time in its history, will make a fully managed evolutionary transition and eventually become a new species. Moreover, prerequisites for a large-scale expansion into outer space will be created as well.
Key elements of the project in the future
• International social movement
• social network immortal.me
• charitable foundation "Global Future 2045" (Foundation 2045)
• scientific research centre "Immortality"
• business incubator
• University of "Immortality"
• annual award for contribution to the realization of the project of "Immortality".