/

News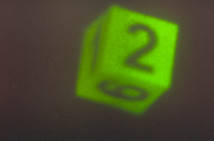 17.06.2014
Forget touchscreens, 3D holographic displays are coming
As it stands, the touchscreen experience is confined to a flat, two-dimensional world. Smartphones provide that essential pocketable portability, and if you're willing to trade off on convenience, there are larger screen tablets. But for inventor Hussein S. El-Ghoroury, the next phase in the ongoing evolution of displays won't involve any such compromises.
That's because the founder and chief executive of Carlsbad, Calif.-based Ostendo Technologies is readying a potentially game-changing technology that may make its way into upcoming generations of connected gadgets. In such a scenario, visuals can be rendered three-dimensionally, as holograms. This means that tedious tasks, such as shopping for a couch on your smartwatch, would be made easier with the option of beaming up life-sized replications. Video conferencing will take on a futuristic "Star Wars" aesthetic, while streaming movies will look like something more akin to actual staged theater.
For the record, 3D-smartphone displays aren't exactly new. In 2011, LG released the Optimus 3D, which simply creates the illusion of depth and requires the user to look straight-on to see this effect. Projected holograms, in contrast, are much more complicated and usually require an elaborate setup of lasers and mirror to display a source object in its three-dimensional entirety, which can be observed from any viewing angle.
An industry veteran and the former chief executive of mobile chipmaker CommQuest, El-Ghoroury has spent the last eight years homing in on a way to shrink the entire process down to a circuit the size of a piece of chewing gum. He made his first breakthrough using a technique that allowed silicon to effectively bond with light-emitting diodes, which he compares to mixing oil with water.
"For many years, it was about stacking silicon wafers to improve performance," he explained. "No one had really thought to do it to emit light for mobile devices, partially because solid-state materials (LED) don't coalesce with it very well."
The approach has several advantages. Each chipset is capable of producing a beam of light across a million pixels. Whereas Apple's often-touted retina display has a resolution of 300 dots per inch, Ostendo's Quantum Photonic Imager allows for 5,000 dots per inch. And every element, including color, brightness and angle can be controlled using software. This opens the possibility of chips small enough to be incorporated seamlessly into eyeglasses and other wearables, or to turn a car's windshield into a heads-up display. "The highest resolution images, of course, are holograms," El-Ghoroury adds. "And because we can pack so many pixels, it's enough to create these kinds of images."
Ostendo recently demonstrated the technology to The Wall Street Journal. During the test, a prototype comprised of six chipsets laid together was combined to generate a 3-D hologram of green dice spinning suspended in the air. The paper described the object and its movement as "consistent, irrespective of the position of the viewer."
Getting the resolution of a holographic image to where it looks comparable to objects rendered on two-dimensional screens, however, would require a beam that generates three times as many pixels. To get there, El-Ghoroury's team has been testing a method for making the pixels smaller, and with further refinement, expects to have a fully capable version of the chipset for the consumer market by 2016.
In the meantime, they've also tackled some of the concerns consumers often have with any new feature, mainly the likelihood of increased power consumption and costs. "It's a fairly low-power chip and, yes, it will add to the cost of the device," he says. "But the benefits are that apps will be able to do more and users can do more. And since the whole ecosystem has more to gain more, there should be enough support all around to make it happen."
At the very least, the company has financial the backing of deep-pocketed industry heavyweights such PayPal co-founder Peter Thiel, who's contributed to the $90 million in total venture capital funding. They also received $38 million from government agencies. Investor Moran Bar-Kochva of New York-based venture firm Unison Capital envisions the Quantum Photonic Imager chipsets eventually having the sort of impact that more recent mainstream advancements like LCDs did at the turn of the century.
"It's breakthroughs like this that later led to the thin modern laptops and flatscreen TVs we are used to today." he says. "So it's not hard to imagine a day when it's incorporated into something like a pair of Prada glasses and used to generate things like a 3D map to show you where you need to go as you can walk down Fifth Avenue."
Tweet
Founded by Russian entrepreneur Dmitry Itskov in February 2011 with the participation of leading Russian specialists in the field of neural interfaces, robotics, artificial organs and systems.
The main goals of the 2045 Initiative: the creation and realization of a new strategy for the development of humanity which meets global civilization challenges; the creation of optimale conditions promoting the spiritual enlightenment of humanity; and the realization of a new futuristic reality based on 5 principles: high spirituality, high culture, high ethics, high science and high technologies.
The main science mega-project of the 2045 Initiative aims to create technologies enabling the transfer of a individual's personality to a more advanced non-biological carrier, and extending life, including to the point of immortality. We devote particular attention to enabling the fullest possible dialogue between the world's major spiritual traditions, science and society.
A large-scale transformation of humanity, comparable to some of the major spiritual and sci-tech revolutions in history, will require a new strategy. We believe this to be necessary to overcome existing crises, which threaten our planetary habitat and the continued existence of humanity as a species. With the 2045 Initiative, we hope to realize a new strategy for humanity's development, and in so doing, create a more productive, fulfilling, and satisfying future.
The "2045" team is working towards creating an international research center where leading scientists will be engaged in research and development in the fields of anthropomorphic robotics, living systems modeling and brain and consciousness modeling with the goal of transferring one's individual consciousness to an artificial carrier and achieving cybernetic immortality.
An annual congress "The Global Future 2045" is organized by the Initiative to give platform for discussing mankind's evolutionary strategy based on technologies of cybernetic immortality as well as the possible impact of such technologies on global society, politics and economies of the future.
Future prospects of "2045" Initiative for society
2015-2020
The emergence and widespread use of affordable android "avatars" controlled by a "brain-computer" interface. Coupled with related technologies "avatars' will give people a number of new features: ability to work in dangerous environments, perform rescue operations, travel in extreme situations etc.
Avatar components will be used in medicine for the rehabilitation of fully or partially disabled patients giving them prosthetic limbs or recover lost senses.
2020-2025
Creation of an autonomous life-support system for the human brain linked to a robot, 'avatar', will save people whose body is completely worn out or irreversibly damaged. Any patient with an intact brain will be able to return to a fully functioning bodily life. Such technologies will greatly enlarge the possibility of hybrid bio-electronic devices, thus creating a new IT revolution and will make all kinds of superimpositions of electronic and biological systems possible.
2030-2035
Creation of a computer model of the brain and human consciousness with the subsequent development of means to transfer individual consciousness onto an artificial carrier. This development will profoundly change the world, it will not only give everyone the possibility of cybernetic immortality but will also create a friendly artificial intelligence, expand human capabilities and provide opportunities for ordinary people to restore or modify their own brain multiple times. The final result at this stage can be a real revolution in the understanding of human nature that will completely change the human and technical prospects for humanity.
2045
This is the time when substance-independent minds will receive new bodies with capacities far exceeding those of ordinary humans. A new era for humanity will arrive! Changes will occur in all spheres of human activity – energy generation, transportation, politics, medicine, psychology, sciences, and so on.
Today it is hard to imagine a future when bodies consisting of nanorobots will become affordable and capable of taking any form. It is also hard to imagine body holograms featuring controlled matter. One thing is clear however: humanity, for the first time in its history, will make a fully managed evolutionary transition and eventually become a new species. Moreover, prerequisites for a large-scale expansion into outer space will be created as well.
Key elements of the project in the future
• International social movement
• social network immortal.me
• charitable foundation "Global Future 2045" (Foundation 2045)
• scientific research centre "Immortality"
• business incubator
• University of "Immortality"
• annual award for contribution to the realization of the project of "Immortality".