/

News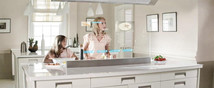 05.09.2014
Samsung: Smart homes arriving 'at speed we can barely imagine'
n Samsung's smart-home vision, screens will provide recipes, notifications, and reminders as well as entertainment. Screenshot by Stephen Shankland/CNET
Today, you might think of Samsung as the company that made your phone, your TV, or your washing machine. Tomorrow, if it gets its way, it'll be the company that gave some electronic brains to your entire home.
In a speech at the IFA electronics show in Berlin, Samsung Electronics Chief Executive Boo-Keun Yoon predicted the coming era of the smart home. It'll figure out when you wake up and start the coffee; it'll prompt you to take your medicine; it'll turn out the lights when you nod off; it'll suggest recipes that use up ingredients before they go bad; it'll give your daughter across the country a virtual place at the dinner table.
"For many, it's still just a vision. But change is coming, and coming fast," he said. "Remember how quickly, in just a few years, smartphones and tablets have changed our lives. "I'm certain the home of the future will be woven into the fabric of our lives just as fast."
Samsung Electronics CEO Boo-Keun Yoon speaks at IFA 2014. Screenshot by Stephen Shankland/CNET
That could be a stretch. It's easy to buy a discreet device that slips into your pocket or purse. It's much harder and more expensive to remodel your kitchen with a giant transparent screen to show recipes; to make a wall into a giant electronic display that provides scenery for your in-house treadmill jogging; to connect all the doors and windows into a security system; to buy a refrigerator that keeps track of what's inside. And it's even harder to get all these disparate devices to work as one unified system.
Yoon thinks all these new devices will blend seamlessly into our lives "so you don't notice the technology at work." No doubt he hopes Samsung shareholders will notice as the company taps into a major new revenue source.
Analyst firms project that in 2018, people will spend $100 billion on smart-home technology and there will be 45 million smart-home systems in use. It's a major part of the concept known as the Internet of Things, which links not just computers and phones to the Net, but also countless doors, cars, traffic signals, security cameras, and sensors.
Samsung's ideal smart home, here embodied by a virtual robot image, will prompt people to exercise. Screenshot by Stephen Shankland/CNET
Yoon is in a better position than most to overcome the difficulties. He leads one of the world's biggest electronics companies -- and Samsung makes appliances too, not just consumer electronics. Last month, Samsung acquired SmartThings, a startup whose technology lets people control their smart-home devices.
Although Samsung has much to gain from the spread of electronics into every corner of people's homes, it will use open technology that means other companies' products will fit in, Yoon said.
Samsung's vision of a smart home includes having dinner with a distant friend or relative who makes a video appearance. Screenshot by Stephen Shankland/CNET
SmartThings uses open technology that lets dozens of companies' products connect. And Samsung is involved in at least two groups working on Internet-of-Things standards, the Open Interconnect Consortium and the Thread Group, which also counts Google's Nest and Yale Security as members.
Yoon said people will demand three things of their smart homes: "show me, know me, and tell me." He elaborated on the idea:
First, it makes complex data useful so you can make better choices. It will show you when to take your medicine, alert you to air pollution, or give you choices for saving energy.
Second, it learns your needs and recognizes your lifestyle. The home knows when your day starts. It'll turn on the lights and a coffee pot just in time.
Third, it proactively adjusts to your needs and provides suggestions without being asked. Imagine a home that tells you there are leftover ingredients to use up.
The technology is on the brink of quick adoption, Yoon added. "It will come at a speed we can barely imagine," he said.
It's a compelling vision, and Samsung isn't the only one who sees it. The challenge now is to develop the technology so it becomes unobtrusive and easy to use -- and to convince consumers that it's worth paying for.
A smart home's exercise room will provide scenery while jogging on a treadmill and statistics about the run afterward in Samsung's view. Screenshot by Stephen Shankland/CNET
Tweet
Founded by Russian entrepreneur Dmitry Itskov in February 2011 with the participation of leading Russian specialists in the field of neural interfaces, robotics, artificial organs and systems.
The main goals of the 2045 Initiative: the creation and realization of a new strategy for the development of humanity which meets global civilization challenges; the creation of optimale conditions promoting the spiritual enlightenment of humanity; and the realization of a new futuristic reality based on 5 principles: high spirituality, high culture, high ethics, high science and high technologies.
The main science mega-project of the 2045 Initiative aims to create technologies enabling the transfer of a individual's personality to a more advanced non-biological carrier, and extending life, including to the point of immortality. We devote particular attention to enabling the fullest possible dialogue between the world's major spiritual traditions, science and society.
A large-scale transformation of humanity, comparable to some of the major spiritual and sci-tech revolutions in history, will require a new strategy. We believe this to be necessary to overcome existing crises, which threaten our planetary habitat and the continued existence of humanity as a species. With the 2045 Initiative, we hope to realize a new strategy for humanity's development, and in so doing, create a more productive, fulfilling, and satisfying future.
The "2045" team is working towards creating an international research center where leading scientists will be engaged in research and development in the fields of anthropomorphic robotics, living systems modeling and brain and consciousness modeling with the goal of transferring one's individual consciousness to an artificial carrier and achieving cybernetic immortality.
An annual congress "The Global Future 2045" is organized by the Initiative to give platform for discussing mankind's evolutionary strategy based on technologies of cybernetic immortality as well as the possible impact of such technologies on global society, politics and economies of the future.
Future prospects of "2045" Initiative for society
2015-2020
The emergence and widespread use of affordable android "avatars" controlled by a "brain-computer" interface. Coupled with related technologies "avatars' will give people a number of new features: ability to work in dangerous environments, perform rescue operations, travel in extreme situations etc.
Avatar components will be used in medicine for the rehabilitation of fully or partially disabled patients giving them prosthetic limbs or recover lost senses.
2020-2025
Creation of an autonomous life-support system for the human brain linked to a robot, 'avatar', will save people whose body is completely worn out or irreversibly damaged. Any patient with an intact brain will be able to return to a fully functioning bodily life. Such technologies will greatly enlarge the possibility of hybrid bio-electronic devices, thus creating a new IT revolution and will make all kinds of superimpositions of electronic and biological systems possible.
2030-2035
Creation of a computer model of the brain and human consciousness with the subsequent development of means to transfer individual consciousness onto an artificial carrier. This development will profoundly change the world, it will not only give everyone the possibility of cybernetic immortality but will also create a friendly artificial intelligence, expand human capabilities and provide opportunities for ordinary people to restore or modify their own brain multiple times. The final result at this stage can be a real revolution in the understanding of human nature that will completely change the human and technical prospects for humanity.
2045
This is the time when substance-independent minds will receive new bodies with capacities far exceeding those of ordinary humans. A new era for humanity will arrive! Changes will occur in all spheres of human activity – energy generation, transportation, politics, medicine, psychology, sciences, and so on.
Today it is hard to imagine a future when bodies consisting of nanorobots will become affordable and capable of taking any form. It is also hard to imagine body holograms featuring controlled matter. One thing is clear however: humanity, for the first time in its history, will make a fully managed evolutionary transition and eventually become a new species. Moreover, prerequisites for a large-scale expansion into outer space will be created as well.
Key elements of the project in the future
• International social movement
• social network immortal.me
• charitable foundation "Global Future 2045" (Foundation 2045)
• scientific research centre "Immortality"
• business incubator
• University of "Immortality"
• annual award for contribution to the realization of the project of "Immortality".