/

News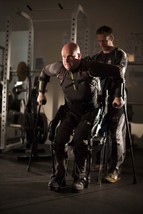 02.09.2015
Completely paralyzed man voluntarily moves his legs, scientists report
A 39-year-old man who had had been completely paralyzed for four years was able to voluntarily control his leg muscles and take thousands of steps in a "robotic exoskeleton" device during five days of training -- and for two weeks afterward -- a team of UCLA scientists reports this week.
This is the first time that a person with chronic, complete paralysis has regained enough voluntary control to actively work with a robotic device designed to enhance mobility.
In addition to the robotic device, the man was aided by a novel noninvasive spinal stimulation technique that does not require surgery. His leg movements also resulted in other health benefits, including improved cardiovascular function and muscle tone.
The new approach combines a battery-powered wearable bionic suit that enables people to move their legs in a step-like fashion, with a noninvasive procedure that the same researchers had previously used to enable five men who had been completely paralyzed to move their legs in a rhythmic motion. That earlier achievement is believed to be the first time people who are completely paralyzed have been able to relearn voluntary leg movements without surgery. (The researchers do not describe the achievement as "walking" because no one who is completely paralyzed has independently walked in the absence of the robotic device and electrical stimulation of the spinal cord.)
In the latest study, the researchers treated Mark Pollock, who lost his sight in 1998 and later became the first blind man to race to the South Pole. In 2010, Pollock fell from a second-story window and suffered a spinal cord injury that left him paralyzed from the waist down.
At UCLA, Pollock made substantial progress after receiving a few weeks of physical training without spinal stimulation and then just five days of spinal stimulation training in a one-week span, for about an hour a day.
"In the last few weeks of the trial, my heart rate hit 138 beats per minute," Pollock said. "This is an aerobic training zone, a rate I haven't even come close to since being paralyzed while walking in the robot alone, without these interventions. That was a very exciting, emotional moment for me, having spent my whole adult life before breaking my back as an athlete."
Even in the years since he lost his sight, Pollock has competed in ultra-endurance races across deserts, mountains and the polar ice caps. He also won silver and bronze medals in rowing at the Commonwealth Games and launched a motivational speaking business.
"Stepping with the stimulation and having my heart rate increase, along with the awareness of my legs under me, was addictive. I wanted more," he said.
The research will be published by the IEEE Engineering in Medicine and Biology Society, the world's largest society of biomedical engineers.
"It will be difficult to get people with complete paralysis to walk completely independently, but even if they don't accomplish that, the fact they can assist themselves in walking will greatly improve their overall health and quality of life," said V. Reggie Edgerton, senior author of the research and a UCLA distinguished professor of integrative biology and physiology, neurobiology and neurosurgery.
The procedure used a robotic device manufactured by Richmond, California-based Ekso Bionics which captures data that enables the research team to determine how much the subject is moving his own limbs, as opposed to being aided by the device.
"If the robot does all the work, the subject becomes passive and the nervous system shuts down," Edgerton said.
The data showed that Pollock was actively flexing his left knee and raising his left leg and that during and after the electrical stimulation, he was able to voluntarily assist the robot during stepping; it wasn't just the robotic device doing the work.
"For people who are severely injured but not completely paralyzed, there's every reason to believe that they will have the opportunity to use these types of interventions to further improve their level of function. They're likely to improve even more," Edgerton said. "We need to expand the clinical toolbox available for people with spinal cord injury and other diseases."
Edgerton and his research team have received many awards and honors for their research, including Popular Mechanics' 2011 Breakthrough Award.
"Dr. Edgerton is a pioneer and we are encouraged by these findings to broaden our understanding of possible treatment options for paralysis," said Peter Wilderotter, president and CEO of the Christopher and Dana Reeve Foundation, which helped fund the research. "Given the complexities of a spinal cord injury, there will be no one-size-fits-all cure but rather a combination of different interventions to achieve functional recovery.
"What we are seeing right now in the field of spinal cord research is a surge of momentum with new directions and approaches to remind the spine of its potential even years after an injury," he said.
Grace Peng, director of NIBIB's Rehabilitation Engineering Program, said, "This is a great example of a therapeutic approach that combines two very different modalities -- neuromodulation and robotic assist devices -- to achieve a result that could not be realized with either approach alone. This multi-device approach, much like multi-drug therapy, may ultimately benefit patients with impaired mobility in a wide variety of rehabilitation settings."
NeuroRecovery Technologies, a medical technology company Edgerton founded, designs and develops devices that help restore movement in patients with paralysis. The company provided the device used to stimulate the spinal cord in combination with the Ekso in this research.
Edgerton said although it likely will be years before the new approaches are widely available, he now believes it is possible to significantly improve quality of life for patients with severe spinal cord injuries, and to help them recover multiple body functions. Although his laboratory is making dramatic progress, it only is able to work with a small number of patients due to limited resources.
"We could accomplish a lot more in advancing the science and technology with more resources," Edgerton said.
More information can be found at: http://emb.citengine.com/event/embc-2015/paper-details?pdID=4403
Story Source:
The above post is reprinted from materials provided by University of California - Los Angeles. The original item was written by Stuart Wolpert.Note: Materials may be edited for content and length.
Tweet
Founded by Russian entrepreneur Dmitry Itskov in February 2011 with the participation of leading Russian specialists in the field of neural interfaces, robotics, artificial organs and systems.
The main goals of the 2045 Initiative: the creation and realization of a new strategy for the development of humanity which meets global civilization challenges; the creation of optimale conditions promoting the spiritual enlightenment of humanity; and the realization of a new futuristic reality based on 5 principles: high spirituality, high culture, high ethics, high science and high technologies.
The main science mega-project of the 2045 Initiative aims to create technologies enabling the transfer of a individual's personality to a more advanced non-biological carrier, and extending life, including to the point of immortality. We devote particular attention to enabling the fullest possible dialogue between the world's major spiritual traditions, science and society.
A large-scale transformation of humanity, comparable to some of the major spiritual and sci-tech revolutions in history, will require a new strategy. We believe this to be necessary to overcome existing crises, which threaten our planetary habitat and the continued existence of humanity as a species. With the 2045 Initiative, we hope to realize a new strategy for humanity's development, and in so doing, create a more productive, fulfilling, and satisfying future.
The "2045" team is working towards creating an international research center where leading scientists will be engaged in research and development in the fields of anthropomorphic robotics, living systems modeling and brain and consciousness modeling with the goal of transferring one's individual consciousness to an artificial carrier and achieving cybernetic immortality.
An annual congress "The Global Future 2045" is organized by the Initiative to give platform for discussing mankind's evolutionary strategy based on technologies of cybernetic immortality as well as the possible impact of such technologies on global society, politics and economies of the future.
Future prospects of "2045" Initiative for society
2015-2020
The emergence and widespread use of affordable android "avatars" controlled by a "brain-computer" interface. Coupled with related technologies "avatars' will give people a number of new features: ability to work in dangerous environments, perform rescue operations, travel in extreme situations etc.
Avatar components will be used in medicine for the rehabilitation of fully or partially disabled patients giving them prosthetic limbs or recover lost senses.
2020-2025
Creation of an autonomous life-support system for the human brain linked to a robot, 'avatar', will save people whose body is completely worn out or irreversibly damaged. Any patient with an intact brain will be able to return to a fully functioning bodily life. Such technologies will greatly enlarge the possibility of hybrid bio-electronic devices, thus creating a new IT revolution and will make all kinds of superimpositions of electronic and biological systems possible.
2030-2035
Creation of a computer model of the brain and human consciousness with the subsequent development of means to transfer individual consciousness onto an artificial carrier. This development will profoundly change the world, it will not only give everyone the possibility of cybernetic immortality but will also create a friendly artificial intelligence, expand human capabilities and provide opportunities for ordinary people to restore or modify their own brain multiple times. The final result at this stage can be a real revolution in the understanding of human nature that will completely change the human and technical prospects for humanity.
2045
This is the time when substance-independent minds will receive new bodies with capacities far exceeding those of ordinary humans. A new era for humanity will arrive! Changes will occur in all spheres of human activity – energy generation, transportation, politics, medicine, psychology, sciences, and so on.
Today it is hard to imagine a future when bodies consisting of nanorobots will become affordable and capable of taking any form. It is also hard to imagine body holograms featuring controlled matter. One thing is clear however: humanity, for the first time in its history, will make a fully managed evolutionary transition and eventually become a new species. Moreover, prerequisites for a large-scale expansion into outer space will be created as well.
Key elements of the project in the future
• International social movement
• social network immortal.me
• charitable foundation "Global Future 2045" (Foundation 2045)
• scientific research centre "Immortality"
• business incubator
• University of "Immortality"
• annual award for contribution to the realization of the project of "Immortality".