/

News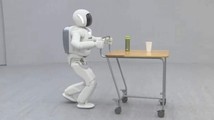 01.09.2015
From Atlas To Pepper: The Coolest Robots Around
Robots are becoming more advanced and human-like as enormous amounts of money are spent on development, including by the military.
As part of Sky News' series Robot Revolution, looking at how far robotics has advanced and the future of the technology, below are some of the coolest examples we've found.
:: Atlas
The 6ft-tall (1.8-metre) humanoid robot was developed by Google-owned tech lab Boston Dynamics and overseen by DARPA (the US Defence Advanced Research Projects Agency).
It is designed to work in the rough outdoors and can climb using its hands and feet, and make its way through congested spaces.
A recent video online showed the robot walking in woods.
It is powered by a "tether" but researchers are working on one that does not need it, which would allow the robot more freedom.
The firm's founder, Marc Raibert, says Atlas has "mobility that's in shooting range" of a human's.
:: BigDog
The size of a large canine or small mule, it is a rough-terrain robot that walks, runs, climbs and carries heavy loads.
It was unveiled by Boston Dynamics in 2005 and funded by DARPA.
BigDog has four legs, an internal engine and an onboard computer that manages its sensors.
It was designed to work alongside soldiers as a robotic mule carrying equipment in terrain too difficult for conventional vehicles.
:: Spot
The same company has also invented Spot, a smaller, nimbler canine-shaped robot.
Spot was unveiled earlier this year and is designed to be used indoors and outdoors.
Whereas BigDog uses a forward-angled leg design, Spot's is angled backwards like the legs of a goat, and it hops around like one.
In a video released by the company, it is shown being kicked by humans but still manages to stay up.
It also climbs steps and a small hill and walks through a wooded area.
:: ASIMO
Motor company Honda dubs ASIMO (Advanced Step in Innovative Mobility) the world's most advanced humanoid robot.
Play video "New Mars Find For Curiosity"Video: New Mars Find For Curiosity
ASIMO can run, walk on uneven slopes and surfaces, turn smoothly, climb stairs, and reach for and grasp objects.
ASIMO, which is 4ft 3in tall (1.3-metre), can respond to simple voice commands and has the ability to recognise the face of a select group of individuals.
Using its camera eyes, ASIMO can map its environment and register stationary objects, and can also avoid moving obstacles.
Its makers say in the future it might help the elderly, or a person confined to a bed or wheelchair, and could also perform dangerous tasks such as firefighting or cleaning up toxic spills.
:: Curiosity
Since landing on Mars in August 2012 using a large parachute, the car-sized rover has been exploring the Red Planet, looking at whether it could have ever supported small life forms and if humans could survive there in the future.
The three-metre long NASA probe is analysing samples scooped from the soil and drilled from rocks and can roll over obstacles up to 75cm high and travel up to 90 metres per hour.
:: iCub
The one-metre-tall iCub is a humanoid robot shaped as a four-year-old child and has been developed at the Italian Institute of Technology.
It has 53 motors that move its head, arms, hands, waist and legs. It can also see and hear and can crawl on all fours and sit up.
:: NAO, Romeo and Pepper
These are three robots created by French-based Aldebaran Robotics.
Described by its creators as small and cute, 58cm-tall humanoid robot NAO is intended to be a friendly companion around the house - it moves, recognises people, hears them and even talks to them.
NAO has already been used in more than 70 countries through computer and science classes in schools and universities.
Dubbed NAO's big brother, Romeo is a 1.4-metre humanoid robot designed to help elderly and disabled people. It can open doors, climb stairs and grab objects on a table.
Pepper is friendly and much more than a robot, according to Alderbaran. Created for SoftBank Mobile - one of the largest mobile phone operators in Japan - Pepper is already greeting and interacting with customers in stores.
In June, 1,000 models of Pepper, costing around £1,000 each, went on sale in Japan and they sold out in just a minute. Buyers of the 1.2-metre tall robot will also have to pay £125 each month in data and insurance fees
:: Porton Man
The UK military is using this robot to test equipment such as chemical and biological suits "in a realistic but secure environment" at the Defence Science and Technology Laboratory at Porton Down, Wiltshire.
Porton Man was built using advanced lightweight materials developed for Formula One racing cars and is able to walk, march, run, sit, kneel and can even lift his arms as if to sight a weapon like an infantry soldier.
Tweet
Founded by Russian entrepreneur Dmitry Itskov in February 2011 with the participation of leading Russian specialists in the field of neural interfaces, robotics, artificial organs and systems.
The main goals of the 2045 Initiative: the creation and realization of a new strategy for the development of humanity which meets global civilization challenges; the creation of optimale conditions promoting the spiritual enlightenment of humanity; and the realization of a new futuristic reality based on 5 principles: high spirituality, high culture, high ethics, high science and high technologies.
The main science mega-project of the 2045 Initiative aims to create technologies enabling the transfer of a individual's personality to a more advanced non-biological carrier, and extending life, including to the point of immortality. We devote particular attention to enabling the fullest possible dialogue between the world's major spiritual traditions, science and society.
A large-scale transformation of humanity, comparable to some of the major spiritual and sci-tech revolutions in history, will require a new strategy. We believe this to be necessary to overcome existing crises, which threaten our planetary habitat and the continued existence of humanity as a species. With the 2045 Initiative, we hope to realize a new strategy for humanity's development, and in so doing, create a more productive, fulfilling, and satisfying future.
The "2045" team is working towards creating an international research center where leading scientists will be engaged in research and development in the fields of anthropomorphic robotics, living systems modeling and brain and consciousness modeling with the goal of transferring one's individual consciousness to an artificial carrier and achieving cybernetic immortality.
An annual congress "The Global Future 2045" is organized by the Initiative to give platform for discussing mankind's evolutionary strategy based on technologies of cybernetic immortality as well as the possible impact of such technologies on global society, politics and economies of the future.
Future prospects of "2045" Initiative for society
2015-2020
The emergence and widespread use of affordable android "avatars" controlled by a "brain-computer" interface. Coupled with related technologies "avatars' will give people a number of new features: ability to work in dangerous environments, perform rescue operations, travel in extreme situations etc.
Avatar components will be used in medicine for the rehabilitation of fully or partially disabled patients giving them prosthetic limbs or recover lost senses.
2020-2025
Creation of an autonomous life-support system for the human brain linked to a robot, 'avatar', will save people whose body is completely worn out or irreversibly damaged. Any patient with an intact brain will be able to return to a fully functioning bodily life. Such technologies will greatly enlarge the possibility of hybrid bio-electronic devices, thus creating a new IT revolution and will make all kinds of superimpositions of electronic and biological systems possible.
2030-2035
Creation of a computer model of the brain and human consciousness with the subsequent development of means to transfer individual consciousness onto an artificial carrier. This development will profoundly change the world, it will not only give everyone the possibility of cybernetic immortality but will also create a friendly artificial intelligence, expand human capabilities and provide opportunities for ordinary people to restore or modify their own brain multiple times. The final result at this stage can be a real revolution in the understanding of human nature that will completely change the human and technical prospects for humanity.
2045
This is the time when substance-independent minds will receive new bodies with capacities far exceeding those of ordinary humans. A new era for humanity will arrive! Changes will occur in all spheres of human activity – energy generation, transportation, politics, medicine, psychology, sciences, and so on.
Today it is hard to imagine a future when bodies consisting of nanorobots will become affordable and capable of taking any form. It is also hard to imagine body holograms featuring controlled matter. One thing is clear however: humanity, for the first time in its history, will make a fully managed evolutionary transition and eventually become a new species. Moreover, prerequisites for a large-scale expansion into outer space will be created as well.
Key elements of the project in the future
• International social movement
• social network immortal.me
• charitable foundation "Global Future 2045" (Foundation 2045)
• scientific research centre "Immortality"
• business incubator
• University of "Immortality"
• annual award for contribution to the realization of the project of "Immortality".