/

News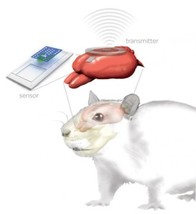 19.01.2016
Tiny electronic implants monitor brain injury, then melt away
A new class of small, thin electronic sensors can monitor temperature and pressure within the skull -- crucial health parameters after a brain injury or surgery -- then melt away when they are no longer needed, eliminating the need for additional surgery to remove the monitors and reducing the risk of infection and hemorrhage.
Similar sensors can be adapted for postoperative monitoring in other body systems as well, the researchers say. Led by John A. Rogers, a professor of materials science and engineering at the University of Illinois at Urbana-Champaign, and Wilson Ray, a professor of neurological surgery at the Washington University School of Medicine in St. Louis, the researchers publish their work in the journal Nature on January 18.
"This is a new class of electronic biomedical implants," said Rogers, who directs the Frederick Seitz Materials Research Laboratory at Illinois. "These kinds of systems have potential across a range of clinical practices, where therapeutic or monitoring devices are implanted or ingested, perform a sophisticated function, and then resorb harmlessly into the body after their function is no longer necessary."
After a traumatic brain injury or brain surgery, it is crucial to monitor the patient for swelling and pressure on the brain. Current monitoring technology is bulky and invasive, Rogers said, and the wires restrict the patent's movement and hamper physical therapy as they recover. Because they require continuous, hard-wired access into the head, such implants also carry the risk of allergic reactions, infection and hemorrhage, and even could exacerbate the inflammation they are meant to monitor.
"If you simply could throw out all the conventional hardware and replace it with very tiny, fully implantable sensors capable of the same function, constructed out of bioresorbable materials in a way that also eliminates or greatly miniaturizes the wires, then you could remove a lot of the risk and achieve better patient outcomes," Rogers said. "We were able to demonstrate all of these key features in animal models, with a measurement precision that's just as good as that of conventional devices."
The new devices incorporate dissolvable silicon technology developed by Rogers' group at the U. of I. The sensors, smaller than a grain of rice, are built on extremely thin sheets of silicon -- which are naturally biodegradable -- that are configured to function normally for a few weeks, then dissolve away, completely and harmlessly, in the body's own fluids.
Rogers' group teamed with Illinois materials science and engineering professor Paul V. Braun to make the silicon platforms sensitive to clinically relevant pressure levels in the intracranial fluid surrounding the brain. They also added a tiny temperature sensor and connected it to a wireless transmitter roughly the size of a postage stamp, implanted under the skin but on top of the skull.
The Illinois group worked with clinical experts in traumatic brain injury at Washington University to implant the sensors in rats, testing for performance and biocompatibility. They found that the temperature and pressure readings from the dissolvable sensors matched conventional monitoring devices for accuracy.
"The ultimate strategy is to have a device that you can place in the brain -- or in other organs in the body -- that is entirely implanted, intimately connected with the organ you want to monitor and can transmit signals wirelessly to provide information on the health of that organ, allowing doctors to intervene if necessary to prevent bigger problems," said Rory Murphy, a neurosurgeon at Washington University and co-author of the paper. "After the critical period that you actually want to monitor, it will dissolve away and disappear."
The researchers are moving toward human trials for this technology, as well as extending its functionality for other biomedical applications.
"We have established a range of device variations, materials and measurement capabilities for sensing in other clinical contexts," Rogers said. "In the near future, we believe that it will be possible to embed therapeutic function, such as electrical stimulation or drug delivery, into the same systems while retaining the essential bioresorbable character."
Story Source:
The above post is reprinted from materials provided by University of Illinois at Urbana-Champaign. The original item was written by Liz Ahlberg. Note: Materials may be edited for content and length.
Journal Reference:
Seung-Kyun Kang, Rory K. J. Murphy, Suk-Won Hwang, Seung Min Lee, Daniel V. Harburg, Neil A. Krueger, Jiho Shin, Paul Gamble, Huanyu Cheng, Sooyoun Yu, Zhuangjian Liu, Jordan G. McCall, Manu Stephen, Hanze Ying, Jeonghyun Kim, Gayoung Park, R. Chad Webb, Chi Hwan Lee, Sangjin Chung, Dae Seung Wie, Amit D. Gujar, Bharat Vemulapalli, Albert H. Kim, Kyung-Mi Lee, Jianjun Cheng, Younggang Huang, Sang Hoon Lee, Paul V. Braun, Wilson Z. Ray, John A. Rogers. Bioresorbable silicon electronic sensors for the brain. Nature, 2016; DOI:10.1038/nature16492
Tweet
Founded by Russian entrepreneur Dmitry Itskov in February 2011 with the participation of leading Russian specialists in the field of neural interfaces, robotics, artificial organs and systems.
The main goals of the 2045 Initiative: the creation and realization of a new strategy for the development of humanity which meets global civilization challenges; the creation of optimale conditions promoting the spiritual enlightenment of humanity; and the realization of a new futuristic reality based on 5 principles: high spirituality, high culture, high ethics, high science and high technologies.
The main science mega-project of the 2045 Initiative aims to create technologies enabling the transfer of a individual's personality to a more advanced non-biological carrier, and extending life, including to the point of immortality. We devote particular attention to enabling the fullest possible dialogue between the world's major spiritual traditions, science and society.
A large-scale transformation of humanity, comparable to some of the major spiritual and sci-tech revolutions in history, will require a new strategy. We believe this to be necessary to overcome existing crises, which threaten our planetary habitat and the continued existence of humanity as a species. With the 2045 Initiative, we hope to realize a new strategy for humanity's development, and in so doing, create a more productive, fulfilling, and satisfying future.
The "2045" team is working towards creating an international research center where leading scientists will be engaged in research and development in the fields of anthropomorphic robotics, living systems modeling and brain and consciousness modeling with the goal of transferring one's individual consciousness to an artificial carrier and achieving cybernetic immortality.
An annual congress "The Global Future 2045" is organized by the Initiative to give platform for discussing mankind's evolutionary strategy based on technologies of cybernetic immortality as well as the possible impact of such technologies on global society, politics and economies of the future.
Future prospects of "2045" Initiative for society
2015-2020
The emergence and widespread use of affordable android "avatars" controlled by a "brain-computer" interface. Coupled with related technologies "avatars' will give people a number of new features: ability to work in dangerous environments, perform rescue operations, travel in extreme situations etc.
Avatar components will be used in medicine for the rehabilitation of fully or partially disabled patients giving them prosthetic limbs or recover lost senses.
2020-2025
Creation of an autonomous life-support system for the human brain linked to a robot, 'avatar', will save people whose body is completely worn out or irreversibly damaged. Any patient with an intact brain will be able to return to a fully functioning bodily life. Such technologies will greatly enlarge the possibility of hybrid bio-electronic devices, thus creating a new IT revolution and will make all kinds of superimpositions of electronic and biological systems possible.
2030-2035
Creation of a computer model of the brain and human consciousness with the subsequent development of means to transfer individual consciousness onto an artificial carrier. This development will profoundly change the world, it will not only give everyone the possibility of cybernetic immortality but will also create a friendly artificial intelligence, expand human capabilities and provide opportunities for ordinary people to restore or modify their own brain multiple times. The final result at this stage can be a real revolution in the understanding of human nature that will completely change the human and technical prospects for humanity.
2045
This is the time when substance-independent minds will receive new bodies with capacities far exceeding those of ordinary humans. A new era for humanity will arrive! Changes will occur in all spheres of human activity – energy generation, transportation, politics, medicine, psychology, sciences, and so on.
Today it is hard to imagine a future when bodies consisting of nanorobots will become affordable and capable of taking any form. It is also hard to imagine body holograms featuring controlled matter. One thing is clear however: humanity, for the first time in its history, will make a fully managed evolutionary transition and eventually become a new species. Moreover, prerequisites for a large-scale expansion into outer space will be created as well.
Key elements of the project in the future
• International social movement
• social network immortal.me
• charitable foundation "Global Future 2045" (Foundation 2045)
• scientific research centre "Immortality"
• business incubator
• University of "Immortality"
• annual award for contribution to the realization of the project of "Immortality".