/

News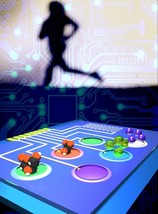 01.02.2016
Let them see you sweat: What new wearable sensors can reveal from perspiration
When engineers at the University of California, Berkeley, say they are going to make you sweat, it is all in the name of science.
Specifically, it is for a flexible sensor system that can measure metabolites and electrolytes in sweat, calibrate the data based upon skin temperature and sync the results in real time to a smartphone.
While health monitors have exploded onto the consumer electronics scene over the past decade, researchers say this device, reported in the Jan. 28 issue of the journal Nature, is the first fully integrated electronic system that can provide continuous, non-invasive monitoring of multiple biochemicals in sweat.
The advance opens doors to wearable devices that alert users to health problems such as fatigue, dehydration and dangerously high body temperatures.
"Human sweat contains physiologically rich information, thus making it an attractive body fluid for non-invasive wearable sensors," said study principal investigator Ali Javey, a UC Berkeley professor of electrical engineering and computer sciences. "However, sweat is complex and it is necessary to measure multiple targets to extract meaningful information about your state of health. In this regard, we have developed a fully integrated system that simultaneously and selectively measures multiple sweat analytes, and wirelessly transmits the processed data to a smartphone. Our work presents a technology platform for sweat-based health monitors."
Javey worked with study co-lead authors Wei Gao and Sam Emaminejad, both of whom are postdoctoral fellows in his lab. Emaminejad also has a joint appointment at the Stanford School of Medicine, and all three have affiliations with the Berkeley Sensor and Actuator Center and the Materials Sciences Division at Lawrence Berkeley National Laboratory.
Chemical clues to a person's physical condition
To help design the sweat sensor system, Javey and his team consulted exercise physiologist George Brooks, a UC Berkeley professor of integrative biology. Brooks said he was impressed when Javey and his team first approached him about the sensor.
"Having a wearable sweat sensor is really incredible because the metabolites and electrolytes measured by the Javey device are vitally important for the health and well-being of an individual," said Brooks, a co-author on the study. "When studying the effects of exercise on human physiology, we typically take blood samples. With this non-invasive technology, someday it may be possible to know what's going on physiologically without needle sticks or attaching little, disposable cups on you."
The prototype developed by Javey and his research team packs five sensors onto a flexible circuit board. The sensors measure the metabolites glucose and lactate, the electrolytes sodium and potassium, and skin temperature.
"The integrated system allows us to use the measured skin temperature to calibrate and adjust the readings of other sensors in real time," said Gao. "This is important because the response of glucose and lactate sensors can be greatly influenced by temperature."
Developing smart wristbands and headbands
Adjacent to the sensor array is the wireless printed circuit board with off-the-shelf silicon components. The researchers used more than 10 integrated circuit chips responsible for taking the measurements from the sensors, amplifying the signals, adjusting for temperature changes and wirelessly transmitting the data. The researchers developed an app to sync the data from the sensors to mobile phones, and fitted the device onto "smart" wristbands and headbands.
They put the device -- and dozens of volunteers -- through various indoor and outdoor exercises. Study subjects cycled on stationary bikes or ran outdoors on tracks and trails from a few minutes to more than an hour.
"We can easily shrink this device by integrating all the circuit functionalities into a single chip," said Emaminejad. "The number of biochemicals we target can also be ramped up so we can measure a lot of things at once. That makes large-scale clinical studies possible, which will help us better understand athletic performance and physiological responses to exercise."
Javey noted that a long-term goal would be to use this device for population-level studies for medical applications.
Brooks also noted the potential for the device to be used to measure more than perspiration.
"While Professor Javey's wearable, non-invasive technology works well on sweating athletes, there are likely to be many other applications of the technology for measuring vital metabolite and electrolyte levels of healthy persons in daily life," said Brooks. "It can also be adapted to monitor other body fluids for those suffering from illness and injury."
The Berkeley Sensor and Actuator Center and the National Institutes of Health helped support this work.
Story Source:
The above post is reprinted from materials provided by University of California - Berkeley. Note: Materials may be edited for content and length.
Journal Reference:
Wei Gao, Sam Emaminejad, Hnin Yin Yin Nyein, Samyuktha Challa, Kevin Chen, Austin Peck, Hossain M. Fahad, Hiroki Ota, Hiroshi Shiraki, Daisuke Kiriya, Der-Hsien Lien, George A. Brooks, Ronald W. Davis, Ali Javey.Fully integrated wearable sensor arrays for multiplexed in situ perspiration analysis. Nature, 2016; 529 (7587): 509 DOI:10.1038/nature16521
Tweet
Founded by Russian entrepreneur Dmitry Itskov in February 2011 with the participation of leading Russian specialists in the field of neural interfaces, robotics, artificial organs and systems.
The main goals of the 2045 Initiative: the creation and realization of a new strategy for the development of humanity which meets global civilization challenges; the creation of optimale conditions promoting the spiritual enlightenment of humanity; and the realization of a new futuristic reality based on 5 principles: high spirituality, high culture, high ethics, high science and high technologies.
The main science mega-project of the 2045 Initiative aims to create technologies enabling the transfer of a individual's personality to a more advanced non-biological carrier, and extending life, including to the point of immortality. We devote particular attention to enabling the fullest possible dialogue between the world's major spiritual traditions, science and society.
A large-scale transformation of humanity, comparable to some of the major spiritual and sci-tech revolutions in history, will require a new strategy. We believe this to be necessary to overcome existing crises, which threaten our planetary habitat and the continued existence of humanity as a species. With the 2045 Initiative, we hope to realize a new strategy for humanity's development, and in so doing, create a more productive, fulfilling, and satisfying future.
The "2045" team is working towards creating an international research center where leading scientists will be engaged in research and development in the fields of anthropomorphic robotics, living systems modeling and brain and consciousness modeling with the goal of transferring one's individual consciousness to an artificial carrier and achieving cybernetic immortality.
An annual congress "The Global Future 2045" is organized by the Initiative to give platform for discussing mankind's evolutionary strategy based on technologies of cybernetic immortality as well as the possible impact of such technologies on global society, politics and economies of the future.
Future prospects of "2045" Initiative for society
2015-2020
The emergence and widespread use of affordable android "avatars" controlled by a "brain-computer" interface. Coupled with related technologies "avatars' will give people a number of new features: ability to work in dangerous environments, perform rescue operations, travel in extreme situations etc.
Avatar components will be used in medicine for the rehabilitation of fully or partially disabled patients giving them prosthetic limbs or recover lost senses.
2020-2025
Creation of an autonomous life-support system for the human brain linked to a robot, 'avatar', will save people whose body is completely worn out or irreversibly damaged. Any patient with an intact brain will be able to return to a fully functioning bodily life. Such technologies will greatly enlarge the possibility of hybrid bio-electronic devices, thus creating a new IT revolution and will make all kinds of superimpositions of electronic and biological systems possible.
2030-2035
Creation of a computer model of the brain and human consciousness with the subsequent development of means to transfer individual consciousness onto an artificial carrier. This development will profoundly change the world, it will not only give everyone the possibility of cybernetic immortality but will also create a friendly artificial intelligence, expand human capabilities and provide opportunities for ordinary people to restore or modify their own brain multiple times. The final result at this stage can be a real revolution in the understanding of human nature that will completely change the human and technical prospects for humanity.
2045
This is the time when substance-independent minds will receive new bodies with capacities far exceeding those of ordinary humans. A new era for humanity will arrive! Changes will occur in all spheres of human activity – energy generation, transportation, politics, medicine, psychology, sciences, and so on.
Today it is hard to imagine a future when bodies consisting of nanorobots will become affordable and capable of taking any form. It is also hard to imagine body holograms featuring controlled matter. One thing is clear however: humanity, for the first time in its history, will make a fully managed evolutionary transition and eventually become a new species. Moreover, prerequisites for a large-scale expansion into outer space will be created as well.
Key elements of the project in the future
• International social movement
• social network immortal.me
• charitable foundation "Global Future 2045" (Foundation 2045)
• scientific research centre "Immortality"
• business incubator
• University of "Immortality"
• annual award for contribution to the realization of the project of "Immortality".