/

News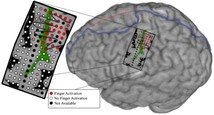 16.02.2016
Mind-controlled prosthetic arm moves individual 'fingers'
Physicians and biomedical engineers from Johns Hopkins report what they believe is the first successful effort to wiggle fingers individually and independently of each other using a mind-controlled artificial "arm" to control the movement.
The proof-of-concept feat, described online this week in the Journal of Neural Engineering, represents a potential advance in technologies to restore refined hand function to those who have lost arms to injury or disease, the researchers say. The young man on whom the experiment was performed was not missing an arm or hand, but he was outfitted with a device that essentially took advantage of a brain-mapping procedure to bypass control of his own arm and hand.
"We believe this is the first time a person using a mind-controlled prosthesis has immediately performed individual digit movements without extensive training," says senior author Nathan Crone, M.D., professor of neurology at the Johns Hopkins University School of Medicine. "This technology goes beyond available prostheses, in which the artificial digits, or fingers, moved as a single unit to make a grabbing motion, like one used to grip a tennis ball."
For the experiment, the research team recruited a young man with epilepsy already scheduled to undergo brain mapping at The Johns Hopkins Hospital's Epilepsy Monitoring Unit to pinpoint the origin of his seizures.
While brain recordings were made using electrodes surgically implanted for clinical reasons, the signals also control a modular prosthetic limb developed by the Johns Hopkins University Applied Physics Laboratory.
Prior to connecting the prosthesis, the researchers mapped and tracked the specific parts of the subject's brain responsible for moving each finger, then programmed the prosthesis to move the corresponding finger.
First, the patient's neurosurgeon placed an array of 128 electrode sensors -- all on a single rectangular sheet of film the size of a credit card -- on the part of the man's brain that normally controls hand and arm movements. Each sensor measured a circle of brain tissue 1 millimeter in diameter.
The computer program the Johns Hopkins team developed had the man move individual fingers on command and recorded which parts of the brain the "lit up" when each sensor detected an electric signal.
In addition to collecting data on the parts of brain involved in motor movement, the researchers measured electrical brain activity involved in tactile sensation. To do this, the subject was outfitted with a glove with small, vibrating buzzers in the fingertips, which went off individually in each finger. The researchers measured the resulting electrical activity in the brain for each finger connection.
After the motor and sensory data were collected, the researchers programmed the prosthetic arm to move corresponding fingers based on which part of the brain was active. The researchers turned on the prosthetic arm, which was wired to the patient through the brain electrodes, and asked the subject to "think" about individually moving thumb, index, middle, ring and pinkie fingers. The electrical activity generated in the brain moved the fingers.
"The electrodes used to measure brain activity in this study gave us better resolution of a large region of cortex than anything we've used before and allowed for more precise spatial mapping in the brain," says Guy Hotson, graduate student and lead author of the study. "This precision is what allowed us to separate the control of individual fingers."
Initially, the mind-controlled limb had an accuracy of 76 percent. Once the researchers coupled the ring and pinkie fingers together, the accuracy increased to 88 percent.
"The part of the brain that controls the pinkie and ring fingers overlaps, and most people move the two fingers together," says Crone. "It makes sense that coupling these two fingers improved the accuracy."
The researchers note there was no pre-training required for the subject to gain this level of control, and the entire experiment took less than two hours.
Crone cautions that application of this technology to those actually missing limbs is still some years off and will be costly, requiring extensive mapping and computer programming. According to the Amputee Coalition, over 100,000 people living in the U.S. have amputated hands or arms, and most could potentially benefit from such technology.
Additional authors on the study include David McMullen, Matthew Fifer, William Anderson and Nitish Thakor of Johns Hopkins Medicine and Matthew Johannes, Kapil Katyal, Matthew Para, Robert Armiger and Brock Wester of the Johns Hopkins Applied Physics Laboratory.
This study was funded by the National Institute of Neurological Disorders and Stroke (grant number 1R01NS088606-01).
Video: https://www.youtube.com/watch?v=e2Abr6hpezs
Story Source:
The above post is reprinted from materials provided by Johns Hopkins Medicine. Note: Materials may be edited for content and length.
Journal Reference:
Guy Hotson, David P McMullen, Matthew S Fifer, Matthew S Johannes, Kapil D Katyal, Matthew P Para, Robert Armiger, William S Anderson, Nitish V Thakor, Brock A Wester, Nathan E Crone. Individual finger control of a modular prosthetic limb using high-density electrocorticography in a human subject. Journal of Neural Engineering, 2016; 13 (2): 026017 DOI: 10.1088/1741-2560/13/2/026017
Tweet
Founded by Russian entrepreneur Dmitry Itskov in February 2011 with the participation of leading Russian specialists in the field of neural interfaces, robotics, artificial organs and systems.
The main goals of the 2045 Initiative: the creation and realization of a new strategy for the development of humanity which meets global civilization challenges; the creation of optimale conditions promoting the spiritual enlightenment of humanity; and the realization of a new futuristic reality based on 5 principles: high spirituality, high culture, high ethics, high science and high technologies.
The main science mega-project of the 2045 Initiative aims to create technologies enabling the transfer of a individual's personality to a more advanced non-biological carrier, and extending life, including to the point of immortality. We devote particular attention to enabling the fullest possible dialogue between the world's major spiritual traditions, science and society.
A large-scale transformation of humanity, comparable to some of the major spiritual and sci-tech revolutions in history, will require a new strategy. We believe this to be necessary to overcome existing crises, which threaten our planetary habitat and the continued existence of humanity as a species. With the 2045 Initiative, we hope to realize a new strategy for humanity's development, and in so doing, create a more productive, fulfilling, and satisfying future.
The "2045" team is working towards creating an international research center where leading scientists will be engaged in research and development in the fields of anthropomorphic robotics, living systems modeling and brain and consciousness modeling with the goal of transferring one's individual consciousness to an artificial carrier and achieving cybernetic immortality.
An annual congress "The Global Future 2045" is organized by the Initiative to give platform for discussing mankind's evolutionary strategy based on technologies of cybernetic immortality as well as the possible impact of such technologies on global society, politics and economies of the future.
Future prospects of "2045" Initiative for society
2015-2020
The emergence and widespread use of affordable android "avatars" controlled by a "brain-computer" interface. Coupled with related technologies "avatars' will give people a number of new features: ability to work in dangerous environments, perform rescue operations, travel in extreme situations etc.
Avatar components will be used in medicine for the rehabilitation of fully or partially disabled patients giving them prosthetic limbs or recover lost senses.
2020-2025
Creation of an autonomous life-support system for the human brain linked to a robot, 'avatar', will save people whose body is completely worn out or irreversibly damaged. Any patient with an intact brain will be able to return to a fully functioning bodily life. Such technologies will greatly enlarge the possibility of hybrid bio-electronic devices, thus creating a new IT revolution and will make all kinds of superimpositions of electronic and biological systems possible.
2030-2035
Creation of a computer model of the brain and human consciousness with the subsequent development of means to transfer individual consciousness onto an artificial carrier. This development will profoundly change the world, it will not only give everyone the possibility of cybernetic immortality but will also create a friendly artificial intelligence, expand human capabilities and provide opportunities for ordinary people to restore or modify their own brain multiple times. The final result at this stage can be a real revolution in the understanding of human nature that will completely change the human and technical prospects for humanity.
2045
This is the time when substance-independent minds will receive new bodies with capacities far exceeding those of ordinary humans. A new era for humanity will arrive! Changes will occur in all spheres of human activity – energy generation, transportation, politics, medicine, psychology, sciences, and so on.
Today it is hard to imagine a future when bodies consisting of nanorobots will become affordable and capable of taking any form. It is also hard to imagine body holograms featuring controlled matter. One thing is clear however: humanity, for the first time in its history, will make a fully managed evolutionary transition and eventually become a new species. Moreover, prerequisites for a large-scale expansion into outer space will be created as well.
Key elements of the project in the future
• International social movement
• social network immortal.me
• charitable foundation "Global Future 2045" (Foundation 2045)
• scientific research centre "Immortality"
• business incubator
• University of "Immortality"
• annual award for contribution to the realization of the project of "Immortality".