/

News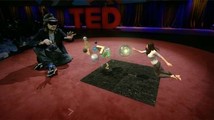 19.02.2016
Augmented reality looks to future where screens vanish
Microsoft inventor Alex Kipman was joined by holograms at a renowned TED gathering as he gave a glimpse into a future where computer screens are relics.
Kipman slipped on HoloLens augmented-reality (AR) headgear that his team is readying for market and became a wizard of sorts, calling forth magical landscapes, cold-hard data, and even summoning the hologram of a NASA scientist for a chat.
Kipman spoke of HoloLens and other augmented-reality devices as a step in an evolution to a time when pecking at smartphone screens or computer keyboards are tales from generations past.
"I am talking about freeing ourselves from the two-dimensional confines of traditional computing," said Kipman, the creator behind Kinect motion-tracking accessories for Xbox video game consoles.
"We are like cave people in computer terms; we barely discovered charcoal and started drawing the first stick figures in our cave."
Walking on the moon
He touted the HoloLens headset he wore as the first fully-untethered holographic computer; not relying on a connection to a smartphone or computer.
A camera showed the TED audience what Kipman saw through HoloLens as he used gestures to turn the space around him into a cave, a fantasy land and even the surface of the moon.
Microsoft inventor Alex Kipman demonstrates a HoloLens device at TED2016-Dream at the Convention Center in Vancouver
He made a virtual television screen appear in the air, demonstrating how augmented-reality gear could eliminate the need for real TV sets.
"Computers give us superpowers," Kipman said as he transformed the world around him with holograms.
"In digital space, we have the power to displace space and time."
With another gesture, he launched a video phone call to his family in the US.
"I believe our children's children will grow up in a world devoid of two-dimensional technology," Kipman said.
"I can see holographical telepresence in our future."
To prove his point, Kipman had Jeff Norris of NASA's Jet Propulsion Laboratory appear on stage in the form of a hologram seen through HoloLens.
HoloLens is already being used on the International Space Station and by NASA scientists, according to Norris.
Microsoft inventor Alex Kipman demonstrates a HoloLens device at TED2016-Dream at the Convention Center in Vancouver
"For decades, we have explored from a seat, behind screens and keyboards," Norris said.
"Now, we are leaping over all of that... the antennae, the satellites and the vast space between worlds to step on the landscape as though we were really there."
Microsoft has made HoloLens kits available to developers for $3,000 a piece but has remained mum regarding when versions of the AR visors will be sold to consumers or at what price.
The plan is to have a rich array of applications, games and other AR experiences available before HoloLens hits the market, Kipman told AFP.
"You only get one chance to make a first impression," he said.
When Microsoft unveiled the HoloLens slightly more than a year ago, chief executive Satya Nadella billed it as a "mind-blowing" experience that will open a new type of computing.
A budding 'revolution'
Silicon Valley-based AR startup Meta let people at TED experience AR for themselves, with demonstrations that proved so popular the schedule was packed throughout the five-day gathering.
"I think Iron Man would be proud," Meta chief executive Meron Gribetz said while showing off the technology at TED this week.
Meron was referring to 'Iron Man' films in which the action hero creates wonders in his laboratory with the help of holographic computing that lets him manipulate virtual objects floating in the air.
"Being hunched over phones or computers is the wrong way," Gribetz said.
"In the next few years, humanity is going to go through a shift. We are going to start putting a layer of information over the world."
He predicted that within about five years, AR headgear would be slimmed down to mere strips of glass over people's eyes.
Meta did not disclose pricing or availability of its AR headsets, which plug into computers, but a countdown clock at the startup's website on Thursday indicated that "the revolution begins" in less than two weeks.
Tweet
Founded by Russian entrepreneur Dmitry Itskov in February 2011 with the participation of leading Russian specialists in the field of neural interfaces, robotics, artificial organs and systems.
The main goals of the 2045 Initiative: the creation and realization of a new strategy for the development of humanity which meets global civilization challenges; the creation of optimale conditions promoting the spiritual enlightenment of humanity; and the realization of a new futuristic reality based on 5 principles: high spirituality, high culture, high ethics, high science and high technologies.
The main science mega-project of the 2045 Initiative aims to create technologies enabling the transfer of a individual's personality to a more advanced non-biological carrier, and extending life, including to the point of immortality. We devote particular attention to enabling the fullest possible dialogue between the world's major spiritual traditions, science and society.
A large-scale transformation of humanity, comparable to some of the major spiritual and sci-tech revolutions in history, will require a new strategy. We believe this to be necessary to overcome existing crises, which threaten our planetary habitat and the continued existence of humanity as a species. With the 2045 Initiative, we hope to realize a new strategy for humanity's development, and in so doing, create a more productive, fulfilling, and satisfying future.
The "2045" team is working towards creating an international research center where leading scientists will be engaged in research and development in the fields of anthropomorphic robotics, living systems modeling and brain and consciousness modeling with the goal of transferring one's individual consciousness to an artificial carrier and achieving cybernetic immortality.
An annual congress "The Global Future 2045" is organized by the Initiative to give platform for discussing mankind's evolutionary strategy based on technologies of cybernetic immortality as well as the possible impact of such technologies on global society, politics and economies of the future.
Future prospects of "2045" Initiative for society
2015-2020
The emergence and widespread use of affordable android "avatars" controlled by a "brain-computer" interface. Coupled with related technologies "avatars' will give people a number of new features: ability to work in dangerous environments, perform rescue operations, travel in extreme situations etc.
Avatar components will be used in medicine for the rehabilitation of fully or partially disabled patients giving them prosthetic limbs or recover lost senses.
2020-2025
Creation of an autonomous life-support system for the human brain linked to a robot, 'avatar', will save people whose body is completely worn out or irreversibly damaged. Any patient with an intact brain will be able to return to a fully functioning bodily life. Such technologies will greatly enlarge the possibility of hybrid bio-electronic devices, thus creating a new IT revolution and will make all kinds of superimpositions of electronic and biological systems possible.
2030-2035
Creation of a computer model of the brain and human consciousness with the subsequent development of means to transfer individual consciousness onto an artificial carrier. This development will profoundly change the world, it will not only give everyone the possibility of cybernetic immortality but will also create a friendly artificial intelligence, expand human capabilities and provide opportunities for ordinary people to restore or modify their own brain multiple times. The final result at this stage can be a real revolution in the understanding of human nature that will completely change the human and technical prospects for humanity.
2045
This is the time when substance-independent minds will receive new bodies with capacities far exceeding those of ordinary humans. A new era for humanity will arrive! Changes will occur in all spheres of human activity – energy generation, transportation, politics, medicine, psychology, sciences, and so on.
Today it is hard to imagine a future when bodies consisting of nanorobots will become affordable and capable of taking any form. It is also hard to imagine body holograms featuring controlled matter. One thing is clear however: humanity, for the first time in its history, will make a fully managed evolutionary transition and eventually become a new species. Moreover, prerequisites for a large-scale expansion into outer space will be created as well.
Key elements of the project in the future
• International social movement
• social network immortal.me
• charitable foundation "Global Future 2045" (Foundation 2045)
• scientific research centre "Immortality"
• business incubator
• University of "Immortality"
• annual award for contribution to the realization of the project of "Immortality".