/

News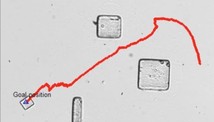 23.03.2016
Bacteria-powered microrobots navigate with help from new algorithm
The problem with having a microscopic robot propelled by a horde of tail-flailing bacteria is you never know where it's going to end up. The tiny, bio-robots, which amount to a chip coated with a "carpet" of flagellated bacteria, emerged from the primordial ooze of microrobotics research a few years ago as a concept for building microscopic devices and delivering medication at the cellular level. But as with any robot, the challenge for making them useful is bridging the gap from movement to automation. A team of engineers at Drexel University might have done just that, according to research recently published in IEEE Transactions on Robotics about using electric fields to direct the robots in a fluid environment.
In a follow-up to a 2014 report that presented a way to use the flagellated bacteria Serratia marcescens and an electric field to make a microrobot mobile, MinJun Kim, PhD, a professor in the College of Engineering and director of Drexel's Biological Actuation, Sensing & Transport (BAST) Lab, is now offering a method for making them agile.
"What's a ship without a captain? We know electric fields can be used to push the microrobots in any direction, like a boat carried by the ocean's currents, but in this paper we're exploring how those same fields can be used to help the robot detect obstacles and navigate around them," Kim said.
The key to both motion and navigation for the tiny hybrid robots is S. marcescens bacterium. These rod-shaped swimmers, who are known culprits of urinary tract and respiratory infections in hospitals, naturally possess a negative charge, which means they can be manipulated across an electric field as if they were pixels in an etch-a-sketch.
When a slimy smear of the bacteria is applied to a substrate, in this case a square chip of photosensitive material called SU-8, you get a negatively charged microrobot that can move around in a fluid by riding the waves of an electric field. The bacteria's whip-like flagella help keep the robot suspended in the fluid environment while also providing a small bit of forward propulsion. The real push comes from two perpendicular electric fields that turn the fluid into an electrified grid. Since the bacteria are negatively charged, the team can manipulate the robots simply by adjusting the strength of the current.
"We have shown that we can manually direct the robots or give it a set of coordinates to get it from point A to point B, but our goal in this research is to enable the microrobots to navigate a course with random impediments blocking its way," Kim said. "This requires a level of automation that has not previously been achieved in hybrid microrobotics research."
Kim's group met this goal by making a control algorithm that enables the tiny robots to effectively use the shape of the electric field they're riding as a way to detect and avoid obstacles -- like a surfer reading the waves' break to steer clear of submerged hazards.
By running a series of tests using charged particles, the team came to understand how the electric field changed when it encountered insulator objects. "The electric field was distorted near the corners of the obstacle," the authors write. "Particles that passed by the first corner of the obstacles also had affected trajectories even though they had a clear space ahead to pass; this is due to the distorted electric field."
They used this deformation in the field as input data for their steering algorithm. So when the robot senses a change in the pattern of the field the algorithm automatically adjusts its path of to dodge the obstacle. In this way, the robots are using electric fields both as a mode of transportation and as a means of navigation.
In addition to the electric field information, the algorithm also uses image-tracking from a microscope-mounted camera to locate the initial starting point of the robot and its ultimate destination.
"With this level of control and input from the environment we can program the microrobot to make a series of value judgments during its journey that affect its path," Kim said. "If for instance we want the robot to avoid as many obstacles as possible, regardless of the distance traveled. Or we could set it to take the most direct, shortest route to the destination -- even if it's through the obstacles. This relative autonomy is an important step for microrobots if we're going to one day put them into a complex system and ask them to perform a task like delivering medication or building a microstructure."
The next step for Kim's lab is to develop a system consisting of multiple bacteria-powered microrobots that is able to perform manipulation of multiple live cells in vitro. Such a system could have several applications, including stem cell manipulation.
Story Source:
The above post is reprinted from materials provided by Drexel University.Note: Materials may be edited for content and length.
Tweet
Founded by Russian entrepreneur Dmitry Itskov in February 2011 with the participation of leading Russian specialists in the field of neural interfaces, robotics, artificial organs and systems.
The main goals of the 2045 Initiative: the creation and realization of a new strategy for the development of humanity which meets global civilization challenges; the creation of optimale conditions promoting the spiritual enlightenment of humanity; and the realization of a new futuristic reality based on 5 principles: high spirituality, high culture, high ethics, high science and high technologies.
The main science mega-project of the 2045 Initiative aims to create technologies enabling the transfer of a individual's personality to a more advanced non-biological carrier, and extending life, including to the point of immortality. We devote particular attention to enabling the fullest possible dialogue between the world's major spiritual traditions, science and society.
A large-scale transformation of humanity, comparable to some of the major spiritual and sci-tech revolutions in history, will require a new strategy. We believe this to be necessary to overcome existing crises, which threaten our planetary habitat and the continued existence of humanity as a species. With the 2045 Initiative, we hope to realize a new strategy for humanity's development, and in so doing, create a more productive, fulfilling, and satisfying future.
The "2045" team is working towards creating an international research center where leading scientists will be engaged in research and development in the fields of anthropomorphic robotics, living systems modeling and brain and consciousness modeling with the goal of transferring one's individual consciousness to an artificial carrier and achieving cybernetic immortality.
An annual congress "The Global Future 2045" is organized by the Initiative to give platform for discussing mankind's evolutionary strategy based on technologies of cybernetic immortality as well as the possible impact of such technologies on global society, politics and economies of the future.
Future prospects of "2045" Initiative for society
2015-2020
The emergence and widespread use of affordable android "avatars" controlled by a "brain-computer" interface. Coupled with related technologies "avatars' will give people a number of new features: ability to work in dangerous environments, perform rescue operations, travel in extreme situations etc.
Avatar components will be used in medicine for the rehabilitation of fully or partially disabled patients giving them prosthetic limbs or recover lost senses.
2020-2025
Creation of an autonomous life-support system for the human brain linked to a robot, 'avatar', will save people whose body is completely worn out or irreversibly damaged. Any patient with an intact brain will be able to return to a fully functioning bodily life. Such technologies will greatly enlarge the possibility of hybrid bio-electronic devices, thus creating a new IT revolution and will make all kinds of superimpositions of electronic and biological systems possible.
2030-2035
Creation of a computer model of the brain and human consciousness with the subsequent development of means to transfer individual consciousness onto an artificial carrier. This development will profoundly change the world, it will not only give everyone the possibility of cybernetic immortality but will also create a friendly artificial intelligence, expand human capabilities and provide opportunities for ordinary people to restore or modify their own brain multiple times. The final result at this stage can be a real revolution in the understanding of human nature that will completely change the human and technical prospects for humanity.
2045
This is the time when substance-independent minds will receive new bodies with capacities far exceeding those of ordinary humans. A new era for humanity will arrive! Changes will occur in all spheres of human activity – energy generation, transportation, politics, medicine, psychology, sciences, and so on.
Today it is hard to imagine a future when bodies consisting of nanorobots will become affordable and capable of taking any form. It is also hard to imagine body holograms featuring controlled matter. One thing is clear however: humanity, for the first time in its history, will make a fully managed evolutionary transition and eventually become a new species. Moreover, prerequisites for a large-scale expansion into outer space will be created as well.
Key elements of the project in the future
• International social movement
• social network immortal.me
• charitable foundation "Global Future 2045" (Foundation 2045)
• scientific research centre "Immortality"
• business incubator
• University of "Immortality"
• annual award for contribution to the realization of the project of "Immortality".