/

News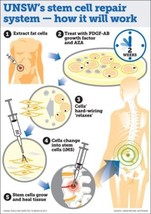 05.04.2016
'Game changing' stem cell repair system
Stem cell therapies capable of regenerating any human tissue damaged by injury, disease or ageing could be available within a few years, following landmark research led by UNSW Australia researchers.
The repair system, similar to the method used by salamanders to regenerate limbs, could be used to repair everything from spinal discs to bone fractures, and has the potential to transform current treatment approaches to regenerative medicine.
The UNSW-led research has been published today in the Proceedings of the National Academy of Sciences journal.
Study lead author, haematologist and UNSW Associate Professor John Pimanda, said the new technique, which reprograms bone and fat cells into induced multipotent stem cells (iMS), has been successfully demonstrated in mice.
"This technique is a significant advance on many of the current unproven stem cell therapies, which have shown little or no objective evidence they contribute directly to new tissue formation," Associate Professor Pimanda said.
"We are currently assessing whether adult human fat cells reprogrammed into iMS cells can safely repair damaged tissue in mice, with human trials expected to begin in late 2017."
There are different types of stem cells including embryonic stem (ES) cells, which during embryonic development generate every type of cell in the human body, and adult stem cells, which are tissue-specific. There are no adult stem cells that regenerate multiple tissue types.
"This technique is ground-breaking because iMS cells regenerate multiple tissue types," Associate Professor Pimanda said.
"We have taken bone and fat cells, switched off their memory and converted them into stem cells so they can repair different cell types once they are put back inside the body."
The technique developed by UNSW researchers involves extracting adult human fat cells and treating them with the compound 5-Azacytidine (AZA), along with platelet-derived growth factor-AB (PDGF-AB) for approximately two days. The cells are then treated with the growth factor alone for a further two-three weeks.
AZA is known to induce cell plasticity, which is crucial for reprogramming cells. The AZA compound relaxes the hard-wiring of the cell, which is expanded by the growth factor, transforming the bone and fat cells into iMS cells. When the stem cells are inserted into the damaged tissue site, they multiply, promoting growth and healing.
The new technique is similar to salamander limb regeneration, which is also dependent on the plasticity of differentiated cells, which can repair multiple tissue types, depending on which body part needs replacing.
The study's first author, Dr Vashe Chandrakanthan, who developed the technology, said the new technique is an advance on other stem cell therapies being investigated, which have a number of deficiencies.
"Embryonic stem cells cannot be used to treat damaged tissues because of their tumour forming capacity. The other problem when generating stem cells is the requirement to use viruses to transform cells into stem cells, which is clinically unacceptable," Dr Chandrakanthan said.
"We believe we've overcome these issues with this new technique."
Neurosurgeon and Conjoint Lecturer with UNSW's Prince of Wales Clinical School, Dr Ralph Mobbs, will lead the human trials, once the safety and effectiveness of the technique using human cells in mice has been demonstrated.
"The therapy has enormous potential for treating back and neck pain, spinal disc injury, joint and muscle degeneration and could also speed up recovery following complex surgeries where bones and joints need to integrate with the body," Dr Mobbs said.
Research shows that up to 20% of spinal implants either don't heal or there is delayed healing. The rates are higher for smokers, older people and patients with diseases such diabetes or kidney disease.
"Spinal implants currently used to replace damaged or troubled discs don't always weld with the adjacent bones, so by transplanting these reprogrammed stem cells, we hope to be able to better fuse these implants to the host bone," Dr Mobbs said.
"This represents a potential huge leap forward for spinal and orthopaedic procedures."
Along with confirming that human adult fat cells reprogrammed into iMS stem cells can safely repair damaged tissue in mice, the researchers said further work is required to establish whether iMS cells remain dormant at the sites of transplantation and retain their capacity to proliferate on demand.
Tweet
Founded by Russian entrepreneur Dmitry Itskov in February 2011 with the participation of leading Russian specialists in the field of neural interfaces, robotics, artificial organs and systems.
The main goals of the 2045 Initiative: the creation and realization of a new strategy for the development of humanity which meets global civilization challenges; the creation of optimale conditions promoting the spiritual enlightenment of humanity; and the realization of a new futuristic reality based on 5 principles: high spirituality, high culture, high ethics, high science and high technologies.
The main science mega-project of the 2045 Initiative aims to create technologies enabling the transfer of a individual's personality to a more advanced non-biological carrier, and extending life, including to the point of immortality. We devote particular attention to enabling the fullest possible dialogue between the world's major spiritual traditions, science and society.
A large-scale transformation of humanity, comparable to some of the major spiritual and sci-tech revolutions in history, will require a new strategy. We believe this to be necessary to overcome existing crises, which threaten our planetary habitat and the continued existence of humanity as a species. With the 2045 Initiative, we hope to realize a new strategy for humanity's development, and in so doing, create a more productive, fulfilling, and satisfying future.
The "2045" team is working towards creating an international research center where leading scientists will be engaged in research and development in the fields of anthropomorphic robotics, living systems modeling and brain and consciousness modeling with the goal of transferring one's individual consciousness to an artificial carrier and achieving cybernetic immortality.
An annual congress "The Global Future 2045" is organized by the Initiative to give platform for discussing mankind's evolutionary strategy based on technologies of cybernetic immortality as well as the possible impact of such technologies on global society, politics and economies of the future.
Future prospects of "2045" Initiative for society
2015-2020
The emergence and widespread use of affordable android "avatars" controlled by a "brain-computer" interface. Coupled with related technologies "avatars' will give people a number of new features: ability to work in dangerous environments, perform rescue operations, travel in extreme situations etc.
Avatar components will be used in medicine for the rehabilitation of fully or partially disabled patients giving them prosthetic limbs or recover lost senses.
2020-2025
Creation of an autonomous life-support system for the human brain linked to a robot, 'avatar', will save people whose body is completely worn out or irreversibly damaged. Any patient with an intact brain will be able to return to a fully functioning bodily life. Such technologies will greatly enlarge the possibility of hybrid bio-electronic devices, thus creating a new IT revolution and will make all kinds of superimpositions of electronic and biological systems possible.
2030-2035
Creation of a computer model of the brain and human consciousness with the subsequent development of means to transfer individual consciousness onto an artificial carrier. This development will profoundly change the world, it will not only give everyone the possibility of cybernetic immortality but will also create a friendly artificial intelligence, expand human capabilities and provide opportunities for ordinary people to restore or modify their own brain multiple times. The final result at this stage can be a real revolution in the understanding of human nature that will completely change the human and technical prospects for humanity.
2045
This is the time when substance-independent minds will receive new bodies with capacities far exceeding those of ordinary humans. A new era for humanity will arrive! Changes will occur in all spheres of human activity – energy generation, transportation, politics, medicine, psychology, sciences, and so on.
Today it is hard to imagine a future when bodies consisting of nanorobots will become affordable and capable of taking any form. It is also hard to imagine body holograms featuring controlled matter. One thing is clear however: humanity, for the first time in its history, will make a fully managed evolutionary transition and eventually become a new species. Moreover, prerequisites for a large-scale expansion into outer space will be created as well.
Key elements of the project in the future
• International social movement
• social network immortal.me
• charitable foundation "Global Future 2045" (Foundation 2045)
• scientific research centre "Immortality"
• business incubator
• University of "Immortality"
• annual award for contribution to the realization of the project of "Immortality".