/

News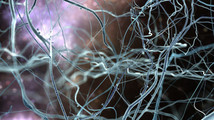 12.04.2016
Biologists discover new strategy to treat central nervous system injury
Neurobiologists at UC San Diego have discovered how signals that orchestrate the construction of the nervous system also influence recovery after traumatic injury. They also found that manipulating these signals can enhance the return of function.
Most people who suffer traumatic injuries have incomplete lesions of neural circuits whose function can be partially restored from the reconfiguration of the spared circuits with rehabilitative training. But the mechanisms are not well understood.
In this week's issue of Nature Neuroscience, biologists at UC San Diego report that removing the gene that encodes Ryk, a cell surface receptor for signaling proteins that control the wiring of the nervous system in development, enhances the ability of adult mice to remodel their neural circuits for the recovery of fine motor control after spinal cord injury.
"Our new study now provides the first genetic evidence that those signaling proteins, important in wiring the nervous system in development, have a profound influence on how central nervous system axons respond to spinal cord injury," said Yimin Zou, a professor in the Neurobiology Section of UC San Diego's Division of Biological Sciences, who headed the research team. "This suggests that many other guidance cues, in addition to these signaling proteins, may also play roles in adult spinal cord repair. This opens up new opportunities to apply what we've learned in nervous system development to treat paralysis in adulthood."
These signaling proteins, or "Wnts," play important roles in cell-cell communication. In the development of the nervous system, they determine what types of nerve cells young neurons eventually become and how they are spatially organized.
Zou and colleagues in his laboratory discovered more than a dozen years ago that Wnt protein gradients in the developing embryo also guide the growth of axons, the nerve fibers that connect the nerve cells into the highly organized network of neural circuits. They also found subsequently that Wnts and their receptors are not expressed, or are expressed at very low levels, in the adult spinal cord and the motor cortex in the brain. But in mice that underwent a spinal cord injury, they discovered that the Wnt proteins reappeared around the lesioned area in the spinal cord, while the receptor for the Wnt proteins, Ryk, appeared in the neurons of the motor cortex that project axons to the spinal cord to control body movement.
To elucidate the role of the Wnt proteins in spinal cord repair, the scientists developed a strain of mice that allowed them to remove Ryk from the motor cortex of the adult mouse.
"This way, the animals can develop normally," said Zou. "And we can access the role of Ryk only in adulthood to see whether it inhibits axon regrowth after injury."
Using this strain of mice and a normal control group, the scientists lesioned the dorsal column--the white matter tract within the spinal cord--at the C5 location of the spine to mimic a partial spinal cord injury in the mice. This severed their motor and sensory axons, but left the gray matter and the rest of the white matter within their spinal cords intact.
"Like people with a partial spinal cord injury, sensory and motor function in mice can recover partially with rehabilitative training," said Zou. "We used a special task to test the ability of the animals to use the motor cortex to control skilled movement. Mice usually do not use their forepaw to grasp food pellets. However, they can be trained to learn this task, which depends on the command from the motor cortex. After training, we selectively injured the nerve fiber that sends commands for fine motor control (the cortiospinal tract, which are the descending fibers in the dorsal column) and watch how fine motor control recovers with rehabilitative training."
After training, the scientists found that their mice that lack Ryk recovered significantly better one month after injury and stay better for months to come.
"We found that manipulating Ryk will not only improve the results of functional recovery, but also speed up recovery," said Zou. "If this can be achieved in humans, it will significantly improve the recovery and quality of life for individuals with partial spinal cord injuries."
The researchers also generated a monoclonal antibody that blocked the function of the Wnt receptor, Ryk. This antibody significantly improved the recovery of fine motor skills in rats with the same spinal cord injury measured by the same reaching and grasping task.
"This monoclonal antibody could be a promising therapeutic tool not only for spinal cord injuries, but traumatic brain injury and stroke," said Zou. "Another interesting finding in this new study is that maximal recovery from spinal cord injuries can only be achieved by combining molecular manipulation with rehabilitative training. This is important for designing therapeutic strategies."
Story Source:
The above post is reprinted from materials provided by University of California - San Diego. The original item was written by Kim McDonald.Note: Materials may be edited for content and length.
Journal Reference:
Edmund R Hollis, Nao Ishiko, Ting Yu, Chin-Chun Lu, Ariela Haimovich, Kristine Tolentino, Alisha Richman, Anna Tury, Shih-Hsiu Wang, Maysam Pessian, Euna Jo, Alex Kolodkin, Yimin Zou. Ryk controls remapping of motor cortex during functional recovery after spinal cord injury.Nature Neuroscience, 2016; DOI: 10.1038/nn.4282
Tweet
Founded by Russian entrepreneur Dmitry Itskov in February 2011 with the participation of leading Russian specialists in the field of neural interfaces, robotics, artificial organs and systems.
The main goals of the 2045 Initiative: the creation and realization of a new strategy for the development of humanity which meets global civilization challenges; the creation of optimale conditions promoting the spiritual enlightenment of humanity; and the realization of a new futuristic reality based on 5 principles: high spirituality, high culture, high ethics, high science and high technologies.
The main science mega-project of the 2045 Initiative aims to create technologies enabling the transfer of a individual's personality to a more advanced non-biological carrier, and extending life, including to the point of immortality. We devote particular attention to enabling the fullest possible dialogue between the world's major spiritual traditions, science and society.
A large-scale transformation of humanity, comparable to some of the major spiritual and sci-tech revolutions in history, will require a new strategy. We believe this to be necessary to overcome existing crises, which threaten our planetary habitat and the continued existence of humanity as a species. With the 2045 Initiative, we hope to realize a new strategy for humanity's development, and in so doing, create a more productive, fulfilling, and satisfying future.
The "2045" team is working towards creating an international research center where leading scientists will be engaged in research and development in the fields of anthropomorphic robotics, living systems modeling and brain and consciousness modeling with the goal of transferring one's individual consciousness to an artificial carrier and achieving cybernetic immortality.
An annual congress "The Global Future 2045" is organized by the Initiative to give platform for discussing mankind's evolutionary strategy based on technologies of cybernetic immortality as well as the possible impact of such technologies on global society, politics and economies of the future.
Future prospects of "2045" Initiative for society
2015-2020
The emergence and widespread use of affordable android "avatars" controlled by a "brain-computer" interface. Coupled with related technologies "avatars' will give people a number of new features: ability to work in dangerous environments, perform rescue operations, travel in extreme situations etc.
Avatar components will be used in medicine for the rehabilitation of fully or partially disabled patients giving them prosthetic limbs or recover lost senses.
2020-2025
Creation of an autonomous life-support system for the human brain linked to a robot, 'avatar', will save people whose body is completely worn out or irreversibly damaged. Any patient with an intact brain will be able to return to a fully functioning bodily life. Such technologies will greatly enlarge the possibility of hybrid bio-electronic devices, thus creating a new IT revolution and will make all kinds of superimpositions of electronic and biological systems possible.
2030-2035
Creation of a computer model of the brain and human consciousness with the subsequent development of means to transfer individual consciousness onto an artificial carrier. This development will profoundly change the world, it will not only give everyone the possibility of cybernetic immortality but will also create a friendly artificial intelligence, expand human capabilities and provide opportunities for ordinary people to restore or modify their own brain multiple times. The final result at this stage can be a real revolution in the understanding of human nature that will completely change the human and technical prospects for humanity.
2045
This is the time when substance-independent minds will receive new bodies with capacities far exceeding those of ordinary humans. A new era for humanity will arrive! Changes will occur in all spheres of human activity – energy generation, transportation, politics, medicine, psychology, sciences, and so on.
Today it is hard to imagine a future when bodies consisting of nanorobots will become affordable and capable of taking any form. It is also hard to imagine body holograms featuring controlled matter. One thing is clear however: humanity, for the first time in its history, will make a fully managed evolutionary transition and eventually become a new species. Moreover, prerequisites for a large-scale expansion into outer space will be created as well.
Key elements of the project in the future
• International social movement
• social network immortal.me
• charitable foundation "Global Future 2045" (Foundation 2045)
• scientific research centre "Immortality"
• business incubator
• University of "Immortality"
• annual award for contribution to the realization of the project of "Immortality".