/

News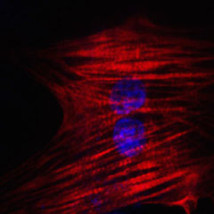 28.04.2016
Scientists turn skin cells into heart cells and brain cells using drugs
In a major breakthrough, scientists at the Gladstone Institutes transformed skin cells into heart cells and brain cells using a combination of chemicals. All previous work on cellular reprogramming required adding external genes to the cells, making this accomplishment an unprecedented feat. The research lays the groundwork for one day being able to regenerate lost or damaged cells with pharmaceutical drugs.
In two studies published in Science and Cell Stem Cell, the team of scientists, who were led by Gladstone senior investigator Sheng Ding, PhD, and are part of the Roddenberry Center for Stem Cell Biology and Medicine at Gladstone, used chemical cocktails to gradually coax skin cells to change into organ-specific stem cell-like cells and, ultimately, into heart or brain cells. This discovery offers a more efficient and reliable method to reprogram cells and avoids medical concerns surrounding genetic engineering.
"This method brings us closer to being able to generate new cells at the site of injury in patients," said Ding, the senior author on both studies. "Our hope is to one day treat diseases like heart failure or Parkinson's disease with drugs that help the heart and brain regenerate damaged areas from their own existing tissue cells. This process is much closer to the natural regeneration that happens in animals like newts and salamanders, which has long fascinated us."
Chemically Repaired Hearts
Adult hearts have a very limited ability to generate new cells, so scientists have searched for a way to replace cells lost after a heart attack, such as transplanting adult heart cells or stem cells into the damaged heart. However, these efforts have been largely ineffective, as most transplanted adult cells do not survive or integrate properly into the heart, and few stem cells can be coaxed into becoming heart cells. An alternative approach pioneered by Deepak Srivastava, MD, director of cardiovascular and stem cell research at Gladstone, used genes to convert scar-forming cells in the heart of animals into new muscle that improved the function of the heart. A chemical reprogramming approach to do the same may offer an easier way to provide the cues that induce heart muscle to regenerate locally.
In the Science study, the researchers used a cocktail of nine chemicals to change human skin cells into beating heart cells. By trial and error, they found the best combination of chemicals to begin the process by changing the cells into a state resembling multi-potent stem cells, which can turn into many different types of cells in a particular organ. A second cocktail of chemicals and growth factors helped transition the cells to become heart muscle cells.
With this method, more than 97% of the cells began beating, a characteristic of fully developed, healthy heart cells. The cells also responded appropriately to hormones, and molecularly, they resembled heart muscle cells, not skin cells. What's more, when the cells were transplanted into a mouse heart early in the process, they developed into healthy-looking heart muscle cells within the organ.
"The ultimate goal in treating heart failure is a robust, reliable way for the heart to create new muscle cells," said Srivastava, co-senior author on the Science paper. "Reprogramming a patient's own cells could provide the safest and most efficient way to regenerate dying or diseased heart muscle."
Rejuvenating the Brain with Neural Stem Cells
In the second study, published in Cell Stem Cell, the scientists created neural stem cells from mouse skin cells using a similar approach.
The chemical cocktail again consisted of nine molecules, some of which overlapped with those used in the first study. Over ten days, the cocktail changed the identity of the cells, until all of the skin cell genes were turned off and the neural stem cell genes were gradually turned on. When transplanted into mice, the neural stem cells spontaneously developed into the three basic types of brain cells: neurons, oligodendrocytes, and astrocytes. The neural stem cells were also able to self-replicate, making them ideal for treating neurodegenerative diseases or brain injury.
"With their improved safety, these neural stem cells could one day be used for cell replacement therapy in neurodegenerative diseases like Parkinson's disease and Alzheimer's disease," said co-senior author Yadong Huang, MD, PhD, a senior investigator at Gladstone. "In the future, we could even imagine treating patients with a drug cocktail that acts on the brain or spinal cord, rejuvenating cells in the brain in real time."
Nan Cao and Mingliang Zhang, both postdoctoral scholars at Gladstone, were the first authors on the Science and Cell Stem Cell papers, respectively. Other Gladstone scientists on the studies include Yu Huang, Ian Spencer, Yu Zhang, Baoming Nie, Min Xie, Haixia Wang, Tianhua Ma, Tao Xu, Guilai Shi, Saiyong Zhu, Kai Liu, and Ke Li. Researchers from the University of California, San Francisco and Case Western Reserve University also took part in the research.
Story Source:
The above post is reprinted from materials provided by Gladstone Institutes. The original item was written by Dana G. Smith. Note: Materials may be edited for content and length.
Journal References:
Nan Cao, Yu Huang, Jiashun Zheng, C. Ian Spencer, Yu Zhang, Ji-Dong Fu, Baoming Nie, Min Xie, Mingliang Zhang, Haixia Wang, Tianhua Ma, Tao Xu, Guilai Shi, Deepak Srivastava, Sheng Ding. Conversion of human fibroblasts into functional cardiomyocytes by small molecules.Science, 2016 DOI: 10.1126/science.aaf1502
Mingliang Zhang , Yuan-Hung Lin , Yujiao Jennifer Sun , Saiyong Zhu10 , Jiashun Zheng , Kai Liu , Nan Cao , Ke Li , Yadong Huang , Sheng Ding.Pharmacological Reprogramming of Fibroblasts into Neural Stem Cells by Signaling-Directed Transcriptional Activation. Cell Stem Cell, 2016 DOI: 10.1016/j.stem.2016.03.020
Tweet
Founded by Russian entrepreneur Dmitry Itskov in February 2011 with the participation of leading Russian specialists in the field of neural interfaces, robotics, artificial organs and systems.
The main goals of the 2045 Initiative: the creation and realization of a new strategy for the development of humanity which meets global civilization challenges; the creation of optimale conditions promoting the spiritual enlightenment of humanity; and the realization of a new futuristic reality based on 5 principles: high spirituality, high culture, high ethics, high science and high technologies.
The main science mega-project of the 2045 Initiative aims to create technologies enabling the transfer of a individual's personality to a more advanced non-biological carrier, and extending life, including to the point of immortality. We devote particular attention to enabling the fullest possible dialogue between the world's major spiritual traditions, science and society.
A large-scale transformation of humanity, comparable to some of the major spiritual and sci-tech revolutions in history, will require a new strategy. We believe this to be necessary to overcome existing crises, which threaten our planetary habitat and the continued existence of humanity as a species. With the 2045 Initiative, we hope to realize a new strategy for humanity's development, and in so doing, create a more productive, fulfilling, and satisfying future.
The "2045" team is working towards creating an international research center where leading scientists will be engaged in research and development in the fields of anthropomorphic robotics, living systems modeling and brain and consciousness modeling with the goal of transferring one's individual consciousness to an artificial carrier and achieving cybernetic immortality.
An annual congress "The Global Future 2045" is organized by the Initiative to give platform for discussing mankind's evolutionary strategy based on technologies of cybernetic immortality as well as the possible impact of such technologies on global society, politics and economies of the future.
Future prospects of "2045" Initiative for society
2015-2020
The emergence and widespread use of affordable android "avatars" controlled by a "brain-computer" interface. Coupled with related technologies "avatars' will give people a number of new features: ability to work in dangerous environments, perform rescue operations, travel in extreme situations etc.
Avatar components will be used in medicine for the rehabilitation of fully or partially disabled patients giving them prosthetic limbs or recover lost senses.
2020-2025
Creation of an autonomous life-support system for the human brain linked to a robot, 'avatar', will save people whose body is completely worn out or irreversibly damaged. Any patient with an intact brain will be able to return to a fully functioning bodily life. Such technologies will greatly enlarge the possibility of hybrid bio-electronic devices, thus creating a new IT revolution and will make all kinds of superimpositions of electronic and biological systems possible.
2030-2035
Creation of a computer model of the brain and human consciousness with the subsequent development of means to transfer individual consciousness onto an artificial carrier. This development will profoundly change the world, it will not only give everyone the possibility of cybernetic immortality but will also create a friendly artificial intelligence, expand human capabilities and provide opportunities for ordinary people to restore or modify their own brain multiple times. The final result at this stage can be a real revolution in the understanding of human nature that will completely change the human and technical prospects for humanity.
2045
This is the time when substance-independent minds will receive new bodies with capacities far exceeding those of ordinary humans. A new era for humanity will arrive! Changes will occur in all spheres of human activity – energy generation, transportation, politics, medicine, psychology, sciences, and so on.
Today it is hard to imagine a future when bodies consisting of nanorobots will become affordable and capable of taking any form. It is also hard to imagine body holograms featuring controlled matter. One thing is clear however: humanity, for the first time in its history, will make a fully managed evolutionary transition and eventually become a new species. Moreover, prerequisites for a large-scale expansion into outer space will be created as well.
Key elements of the project in the future
• International social movement
• social network immortal.me
• charitable foundation "Global Future 2045" (Foundation 2045)
• scientific research centre "Immortality"
• business incubator
• University of "Immortality"
• annual award for contribution to the realization of the project of "Immortality".