/

News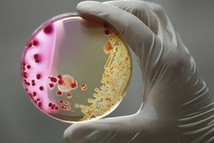 05.05.2016
'Bugs' as drugs: Harnessing novel gut bacteria for human health
Scientists at the Wellcome Trust Sanger Institute have grown and catalogued more than 130 bacteria from the human intestine according to a study published in Nature today (Wednesday May 4, 2016).
The researchers have developed a process to grow the majority of bacteria from the gut, which will enable scientists to understand how our bacterial 'microbiome' helps keep us healthy. Imbalances in our gut microbiome can contribute to complex conditions and diseases such as obesity, Inflammatory Bowel Disease, Irritable Bowel Syndrome and allergies. This research will allow scientists to start to create tailor-made treatments with specific beneficial bacteria.
Research in this field has expanded greatly in recent years with the intestinal microbiome being termed a 'forgotten organ', such is its importance to human health. Approximately 2 per cent of a person's body weight is due to bacteria. Many of these bacteria are sensitive to oxygen and are difficult to culture in the laboratory, so until now it has been extremely difficult to isolate and study them.
Hilary Browne, based in the Host-Microbiota Interactions Laboratory, at the Wellcome Trust Sanger Institute, explains: "It has become increasingly evident that microbial communities play a large role in human health and disease. By developing a new process to isolate gastrointestinal bacteria, we were able to sequence their genomes to understand more about their biology. We can also store them for long periods of time making them available for further research."
Antibiotics wipe out our gut bacteria -- killing both the pathogen targets and the beneficial bacteria too. There is then the potential for less desirable bacteria, such as those with antibiotic resistance, to repopulate the gut faster than the beneficial bacteria, leading to further health issues, such asClostridium difficile infection.
Current treatment for C. difficile infection can involve transplants of faeces from healthy people, to repopulate the gut. However this treatment is far from ideal. Using the library of new bacteria, Dr Trevor Lawley and his team at the Sanger Institute are hoping to create a pill, containing a rationally selected, defined mix of bacteria, which could be taken by patients and replace faecal transplants.
Dr Sam Forster from the Sanger Institute and Hudson Institute of Medical Research in Australia said: "The extensive database of genomes we have generated from these bacteria is also essential for studying which bacteria are present or absent in people with gastrointestinal conditions. Now we can start to design mixtures of therapeutics candidates for use in these diseases."
For the first time, the researchers also looked at the proportion of bacteria that form spores within the gut. Spores are a form of bacterial hibernation allowing some bacteria to remain dormant for long periods of time. They found approximately one third of the gut microbiota from a healthy person produced spores that allow bacteria to survive in the open air and potentially move between people. This provides a means of microbiota transmission that has not been considered before and could imply that health and certain diseases could be passed, not just through human genetics, but also via the microbiome.
Dr Trevor Lawley, group leader at the Sanger Institute said: "Being able to cast light on this microbial 'Dark matter' has implications for the whole of biology and how we consider health. We will be able to isolate the microbes from people with a specific disease, such as infection, cancers or autoimmune diseases, and study these microbes in a mouse model to see what happens. Studying our 'second' genome, that of the microbiota, will lead to a huge increase in our understanding of basic biology and the relationship between our gut bacteria and health and disease."
Story Source:
The above post is reprinted from materials provided by Wellcome Trust Sanger Institute. Note: Materials may be edited for content and length.
Journal Reference:
Hilary P. Browne, Samuel C. Forster, Blessing O. Anonye, Nitin Kumar, B. Anne Neville, Mark D. Stares, David Goulding, Trevor D. Lawley. Culturing of 'unculturable' human microbiota reveals novel taxa and extensive sporulation. Nature, 2016; DOI: 10.1038/nature17645
Tweet
Founded by Russian entrepreneur Dmitry Itskov in February 2011 with the participation of leading Russian specialists in the field of neural interfaces, robotics, artificial organs and systems.
The main goals of the 2045 Initiative: the creation and realization of a new strategy for the development of humanity which meets global civilization challenges; the creation of optimale conditions promoting the spiritual enlightenment of humanity; and the realization of a new futuristic reality based on 5 principles: high spirituality, high culture, high ethics, high science and high technologies.
The main science mega-project of the 2045 Initiative aims to create technologies enabling the transfer of a individual's personality to a more advanced non-biological carrier, and extending life, including to the point of immortality. We devote particular attention to enabling the fullest possible dialogue between the world's major spiritual traditions, science and society.
A large-scale transformation of humanity, comparable to some of the major spiritual and sci-tech revolutions in history, will require a new strategy. We believe this to be necessary to overcome existing crises, which threaten our planetary habitat and the continued existence of humanity as a species. With the 2045 Initiative, we hope to realize a new strategy for humanity's development, and in so doing, create a more productive, fulfilling, and satisfying future.
The "2045" team is working towards creating an international research center where leading scientists will be engaged in research and development in the fields of anthropomorphic robotics, living systems modeling and brain and consciousness modeling with the goal of transferring one's individual consciousness to an artificial carrier and achieving cybernetic immortality.
An annual congress "The Global Future 2045" is organized by the Initiative to give platform for discussing mankind's evolutionary strategy based on technologies of cybernetic immortality as well as the possible impact of such technologies on global society, politics and economies of the future.
Future prospects of "2045" Initiative for society
2015-2020
The emergence and widespread use of affordable android "avatars" controlled by a "brain-computer" interface. Coupled with related technologies "avatars' will give people a number of new features: ability to work in dangerous environments, perform rescue operations, travel in extreme situations etc.
Avatar components will be used in medicine for the rehabilitation of fully or partially disabled patients giving them prosthetic limbs or recover lost senses.
2020-2025
Creation of an autonomous life-support system for the human brain linked to a robot, 'avatar', will save people whose body is completely worn out or irreversibly damaged. Any patient with an intact brain will be able to return to a fully functioning bodily life. Such technologies will greatly enlarge the possibility of hybrid bio-electronic devices, thus creating a new IT revolution and will make all kinds of superimpositions of electronic and biological systems possible.
2030-2035
Creation of a computer model of the brain and human consciousness with the subsequent development of means to transfer individual consciousness onto an artificial carrier. This development will profoundly change the world, it will not only give everyone the possibility of cybernetic immortality but will also create a friendly artificial intelligence, expand human capabilities and provide opportunities for ordinary people to restore or modify their own brain multiple times. The final result at this stage can be a real revolution in the understanding of human nature that will completely change the human and technical prospects for humanity.
2045
This is the time when substance-independent minds will receive new bodies with capacities far exceeding those of ordinary humans. A new era for humanity will arrive! Changes will occur in all spheres of human activity – energy generation, transportation, politics, medicine, psychology, sciences, and so on.
Today it is hard to imagine a future when bodies consisting of nanorobots will become affordable and capable of taking any form. It is also hard to imagine body holograms featuring controlled matter. One thing is clear however: humanity, for the first time in its history, will make a fully managed evolutionary transition and eventually become a new species. Moreover, prerequisites for a large-scale expansion into outer space will be created as well.
Key elements of the project in the future
• International social movement
• social network immortal.me
• charitable foundation "Global Future 2045" (Foundation 2045)
• scientific research centre "Immortality"
• business incubator
• University of "Immortality"
• annual award for contribution to the realization of the project of "Immortality".