/

News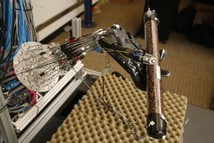 10.05.2016
This 5-fingered robot hand learns to get a grip on its own
Robots today can perform space missions, solve a Rubik's cube, sort hospital medication and even make pancakes. But most can't manage the simple act of grasping a pencil and spinning it around to get a solid grip.
Intricate tasks that require dexterous in-hand manipulation -- rolling, pivoting, bending, sensing friction and other things humans do effortlessly with our hands -- have proved notoriously difficult for robots.
Now, a University of Washington team of computer science and engineering researchers has built a robot hand that can not only perform dexterous manipulation but also learn from its own experience without needing humans to direct it. Their latest results are detailed in a paper to be presented May 17 at the IEEE International Conference on Robotics and Automation.
"Hand manipulation is one of the hardest problems that roboticists have to solve," said lead author Vikash Kumar, a UW doctoral student in computer science and engineering. "A lot of robots today have pretty capable arms but the hand is as simple as a suction cup or maybe a claw or a gripper."
By contrast, the UW research team spent years custom building one of the most highly capable five-fingered robot hands in the world. Then they developed an accurate simulation model that enables a computer to analyze movements in real time. In their latest demonstration, they apply the model to the hardware and real-world tasks like rotating an elongated object.
With each attempt, the robot hand gets progressively more adept at spinning the tube, thanks to machine learning algorithms that help it model both the basic physics involved and plan which actions it should take to achieve the desired result.
This autonomous learning approach developed by the UW Movement Control Laboratory contrasts with robotics demonstrations that require people to program each individual movement of the robot's hand in order to complete a single task.
"Usually people look at a motion and try to determine what exactly needs to happen --the pinky needs to move that way, so we'll put some rules in and try it and if something doesn't work, oh the middle finger moved too much and the pen tilted, so we'll try another rule," said senior author and lab director Emo Todorov, UW associate professor of computer science and engineering and of applied mathematics.
"It's almost like making an animated film -- it looks real but there was an army of animators tweaking it," Todorov said. "What we are using is a universal approach that enables the robot to learn from its own movements and requires no tweaking from us."
Building a dexterous, five-fingered robot hand poses challenges, both in design and control. The first involved building a mechanical hand with enough speed, strength responsiveness and flexibility to mimic basic behaviors of a human hand.
The UW's dexterous robot hand -- which the team built at a cost of roughly $300,000 -- uses a Shadow Hand skeleton actuated with a custom pneumatic system and can move faster than a human hand. It is too expensive for routine commercial or industrial use, but it allows the researchers to push core technologies and test innovative control strategies.
"There are a lot of chaotic things going on and collisions happening when you touch an object with different fingers, which is difficult for control algorithms to deal with," said co-author Sergey Levine, UW assistant professor of computer science and engineering who worked on the project as a postdoctoral fellow at University of California, Berkeley. "The approach we took was quite different from a traditional controls approach."
The team first developed algorithms that allowed a computer to model highly complex five-fingered behaviors and plan movements to achieve different outcomes -- like typing on a keyboard or dropping and catching a stick -- in simulation.
Most recently, the research team has transferred the models to work on the actual five-fingered hand hardware, which never proves to be exactly the same as a simulated scenario. As the robot hand performs different tasks, the system collects data from various sensors and motion capture cameras and employs machine learning algorithms to continually refine and develop more realistic models.
"It's like sitting through a lesson, going home and doing your homework to understand things better and then coming back to school a little more intelligent the next day," said Kumar.
So far, the team has demonstrated local learning with the hardware system -- which means the hand can continue to improve at a discrete task that involves manipulating the same object in roughly the same way. Next steps include beginning to demonstrate global learning -- which means the hand could figure out how to manipulate an unfamiliar object or a new scenario it hasn't encountered before.
Story Source:
The above post is reprinted from materials provided by University of Washington. The original item was written by Jennifer Langston. Note: Materials may be edited for content and length.
Tweet
Founded by Russian entrepreneur Dmitry Itskov in February 2011 with the participation of leading Russian specialists in the field of neural interfaces, robotics, artificial organs and systems.
The main goals of the 2045 Initiative: the creation and realization of a new strategy for the development of humanity which meets global civilization challenges; the creation of optimale conditions promoting the spiritual enlightenment of humanity; and the realization of a new futuristic reality based on 5 principles: high spirituality, high culture, high ethics, high science and high technologies.
The main science mega-project of the 2045 Initiative aims to create technologies enabling the transfer of a individual's personality to a more advanced non-biological carrier, and extending life, including to the point of immortality. We devote particular attention to enabling the fullest possible dialogue between the world's major spiritual traditions, science and society.
A large-scale transformation of humanity, comparable to some of the major spiritual and sci-tech revolutions in history, will require a new strategy. We believe this to be necessary to overcome existing crises, which threaten our planetary habitat and the continued existence of humanity as a species. With the 2045 Initiative, we hope to realize a new strategy for humanity's development, and in so doing, create a more productive, fulfilling, and satisfying future.
The "2045" team is working towards creating an international research center where leading scientists will be engaged in research and development in the fields of anthropomorphic robotics, living systems modeling and brain and consciousness modeling with the goal of transferring one's individual consciousness to an artificial carrier and achieving cybernetic immortality.
An annual congress "The Global Future 2045" is organized by the Initiative to give platform for discussing mankind's evolutionary strategy based on technologies of cybernetic immortality as well as the possible impact of such technologies on global society, politics and economies of the future.
Future prospects of "2045" Initiative for society
2015-2020
The emergence and widespread use of affordable android "avatars" controlled by a "brain-computer" interface. Coupled with related technologies "avatars' will give people a number of new features: ability to work in dangerous environments, perform rescue operations, travel in extreme situations etc.
Avatar components will be used in medicine for the rehabilitation of fully or partially disabled patients giving them prosthetic limbs or recover lost senses.
2020-2025
Creation of an autonomous life-support system for the human brain linked to a robot, 'avatar', will save people whose body is completely worn out or irreversibly damaged. Any patient with an intact brain will be able to return to a fully functioning bodily life. Such technologies will greatly enlarge the possibility of hybrid bio-electronic devices, thus creating a new IT revolution and will make all kinds of superimpositions of electronic and biological systems possible.
2030-2035
Creation of a computer model of the brain and human consciousness with the subsequent development of means to transfer individual consciousness onto an artificial carrier. This development will profoundly change the world, it will not only give everyone the possibility of cybernetic immortality but will also create a friendly artificial intelligence, expand human capabilities and provide opportunities for ordinary people to restore or modify their own brain multiple times. The final result at this stage can be a real revolution in the understanding of human nature that will completely change the human and technical prospects for humanity.
2045
This is the time when substance-independent minds will receive new bodies with capacities far exceeding those of ordinary humans. A new era for humanity will arrive! Changes will occur in all spheres of human activity – energy generation, transportation, politics, medicine, psychology, sciences, and so on.
Today it is hard to imagine a future when bodies consisting of nanorobots will become affordable and capable of taking any form. It is also hard to imagine body holograms featuring controlled matter. One thing is clear however: humanity, for the first time in its history, will make a fully managed evolutionary transition and eventually become a new species. Moreover, prerequisites for a large-scale expansion into outer space will be created as well.
Key elements of the project in the future
• International social movement
• social network immortal.me
• charitable foundation "Global Future 2045" (Foundation 2045)
• scientific research centre "Immortality"
• business incubator
• University of "Immortality"
• annual award for contribution to the realization of the project of "Immortality".