/

News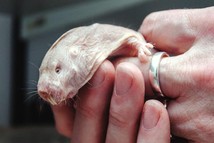 11.05.2016
How Jellyfish, Nanobots and Naked Mole Rats Could Make Humans Immortal
Dr Chris Faulkes is standing in his laboratory, tenderly caressing what looks like a penis. It's not his penis, nor mine, and it's definitely not that of the only other man in the room, VICE photographer Chris. But at four inches long with shrivelled skin that's veiny and loose, it looks very penis-y. Then, with a sudden squeak, it squirms in his hand as if trying to break free, revealing an enormous set of Bugs Bunny teeth protruding from the tip.
"This," says Faulkes, "is a naked mole rat, though she does look like a penis with teeth, doesn't she? Or a sabre-tooth sausage. But don't let her looks fool you – the naked mole rat is the superhero of the animal kingdom."
I'm with Faulkes in his lab at Queen Mary, University of London. Faulkes is an affable guy with a ponytail, telltale tattoos half-hidden under his T-shirt sleeve and a couple of silver goth rings on his fingers. A spaghetti-mess of tubes weave about the room, like a giant gerbil maze, through which 12 separated colonies of 200 naked mole rats scurry, scratch and squeak. What he just said is not hyperbole. In fact, the naked mole rat shares more than just its looks with a penis: where you might say the penis is nature's key to creating life, this ugly phallus of a creature could be mankind's key to eternal life.
"Their extreme and bizarre lifestyle never ceases to amaze and baffle biologists, making them one of the most intriguing animals to study," says Faulkes, who has devoted the past 30 years of his life to trying to understand how the naked mole rat has evolved into one of the most well-adapted, finely-tuned creatures on Earth. "All aspects of their biology seem to inform us about other animals, including humans, particularly when it comes to healthy ageing and cancer resistance."
Similarly-sized rodents usually live for about five years. The naked mole rat lives for 30. Even into their late twenties, they hardly seem to age, remaining fit and healthy with robust heartbeats, strong bones, sharp minds and high fertility. They don't seem to feel pain and, unlike other mammals, they almost never get cancer.
In other words, if humans lived as long, relative to body size, as naked mole rats, we would last for 500 years in a 25-year-old's body. "It's not a ridiculous exaggeration to suggest we can one day manipulate our own biochemical and metabolic pathways with drugs or gene therapies to emulate those that keep the naked mole rat alive and healthy for so long," says Faulkes, stroking his animal. "In fact, the naked mole rat provides us the perfect model for human ageing research across the board, from the way it resists cancer to the way its social systems prolong its life."
Over the centuries a long line of optimists, alchemists, hawkers and pop stars have hunted various methods of postponing death, from drinking elixirs of youth to sleeping in hyperbaric chambers. The one thing those people have in common is that all of them are dead. Still, the anti-ageing industry is bigger than ever. In 2013, its global market generated more than £150 billion [€190 billion EUR]. By 2018 it will hit £216 billion [€274 billion EUR], thanks mostly to huge investment from Silicon Valley billionaires and Russian oligarchs who've realised the only way they could possibly spend all their money is by living forever. Even Google wants in on the action, with Calico, its $1.5 billion [€1,27 billion] life-extension research centre whose brief is to reverse-engineer the biology that makes us old or, as Time magazine put it, to "cure death". It's a snowballing market that some are branding "the internet of healthcare". But on whom are these savvy entrepreneurs placing their bets? After all, the race for immortality has a wide field.
FROM VICE LONG READS: Inside the Ballsy Irish Traveller Gang That Stole Millions of Pounds Worth of Rhino Horn
In an office not far from Google's headquarters in Mountain View, with a beard to his belt buckle and a ponytail to match, British biomedical gerontologist Aubrey De Grey is enjoying the growing clamour about conquering ageing, or "senescence", as he calls it. His charity, the SENS Research Foundation, has enjoyed a bumper few years thanks to a £415,000-a-year [€526,000-a-year] investment from Paypal cofounder and immortality motormouth Peter Thiel ("Probably the most extreme form of inequality is between people who are alive and people who are dead"). Though he says the foundation's £4 million [€5 million] annual budget can still "struggle" to support its growing workload.
According to the Cambridge-educated scientist, the fundamental knowledge needed to develop effective anti-ageing therapies already exists. He argues that the seven biochemical processes that cause the damage which accumulates during old age have been discovered, and if we can counter them we can, in theory, halt the ageing process. Indeed, he not only sees ageing as a medical condition that can be cured, but believes that the "first person to live to 1,000 is alive today". If that sounds like the ramblings of a crackpot weird-beard, hear him out; Dr De Grey's run the numbers.
"If you look at the maths it is very straightforward," he says. "All we are saying here is that it's quite likely that within the next 20 or 30 years, we will develop medicines that can rejuvenate people faster than time is passing. It's not perfect yet, but soon we'll take someone aged 60 and fix them up well enough that they won't be 60 again, biologically, for another 30 years. In that period, therapies will improve such that we'll be able to rejuvenate them again so they won't be 60 for a third time until they are chronologically 150, and so on. If we can stay one step ahead of the problem, people won't die of ageing any more."
"Like immortality?" I ask. Dr De Grey sighs: "That word is the bane of my life. People who use that word are essentially making fun of what we do, as if to maintain an emotional distance from it so as not to get their hopes up. I don't work on 'curing death', I work on keeping people healthy. And, yes, I understand that success in my work could translate into an important side effect of people living longer. But to 'cure death' implies the elimination of all causes, including, say, dying in car accidents. And I don't think there's much we could do to survive an asteroid apocalypse."
So instead, De Grey focuses on the things we can avoid dying from, like hypertension, cancer, Alzeimer's and other age-related illnesses. His goal is not immortality, but "radical life extension". He says traditional medicines won't wind back the hands of our body clocks – we need to manipulate our make up on a cellular level, like using bacterial enzymes to flush out molecular "garbage" that accumulates in the body, or tinkering with our genetic coding to prevent the growth of cancers, or any other disease.
Tweet
Founded by Russian entrepreneur Dmitry Itskov in February 2011 with the participation of leading Russian specialists in the field of neural interfaces, robotics, artificial organs and systems.
The main goals of the 2045 Initiative: the creation and realization of a new strategy for the development of humanity which meets global civilization challenges; the creation of optimale conditions promoting the spiritual enlightenment of humanity; and the realization of a new futuristic reality based on 5 principles: high spirituality, high culture, high ethics, high science and high technologies.
The main science mega-project of the 2045 Initiative aims to create technologies enabling the transfer of a individual's personality to a more advanced non-biological carrier, and extending life, including to the point of immortality. We devote particular attention to enabling the fullest possible dialogue between the world's major spiritual traditions, science and society.
A large-scale transformation of humanity, comparable to some of the major spiritual and sci-tech revolutions in history, will require a new strategy. We believe this to be necessary to overcome existing crises, which threaten our planetary habitat and the continued existence of humanity as a species. With the 2045 Initiative, we hope to realize a new strategy for humanity's development, and in so doing, create a more productive, fulfilling, and satisfying future.
The "2045" team is working towards creating an international research center where leading scientists will be engaged in research and development in the fields of anthropomorphic robotics, living systems modeling and brain and consciousness modeling with the goal of transferring one's individual consciousness to an artificial carrier and achieving cybernetic immortality.
An annual congress "The Global Future 2045" is organized by the Initiative to give platform for discussing mankind's evolutionary strategy based on technologies of cybernetic immortality as well as the possible impact of such technologies on global society, politics and economies of the future.
Future prospects of "2045" Initiative for society
2015-2020
The emergence and widespread use of affordable android "avatars" controlled by a "brain-computer" interface. Coupled with related technologies "avatars' will give people a number of new features: ability to work in dangerous environments, perform rescue operations, travel in extreme situations etc.
Avatar components will be used in medicine for the rehabilitation of fully or partially disabled patients giving them prosthetic limbs or recover lost senses.
2020-2025
Creation of an autonomous life-support system for the human brain linked to a robot, 'avatar', will save people whose body is completely worn out or irreversibly damaged. Any patient with an intact brain will be able to return to a fully functioning bodily life. Such technologies will greatly enlarge the possibility of hybrid bio-electronic devices, thus creating a new IT revolution and will make all kinds of superimpositions of electronic and biological systems possible.
2030-2035
Creation of a computer model of the brain and human consciousness with the subsequent development of means to transfer individual consciousness onto an artificial carrier. This development will profoundly change the world, it will not only give everyone the possibility of cybernetic immortality but will also create a friendly artificial intelligence, expand human capabilities and provide opportunities for ordinary people to restore or modify their own brain multiple times. The final result at this stage can be a real revolution in the understanding of human nature that will completely change the human and technical prospects for humanity.
2045
This is the time when substance-independent minds will receive new bodies with capacities far exceeding those of ordinary humans. A new era for humanity will arrive! Changes will occur in all spheres of human activity – energy generation, transportation, politics, medicine, psychology, sciences, and so on.
Today it is hard to imagine a future when bodies consisting of nanorobots will become affordable and capable of taking any form. It is also hard to imagine body holograms featuring controlled matter. One thing is clear however: humanity, for the first time in its history, will make a fully managed evolutionary transition and eventually become a new species. Moreover, prerequisites for a large-scale expansion into outer space will be created as well.
Key elements of the project in the future
• International social movement
• social network immortal.me
• charitable foundation "Global Future 2045" (Foundation 2045)
• scientific research centre "Immortality"
• business incubator
• University of "Immortality"
• annual award for contribution to the realization of the project of "Immortality".