/

News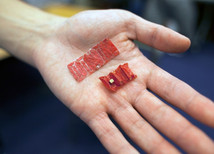 16.05.2016
Ingestible origami robot
In experiments involving a simulation of the human esophagus and stomach, researchers at MIT, the University of Sheffield, and the Tokyo Institute of Technology have demonstrated a tiny origami robot that can unfold itself from a swallowed capsule and, steered by external magnetic fields, crawl across the stomach wall to remove a swallowed button battery or patch a wound.
The new work, which the researchers are presenting this week at the International Conference on Robotics and Automation, builds on a long sequence of papers on origamirobots from the research group of Daniela Rus, the Andrew and Erna Viterbi Professor in MIT's Department of Electrical Engineering and Computer Science.
"It's really exciting to see our small origami robots doing something with potential important applications to health care," says Rus, who also directs MIT's Computer Science and Artificial Intelligence Laboratory (CSAIL). "For applications inside the body, we need a small, controllable, untethered robot system. It's really difficult to control and place a robot inside the body if the robot is attached to a tether."
Joining Rus on the paper are first author Shuhei Miyashita, who was a postdoc at CSAIL when the work was done and is now a lecturer in electronics at the University of York, in England; Steven Guitron, a graduate student in mechanical engineering; Shuguang Li, a CSAIL postdoc; Kazuhiro Yoshida of Tokyo Institute of Technology, who was visiting MIT on sabbatical when the work was done; and Dana Damian of the University of Sheffield, in England.
Although the new robot is a successor to one reported at the same conference last year, the design of its body is significantly different. Like its predecessor, it can propel itself using what's called a "stick-slip" motion, in which its appendages stick to a surface through friction when it executes a move, but slip free again when its body flexes to change its weight distribution.
Also like its predecessor — and like several other origami robots from the Rus group — the new robot consists of two layers of structural material sandwiching a material that shrinks when heated. A pattern of slits in the outer layers determines how the robot will fold when the middle layer contracts.
Material difference
The robot's envisioned use also dictated a host of structural modifications. "Stick-slip only works when, one, the robot is small enough and, two, the robot is stiff enough," says Guitron. "With the original Mylar design, it was much stiffer than the new design, which is based on a biocompatible material."
To compensate for the biocompatible material's relative malleability, the researchers had to come up with a design that required fewer slits. At the same time, the robot's folds increase its stiffness along certain axes.
But because the stomach is filled with fluids, the robot doesn't rely entirely on stick-slip motion. "In our calculation, 20 percent of forward motion is by propelling water — thrust — and 80 percent is by stick-slip motion," says Miyashita. "In this regard, we actively introduced and applied the concept and characteristics of the fin to the body design, which you can see in the relatively flat design."
It also had to be possible to compress the robot enough that it could fit inside a capsule for swallowing; similarly, when the capsule dissolved, the forces acting on the robot had to be strong enough to cause it to fully unfold. Through a design process that Guitron describes as "mostly trial and error," the researchers arrived at a rectangular robot with accordion folds perpendicular to its long axis and pinched corners that act as points of traction.
In the center of one of the forward accordion folds is a permanent magnet that responds to changing magnetic fields outside the body, which control the robot's motion. The forces applied to the robot are principally rotational. A quick rotation will make it spin in place, but a slower rotation will cause it to pivot around one of its fixed feet. In the researchers' experiments, the robot uses the same magnet to pick up the button battery.
Porcine precedents
The researchers tested about a dozen different possibilities for the structural material before settling on the type of dried pig intestine used in sausage casings. "We spent a lot of time at Asian markets and the Chinatown market looking for materials," Li says. The shrinking layer is a biodegradable shrink wrap called Biolefin.
To design their synthetic stomach, the researchers bought a pig stomach and tested its mechanical properties. Their model is an open cross-section of the stomach and esophagus, molded from a silicone rubber with the same mechanical profile. A mixture of water and lemon juice simulates the acidic fluids in the stomach.
Every year, 3,500 swallowed button batteries are reported in the U.S. alone. Frequently, the batteries are digested normally, but if they come into prolonged contact with the tissue of the esophagus or stomach, they can cause an electric current that produces hydroxide, which burns the tissue. Miyashita employed a clever strategy to convince Rus that the removal of swallowed button batteries and the treatment of consequent wounds was a compelling application of their origami robot.
"Shuhei bought a piece of ham, and he put the battery on the ham," Rus says. "Within half an hour, the battery was fully submerged in the ham. So that made me realize that, yes, this is important. If you have a battery in your body, you really want it out as soon as possible."
"This concept is both highly creative and highly practical, and it addresses a clinical need in an elegant way," says Bradley Nelson, a professor of robotics at the Swiss Federal Institute of Technology Zurich. "It is one of the most convincing applications of origami robots that I have seen."
Tweet
Founded by Russian entrepreneur Dmitry Itskov in February 2011 with the participation of leading Russian specialists in the field of neural interfaces, robotics, artificial organs and systems.
The main goals of the 2045 Initiative: the creation and realization of a new strategy for the development of humanity which meets global civilization challenges; the creation of optimale conditions promoting the spiritual enlightenment of humanity; and the realization of a new futuristic reality based on 5 principles: high spirituality, high culture, high ethics, high science and high technologies.
The main science mega-project of the 2045 Initiative aims to create technologies enabling the transfer of a individual's personality to a more advanced non-biological carrier, and extending life, including to the point of immortality. We devote particular attention to enabling the fullest possible dialogue between the world's major spiritual traditions, science and society.
A large-scale transformation of humanity, comparable to some of the major spiritual and sci-tech revolutions in history, will require a new strategy. We believe this to be necessary to overcome existing crises, which threaten our planetary habitat and the continued existence of humanity as a species. With the 2045 Initiative, we hope to realize a new strategy for humanity's development, and in so doing, create a more productive, fulfilling, and satisfying future.
The "2045" team is working towards creating an international research center where leading scientists will be engaged in research and development in the fields of anthropomorphic robotics, living systems modeling and brain and consciousness modeling with the goal of transferring one's individual consciousness to an artificial carrier and achieving cybernetic immortality.
An annual congress "The Global Future 2045" is organized by the Initiative to give platform for discussing mankind's evolutionary strategy based on technologies of cybernetic immortality as well as the possible impact of such technologies on global society, politics and economies of the future.
Future prospects of "2045" Initiative for society
2015-2020
The emergence and widespread use of affordable android "avatars" controlled by a "brain-computer" interface. Coupled with related technologies "avatars' will give people a number of new features: ability to work in dangerous environments, perform rescue operations, travel in extreme situations etc.
Avatar components will be used in medicine for the rehabilitation of fully or partially disabled patients giving them prosthetic limbs or recover lost senses.
2020-2025
Creation of an autonomous life-support system for the human brain linked to a robot, 'avatar', will save people whose body is completely worn out or irreversibly damaged. Any patient with an intact brain will be able to return to a fully functioning bodily life. Such technologies will greatly enlarge the possibility of hybrid bio-electronic devices, thus creating a new IT revolution and will make all kinds of superimpositions of electronic and biological systems possible.
2030-2035
Creation of a computer model of the brain and human consciousness with the subsequent development of means to transfer individual consciousness onto an artificial carrier. This development will profoundly change the world, it will not only give everyone the possibility of cybernetic immortality but will also create a friendly artificial intelligence, expand human capabilities and provide opportunities for ordinary people to restore or modify their own brain multiple times. The final result at this stage can be a real revolution in the understanding of human nature that will completely change the human and technical prospects for humanity.
2045
This is the time when substance-independent minds will receive new bodies with capacities far exceeding those of ordinary humans. A new era for humanity will arrive! Changes will occur in all spheres of human activity – energy generation, transportation, politics, medicine, psychology, sciences, and so on.
Today it is hard to imagine a future when bodies consisting of nanorobots will become affordable and capable of taking any form. It is also hard to imagine body holograms featuring controlled matter. One thing is clear however: humanity, for the first time in its history, will make a fully managed evolutionary transition and eventually become a new species. Moreover, prerequisites for a large-scale expansion into outer space will be created as well.
Key elements of the project in the future
• International social movement
• social network immortal.me
• charitable foundation "Global Future 2045" (Foundation 2045)
• scientific research centre "Immortality"
• business incubator
• University of "Immortality"
• annual award for contribution to the realization of the project of "Immortality".