/

News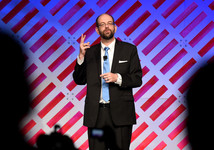 20.06.2016
Toyota Researcher Sees Cheap Robots Possible by Mass Production
The researcher hired by Toyota Motor Corp. to spearhead its robotics and artificial intelligence efforts says the automaker's production principles can be applied to build affordable helper robots for rapidly aging societies.
Robot makers are struggling with the same scale challenges that the auto industry overcame with the "miracle" that occurred when Henry Ford developed the assembly line, according to Gill Pratt, the chief executive officer of Toyota Research Institute. Toyota's vaunted production system later showed how to make cars both more cheaply and reliably, despite mistake-prone humans' role in manufacturing, he said.
Gill Pratt Photographer: David Paul Morris/Bloomberg
"My thought is, if the Toyota production system can be applied to cars, maybe it can also be applied to robots, because they're quite similar," Pratt told reporters Friday in Tokyo. He's particularly sanguine about the prospects for devices that would help the elderly age where they live. "The car of the future and the robot of the future in the home are both essentially doing the same thing."
Beyond Cars
Toyota had been delving into robotic applications beyond cars before President Akio Toyoda hired Pratt last year to run a research institute that it will fund with $1 billion over five years. The interests are in keeping with a push by Prime Minister Shinzo Abe for a "robot revolution" in Japan, with a a target to more than quadruple the nation's robotics industry sales to 2.4 trillion yen ($23 billion) by 2020.
Toyota has been working on a motorized wheelchair that scales stairs, a wearable that guides the blind, a helper device that retrieves objects for the bedridden, and trainersfor patients rehabilitating the ability to walk and stay balanced.
Close all those tabs. Open this email.Get Bloomberg's daily newsletter.Sign UpThe world's largest automaker is forging ahead in robotics as Google, the technology giant and a challenger in the race to develop driverless cars, shows signs of pulling back. Google's parent Alphabet Inc. has put Boston Dynamics up for sale after concluding it isn't likely to produce a marketable product within the next few years, Bloomberg News reported in March. Toyota Research Institute is among the potential acquirers, a person familiar with the matter said.
Acquisition Talks
The Nikkei newspaper reported this month that Toyota's institute was in final talks with Google to purchase both Boston Dynamics and Schaft, the robot company founded by two Tokyo University engineers.
Pratt declined to comment on whether either acquisition is in the works. He said he knows both companies well, having joined Toyota from running the robotics challenges put on by the U.S. military's Defense Advanced Research Projects Agency, or Darpa. Both competed in those challenges, with Schaft winning one of the trial races, he said.
The Toyota Human Support Robot. Photographer: Tomohiro Ohsumi/Bloomberg
Initially reluctant to embrace automated driving, Toyoda said when setting up the research institute that his views had changed. The grandson of Toyota's founder suggested accepting the technology could be a matter of survival, hearkening back to cars replacing horses as the preferred means of transportation and saying he wanted vehicles to remain loved by people.
Software vs. Hardware
"The car of the future is as much about software as it is about hardware, and as you put software and hardware together, what you get is a robot," Pratt said. "A robot is a kind of machine that senses and thinks and acts, and a mobile robot is one that does those things where the acting involves moving around."
Robots in the home also will need to perceive the world around them, respond to commands, and think, plan and take action on their own, Pratt said. Toyota has the means to apply the same scale it's used to make Corolla compact cars affordable in bringing down the cost of robots.
"It is extraordinary that a very wide segment of society can afford cars," Pratt said. "Cars are everywhere. I see no reason that robots couldn't be everywhere as well."
Pratt says he's also optimistic about the prospects for robots because the populations are aging in some of Toyota's most crucial markets, including at home in Japan. More than a quarter of Japan's population is over 65, a higher rate than any other nation.
"The market's going to be there," he said. "And now the only question is, can we apply the Toyota production system to that market? And I think that we can."
Tweet
Founded by Russian entrepreneur Dmitry Itskov in February 2011 with the participation of leading Russian specialists in the field of neural interfaces, robotics, artificial organs and systems.
The main goals of the 2045 Initiative: the creation and realization of a new strategy for the development of humanity which meets global civilization challenges; the creation of optimale conditions promoting the spiritual enlightenment of humanity; and the realization of a new futuristic reality based on 5 principles: high spirituality, high culture, high ethics, high science and high technologies.
The main science mega-project of the 2045 Initiative aims to create technologies enabling the transfer of a individual's personality to a more advanced non-biological carrier, and extending life, including to the point of immortality. We devote particular attention to enabling the fullest possible dialogue between the world's major spiritual traditions, science and society.
A large-scale transformation of humanity, comparable to some of the major spiritual and sci-tech revolutions in history, will require a new strategy. We believe this to be necessary to overcome existing crises, which threaten our planetary habitat and the continued existence of humanity as a species. With the 2045 Initiative, we hope to realize a new strategy for humanity's development, and in so doing, create a more productive, fulfilling, and satisfying future.
The "2045" team is working towards creating an international research center where leading scientists will be engaged in research and development in the fields of anthropomorphic robotics, living systems modeling and brain and consciousness modeling with the goal of transferring one's individual consciousness to an artificial carrier and achieving cybernetic immortality.
An annual congress "The Global Future 2045" is organized by the Initiative to give platform for discussing mankind's evolutionary strategy based on technologies of cybernetic immortality as well as the possible impact of such technologies on global society, politics and economies of the future.
Future prospects of "2045" Initiative for society
2015-2020
The emergence and widespread use of affordable android "avatars" controlled by a "brain-computer" interface. Coupled with related technologies "avatars' will give people a number of new features: ability to work in dangerous environments, perform rescue operations, travel in extreme situations etc.
Avatar components will be used in medicine for the rehabilitation of fully or partially disabled patients giving them prosthetic limbs or recover lost senses.
2020-2025
Creation of an autonomous life-support system for the human brain linked to a robot, 'avatar', will save people whose body is completely worn out or irreversibly damaged. Any patient with an intact brain will be able to return to a fully functioning bodily life. Such technologies will greatly enlarge the possibility of hybrid bio-electronic devices, thus creating a new IT revolution and will make all kinds of superimpositions of electronic and biological systems possible.
2030-2035
Creation of a computer model of the brain and human consciousness with the subsequent development of means to transfer individual consciousness onto an artificial carrier. This development will profoundly change the world, it will not only give everyone the possibility of cybernetic immortality but will also create a friendly artificial intelligence, expand human capabilities and provide opportunities for ordinary people to restore or modify their own brain multiple times. The final result at this stage can be a real revolution in the understanding of human nature that will completely change the human and technical prospects for humanity.
2045
This is the time when substance-independent minds will receive new bodies with capacities far exceeding those of ordinary humans. A new era for humanity will arrive! Changes will occur in all spheres of human activity – energy generation, transportation, politics, medicine, psychology, sciences, and so on.
Today it is hard to imagine a future when bodies consisting of nanorobots will become affordable and capable of taking any form. It is also hard to imagine body holograms featuring controlled matter. One thing is clear however: humanity, for the first time in its history, will make a fully managed evolutionary transition and eventually become a new species. Moreover, prerequisites for a large-scale expansion into outer space will be created as well.
Key elements of the project in the future
• International social movement
• social network immortal.me
• charitable foundation "Global Future 2045" (Foundation 2045)
• scientific research centre "Immortality"
• business incubator
• University of "Immortality"
• annual award for contribution to the realization of the project of "Immortality".