/

News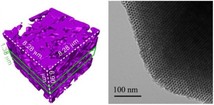 04.07.2016
Injectable biomaterial could be used to manipulate organ behavior
In the campy 1966 science fiction movie "Fantastic Voyage," scientists miniaturize a submarine with themselves inside and travel through the body of a colleague to break up a potentially fatal blood clot. Right. Micro-humans aside, imagine the inflammation that metal sub would cause.
Ideally, injectable or implantable medical devices should not only be small and electrically functional, they should be soft, like the body tissues with which they interact. Scientists from two UChicago labs set out to see if they could design a material with all three of those properties.
The material they came up with, published online June 27, 2016, in Nature Materials, forms the basis of an ingenious light-activated injectable device that could eventually be used to stimulate nerve cells and manipulate the behavior of muscles and organs.
"Most traditional materials for implants are very rigid and bulky, especially if you want to do electrical stimulation," said Bozhi Tian, an assistant professor in chemistry whose lab collaborated with that of neuroscientist Francisco Bezanilla on the research.
The new material, in contrast, is soft and tiny -- particles just a few micrometers in diameter (far less than the width of a human hair) that disperse easily in a saline solution so they can be injected. The particles also degrade naturally inside the body after a few months, so no surgery would be needed to remove them.
Nanoscale 'sponge'
Each particle is built of two types of silicon that together form a structure full of nano-scale pores, like a tiny sponge. And like a sponge, it is squishy -- a hundred to a thousand times less rigid than the familiar crystalline silicon used in transistors and solar cells. "It is comparable to the rigidity of the collagen fibers in our bodies," said Yuanwen Jiang, Tian's graduate student. "So we're creating a material that matches the rigidity of real tissue."
The material constitutes half of an electrical device that creates itself spontaneously when one of the silicon particles is injected into a cell culture, or, eventually, a human body. The particle attaches to a cell, making an interface with the cell's plasma membrane. Those two elements together -- cell membrane plus particle -- form a unit that generates current when light is shined on the silicon particle.
"You don't need to inject the entire device; you just need to inject one component," João L. Carvalho-de-Souza , Bezanilla's postdoc said. "This single particle connection with the cell membrane allows sufficient generation of current that could be used to stimulate the cell and change its activity. After you achieve your therapeutic goal, the material degrades naturally. And if you want to do therapy again, you do another injection."
The scientists built the particles using a process they call nano-casting. They fabricate a silicon dioxide mold composed of tiny channels -- "nano-wires" -- about seven nanometers in diameter (less than 10,000 times smaller than the width of a human hair) connected by much smaller "micro-bridges." Into the mold they inject silane gas, which fills the pores and channels and decomposes into silicon.
And this is where things get particularly cunning. The scientists exploit the fact the smaller an object is, the more the atoms on its surface dominate its reactions to what is around it. The micro-bridges are minute, so most of their atoms are on the surface. These interact with oxygen that is present in the silicon dioxide mold, creating micro-bridges made of oxidized silicon gleaned from materials at hand. The much larger nano-wires have proportionately fewer surface atoms, are much less interactive, and remain mostly pure silicon.
"This is the beauty of nanoscience," Jiang said. "It allows you to engineer chemical compositions just by manipulating the size of things."
Web-like nanostructure
Finally, the mold is dissolved. What remains is a web-like structure of silicon nano-wires connected by micro-bridges of oxidized silicon that can absorb water and help increase the structure's softness. The pure silicon retains its ability to absorb light.
The scientists have added the particles onto neurons in culture in the lab, shone light on the particles, and seen current flow into the neurons which activates the cells. The next step is to see what happens in living animals. They are particularly interested in stimulating nerves in the peripheral nervous system that connect to organs. These nerves are relatively close to the surface of the body, so near-infra-red wavelength light can reach them through the skin.
Tian imagines using the light-activated devices to engineer human tissue and create artificial organs to replace damaged ones. Currently, scientists can make engineered organs with the correct form but not the ideal function.
To get a lab-built organ to function properly, they will need to be able to manipulate individual cells in the engineered tissue. The injectable device would allow a scientist to do that, tweaking an individual cell using a tightly focused beam of light like a mechanic reaching into an engine and turning a single bolt. The possibility of doing this kind of synthetic biology without genetic engineering is enticing.
"No one wants their genetics to be altered," Tian said. "It can be risky. There's a need for a non-genetic system that can still manipulate cell behavior. This could be that kind of system."
Tian's graduate student Yuanwen Jiang did the material development and characterization on the project. The biological part of the collaboration was done in the lab of Francisco Bezanilla, the Lillian Eichelberger Cannon Professor of Biochemistry and Molecular Biology, by postdoc João L. Carvalho-de-Souza. They were, said Tian, the "heroes" of the work.
Story Source:
The above post is reprinted from materials provided by University of Chicago. Note: Materials may be edited for content and length.
Tweet
Founded by Russian entrepreneur Dmitry Itskov in February 2011 with the participation of leading Russian specialists in the field of neural interfaces, robotics, artificial organs and systems.
The main goals of the 2045 Initiative: the creation and realization of a new strategy for the development of humanity which meets global civilization challenges; the creation of optimale conditions promoting the spiritual enlightenment of humanity; and the realization of a new futuristic reality based on 5 principles: high spirituality, high culture, high ethics, high science and high technologies.
The main science mega-project of the 2045 Initiative aims to create technologies enabling the transfer of a individual's personality to a more advanced non-biological carrier, and extending life, including to the point of immortality. We devote particular attention to enabling the fullest possible dialogue between the world's major spiritual traditions, science and society.
A large-scale transformation of humanity, comparable to some of the major spiritual and sci-tech revolutions in history, will require a new strategy. We believe this to be necessary to overcome existing crises, which threaten our planetary habitat and the continued existence of humanity as a species. With the 2045 Initiative, we hope to realize a new strategy for humanity's development, and in so doing, create a more productive, fulfilling, and satisfying future.
The "2045" team is working towards creating an international research center where leading scientists will be engaged in research and development in the fields of anthropomorphic robotics, living systems modeling and brain and consciousness modeling with the goal of transferring one's individual consciousness to an artificial carrier and achieving cybernetic immortality.
An annual congress "The Global Future 2045" is organized by the Initiative to give platform for discussing mankind's evolutionary strategy based on technologies of cybernetic immortality as well as the possible impact of such technologies on global society, politics and economies of the future.
Future prospects of "2045" Initiative for society
2015-2020
The emergence and widespread use of affordable android "avatars" controlled by a "brain-computer" interface. Coupled with related technologies "avatars' will give people a number of new features: ability to work in dangerous environments, perform rescue operations, travel in extreme situations etc.
Avatar components will be used in medicine for the rehabilitation of fully or partially disabled patients giving them prosthetic limbs or recover lost senses.
2020-2025
Creation of an autonomous life-support system for the human brain linked to a robot, 'avatar', will save people whose body is completely worn out or irreversibly damaged. Any patient with an intact brain will be able to return to a fully functioning bodily life. Such technologies will greatly enlarge the possibility of hybrid bio-electronic devices, thus creating a new IT revolution and will make all kinds of superimpositions of electronic and biological systems possible.
2030-2035
Creation of a computer model of the brain and human consciousness with the subsequent development of means to transfer individual consciousness onto an artificial carrier. This development will profoundly change the world, it will not only give everyone the possibility of cybernetic immortality but will also create a friendly artificial intelligence, expand human capabilities and provide opportunities for ordinary people to restore or modify their own brain multiple times. The final result at this stage can be a real revolution in the understanding of human nature that will completely change the human and technical prospects for humanity.
2045
This is the time when substance-independent minds will receive new bodies with capacities far exceeding those of ordinary humans. A new era for humanity will arrive! Changes will occur in all spheres of human activity – energy generation, transportation, politics, medicine, psychology, sciences, and so on.
Today it is hard to imagine a future when bodies consisting of nanorobots will become affordable and capable of taking any form. It is also hard to imagine body holograms featuring controlled matter. One thing is clear however: humanity, for the first time in its history, will make a fully managed evolutionary transition and eventually become a new species. Moreover, prerequisites for a large-scale expansion into outer space will be created as well.
Key elements of the project in the future
• International social movement
• social network immortal.me
• charitable foundation "Global Future 2045" (Foundation 2045)
• scientific research centre "Immortality"
• business incubator
• University of "Immortality"
• annual award for contribution to the realization of the project of "Immortality".