/

News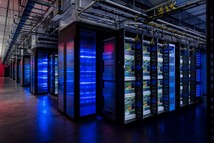 15.07.2016
Inside Facebook's Artificial Intelligence Engine Room
Access Facebook from the western half of North America and there's a good chance your data will be pulled from a computer cooled by the juniper- and sage-scented air of central Oregon's high desert.
In the town of Prineville, home to roughly 9,000 people, Facebook stores the data of hundreds of millions more. Rows and rows of computers stand inside four giant buildings totaling nearly 800,000 square feet, precisely aligned to let in the dry and generally cool summer winds that blow in from the northwest. The aisles of stacked servers with blinking blue and green lights make a dull roar as they process logins, likes, and LOLs.
Facebook has installed new high-powered servers to help its artificial intelligence researchers move faster. They are powered by GPU chips (the green cards at the back of the image) made by Nvidia.
Facebook has lately added some new machines to the mix in Prineville. The company has installed new, high-powered servers designed to speed up efforts to train software to do things like translate posts between languages, be a smarter virtual assistant, or follow written narratives.
Facebook's new Big Sur servers are designed around high-powered processors of a kind originally developed for graphics processing, known as GPUs. These chips underpin recent leaps in artificial intelligence technology that have come from a technique known as deep learning. Software has become strikingly better at understanding images and speech thanks to the power of GPUs allowing old ideas about how to train software to be applied to much larger, more complex data sets (see "Teaching Machines to Understand Us").
Kevin Lee, an engineer at Facebook who works on the servers, says they help Facebook's researchers train software using more data, by working faster. "These servers are purpose-built hardware for AI research and machine learning," he says. "GPUs can take a photo and split it into tiny pieces and work on them all at once."
Facebook builds each Big Sur server around eight GPUs made by Nvidia, the leading supplier of such chips. Lee declined to say exactly how many of the servers have been deployed but said the company has "thousands" of GPUs at work. Big Sur servers have been installed in the company's Prineville and Ashburn, Virginia, data centers.
Because GPUs are extremely power hungry, Facebook has to pack them less densely than it does other types of server in the data center, to avoid creating hot spots that would make things harder for the cooling system and require extra power. Eight Big Sur servers are stacked into a seven-foot-tall rack that might otherwise hold 30 standard Facebook servers that do the more routine work of serving up user data.
Facebook is far from alone in running giant data centers or collecting GPUs to power machine learning research. Microsoft, Google, and Chinese search company Baidu have all relied on GPUs to power deep learning research.
Facebook's new servers for artificial intelligence research, inside the company's data center in Prineville, Oregon.
The social network is unusual in that it has opened up the designs for Big Sur and its other server designs, as well as the plans for its Prineville data center. The company contributes them to a nonprofit called theOpen Compute Project, started by Facebook in 2011 to encourage computing companies to work together on designs for low-cost, high-efficiency data center hardware. The project is seen as having helped Asian hardware companies and squeezing traditional vendors such as Dell and HP.
Facebook's director of AI research, Yann LeCun, said when Big Sur was announced earlier this year that he believed making the designs available could accelerate progress in the field by enabling more organizations to build powerful machine learning infrastructure (see "Facebook Joins Stampede of Tech Giants Giving Away Artificial Intelligence Technology").
Future machine learning servers built on Facebook's plans may not be built around the GPUs at their heart today, though. Multiple companies are working on new chip designs more specifically tailored to the math of deep learning than GPUs.
Google announced in May that it had started using a chip of its own design, called a TPU, to power deep learning software in products such as speech recognition. The current chip appears to be suited to running algorithms after they have been trained, not the initial training step that Big Sur servers are designed to expedite, but Google is working on a second-generation chip. Nvidia and several startups including Nervana Systems are also working on chips customized for deep learning (see "Intel Outside As Other Companies Prosper from AI Chips").
Eugenio Culurciello, an associate professor at Purdue University, says that the usefulness of deep learning means such chips look sure to be very widely used. "There's been a big need for a while and it's only growing," he says.
Asked whether Facebook was working on its own custom chips, Lee says the company is "looking into it."
Tweet
Founded by Russian entrepreneur Dmitry Itskov in February 2011 with the participation of leading Russian specialists in the field of neural interfaces, robotics, artificial organs and systems.
The main goals of the 2045 Initiative: the creation and realization of a new strategy for the development of humanity which meets global civilization challenges; the creation of optimale conditions promoting the spiritual enlightenment of humanity; and the realization of a new futuristic reality based on 5 principles: high spirituality, high culture, high ethics, high science and high technologies.
The main science mega-project of the 2045 Initiative aims to create technologies enabling the transfer of a individual's personality to a more advanced non-biological carrier, and extending life, including to the point of immortality. We devote particular attention to enabling the fullest possible dialogue between the world's major spiritual traditions, science and society.
A large-scale transformation of humanity, comparable to some of the major spiritual and sci-tech revolutions in history, will require a new strategy. We believe this to be necessary to overcome existing crises, which threaten our planetary habitat and the continued existence of humanity as a species. With the 2045 Initiative, we hope to realize a new strategy for humanity's development, and in so doing, create a more productive, fulfilling, and satisfying future.
The "2045" team is working towards creating an international research center where leading scientists will be engaged in research and development in the fields of anthropomorphic robotics, living systems modeling and brain and consciousness modeling with the goal of transferring one's individual consciousness to an artificial carrier and achieving cybernetic immortality.
An annual congress "The Global Future 2045" is organized by the Initiative to give platform for discussing mankind's evolutionary strategy based on technologies of cybernetic immortality as well as the possible impact of such technologies on global society, politics and economies of the future.
Future prospects of "2045" Initiative for society
2015-2020
The emergence and widespread use of affordable android "avatars" controlled by a "brain-computer" interface. Coupled with related technologies "avatars' will give people a number of new features: ability to work in dangerous environments, perform rescue operations, travel in extreme situations etc.
Avatar components will be used in medicine for the rehabilitation of fully or partially disabled patients giving them prosthetic limbs or recover lost senses.
2020-2025
Creation of an autonomous life-support system for the human brain linked to a robot, 'avatar', will save people whose body is completely worn out or irreversibly damaged. Any patient with an intact brain will be able to return to a fully functioning bodily life. Such technologies will greatly enlarge the possibility of hybrid bio-electronic devices, thus creating a new IT revolution and will make all kinds of superimpositions of electronic and biological systems possible.
2030-2035
Creation of a computer model of the brain and human consciousness with the subsequent development of means to transfer individual consciousness onto an artificial carrier. This development will profoundly change the world, it will not only give everyone the possibility of cybernetic immortality but will also create a friendly artificial intelligence, expand human capabilities and provide opportunities for ordinary people to restore or modify their own brain multiple times. The final result at this stage can be a real revolution in the understanding of human nature that will completely change the human and technical prospects for humanity.
2045
This is the time when substance-independent minds will receive new bodies with capacities far exceeding those of ordinary humans. A new era for humanity will arrive! Changes will occur in all spheres of human activity – energy generation, transportation, politics, medicine, psychology, sciences, and so on.
Today it is hard to imagine a future when bodies consisting of nanorobots will become affordable and capable of taking any form. It is also hard to imagine body holograms featuring controlled matter. One thing is clear however: humanity, for the first time in its history, will make a fully managed evolutionary transition and eventually become a new species. Moreover, prerequisites for a large-scale expansion into outer space will be created as well.
Key elements of the project in the future
• International social movement
• social network immortal.me
• charitable foundation "Global Future 2045" (Foundation 2045)
• scientific research centre "Immortality"
• business incubator
• University of "Immortality"
• annual award for contribution to the realization of the project of "Immortality".