/

News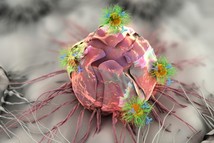 25.07.2016
Patch that delivers drug, gene, and light-based therapy to tumor sites shows promising results
Approximately one in 20 people will develop colorectal cancer in their lifetime, making it the third-most prevalent form of the disease in the U.S. In Europe, it is the second-most common form of cancer.
The most widely used first line of treatment is surgery, but this can result in incomplete removal of the tumor. Cancer cells can be left behind, potentially leading to recurrence and increased risk of metastasis. Indeed, while many patients remain cancer-free for months or even years after surgery, tumors are known to recur in up to 50 percent of cases.
Conventional therapies used to prevent tumors recurring after surgery do not sufficiently differentiate between healthy and cancerous cells, leading to serious side effects.
In a paper published today in the journal Nature Materials, researchers at MIT describe an adhesive patch that can stick to the tumor site, either before or after surgery, to deliver a triple-combination of drug, gene, and photo (light-based) therapy.
Releasing this triple combination therapy locally, at the tumor site, may increase the efficacy of the treatment, according to Natalie Artzi, a principal research scientist at MIT's Institute for Medical Engineering and Science (IMES) and an assistant professor of medicine at Brigham and Women's Hospital, who led the research.
The general approach to cancer treatment today is the use of systemic, or whole-body, therapies such as chemotherapy drugs. But the lack of specificity of anticancer drugs means they produce undesired side effects when systemically administered.
What's more, only a small portion of the drug reaches the tumor site itself, meaning the primary tumor is not treated as effectively as it should be.
Indeed, recent research in mice has found that only 0.7 percent of nanoparticles administered systemically actually found their way to the target tumor.
"This means that we are treating both the source of the cancer — the tumor — and the metastases resulting from that source, in a suboptimal manner," Artzi says. "That is what prompted us to think a little bit differently, to look at how we can leverage advancements in materials science, and in particular nanotechnology, to treat the primary tumor in a local and sustained manner."
The researchers have developed a triple-therapy hydrogel patch, which can be used to treat tumors locally. This is particularly effective as it can treat not only the tumor itself but any cells left at the site after surgery, preventing the cancer from recurring or metastasizing in the future.
Firstly, the patch contains gold nanorods, which heat up when near-infrared radiation is applied to the local area. This is used to thermally ablate, or destroy, the tumor.
These nanorods are also equipped with a chemotherapy drug, which is released when they are heated, to target the tumor and its surrounding cells.
Finally, gold nanospheres that do not heat up in response to the near-infrared radiation are used to deliver RNA, or gene therapy to the site, in order to silence an important oncogene in colorectal cancer. Oncogenes are genes that can cause healthy cells to transform into tumor cells.
The researchers envision that a clinician could remove the tumor, and then apply the patch to the inner surface of the colon, to ensure that no cells that are likely to cause cancer recurrence remain at the site. As the patch degrades, it will gradually release the various therapies.
The patch can also serve as a neoadjuvant, a therapy designed to shrink tumors prior to their resection, Artzi says.
When the researchers tested the treatment in mice, they found that in 40 percent of cases where the patch was not applied after tumor removal, the cancer returned.
But when the patch was applied after surgery, the treatment resulted in complete remission.
Indeed, even when the tumor was not removed, the triple-combination therapy alone was enough to destroy it.
The technology is an extraordinary and unprecedented synergy of three concurrent modalities of treatment, according to Mauro Ferrari, president and CEO of the Houston Methodist Research Institute, who was not involved in the research.
"What is particularly intriguing is that by delivering the treatment locally, multimodal therapy may be better than systemic therapy, at least in certain clinical situations," Ferrari says.
Unlike existing colorectal cancer surgery, this treatment can also be applied in a minimally invasive manner. In the next phase of their work, the researchers hope to move to experiments in larger models, in order to use colonoscopy equipment not only for cancer diagnosis but also to inject the patch to the site of a tumor, when detected.
"This administration modality would enable, at least in early-stage cancer patients, the avoidance of open field surgery and colon resection," Artzi says. "Local application of the triple therapy could thus improve patients' quality of life and therapeutic outcome."
Artzi is joined on the paper by João Conde, Nuria Oliva, and Yi Zhang, of IMES. Conde is also at Queen Mary University in London.
Tweet
Founded by Russian entrepreneur Dmitry Itskov in February 2011 with the participation of leading Russian specialists in the field of neural interfaces, robotics, artificial organs and systems.
The main goals of the 2045 Initiative: the creation and realization of a new strategy for the development of humanity which meets global civilization challenges; the creation of optimale conditions promoting the spiritual enlightenment of humanity; and the realization of a new futuristic reality based on 5 principles: high spirituality, high culture, high ethics, high science and high technologies.
The main science mega-project of the 2045 Initiative aims to create technologies enabling the transfer of a individual's personality to a more advanced non-biological carrier, and extending life, including to the point of immortality. We devote particular attention to enabling the fullest possible dialogue between the world's major spiritual traditions, science and society.
A large-scale transformation of humanity, comparable to some of the major spiritual and sci-tech revolutions in history, will require a new strategy. We believe this to be necessary to overcome existing crises, which threaten our planetary habitat and the continued existence of humanity as a species. With the 2045 Initiative, we hope to realize a new strategy for humanity's development, and in so doing, create a more productive, fulfilling, and satisfying future.
The "2045" team is working towards creating an international research center where leading scientists will be engaged in research and development in the fields of anthropomorphic robotics, living systems modeling and brain and consciousness modeling with the goal of transferring one's individual consciousness to an artificial carrier and achieving cybernetic immortality.
An annual congress "The Global Future 2045" is organized by the Initiative to give platform for discussing mankind's evolutionary strategy based on technologies of cybernetic immortality as well as the possible impact of such technologies on global society, politics and economies of the future.
Future prospects of "2045" Initiative for society
2015-2020
The emergence and widespread use of affordable android "avatars" controlled by a "brain-computer" interface. Coupled with related technologies "avatars' will give people a number of new features: ability to work in dangerous environments, perform rescue operations, travel in extreme situations etc.
Avatar components will be used in medicine for the rehabilitation of fully or partially disabled patients giving them prosthetic limbs or recover lost senses.
2020-2025
Creation of an autonomous life-support system for the human brain linked to a robot, 'avatar', will save people whose body is completely worn out or irreversibly damaged. Any patient with an intact brain will be able to return to a fully functioning bodily life. Such technologies will greatly enlarge the possibility of hybrid bio-electronic devices, thus creating a new IT revolution and will make all kinds of superimpositions of electronic and biological systems possible.
2030-2035
Creation of a computer model of the brain and human consciousness with the subsequent development of means to transfer individual consciousness onto an artificial carrier. This development will profoundly change the world, it will not only give everyone the possibility of cybernetic immortality but will also create a friendly artificial intelligence, expand human capabilities and provide opportunities for ordinary people to restore or modify their own brain multiple times. The final result at this stage can be a real revolution in the understanding of human nature that will completely change the human and technical prospects for humanity.
2045
This is the time when substance-independent minds will receive new bodies with capacities far exceeding those of ordinary humans. A new era for humanity will arrive! Changes will occur in all spheres of human activity – energy generation, transportation, politics, medicine, psychology, sciences, and so on.
Today it is hard to imagine a future when bodies consisting of nanorobots will become affordable and capable of taking any form. It is also hard to imagine body holograms featuring controlled matter. One thing is clear however: humanity, for the first time in its history, will make a fully managed evolutionary transition and eventually become a new species. Moreover, prerequisites for a large-scale expansion into outer space will be created as well.
Key elements of the project in the future
• International social movement
• social network immortal.me
• charitable foundation "Global Future 2045" (Foundation 2045)
• scientific research centre "Immortality"
• business incubator
• University of "Immortality"
• annual award for contribution to the realization of the project of "Immortality".