/

News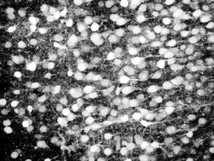 13.08.2016
Researchers 'reprogram' network of brain cells in mice with thin beam of light
Neurons that fire together really do wire together, says a new study in Science, suggesting that the three-pound computer in our heads may be more malleable than we think.
In the latest issue of Science, neuroscientists at Columbia University demonstrate that a set of neurons trained to fire in unison could be reactivated as much as a day later if just one neuron in the network was stimulated. Though further research is needed, their findings suggest that groups of activated neurons may form the basic building blocks of learning and memory, as originally hypothesized by psychologist Donald Hebb in the 1940s.
"I always thought the brain was mostly hard-wired," said the study's senior author, Dr. Rafael Yuste, a neuroscience professor at Columbia University. "But then I saw the results and said 'Holy moly, this whole thing is plastic.' We're dealing with a plastic computer that's constantly learning and changing."
The researchers were able to control and observe the brain of a living mouse using the optogenetic tools that have revolutionized neuroscience in the last decade. They injected the mouse with a virus containing light-sensitive proteins engineered to reach specific brain cells. Once inside a cell, the proteins allowed researchers to remotely activate the neuron with light, as if switching on a TV.
The mouse was allowed to run freely on a treadmill while its head was held still under a microscope. With one laser, the researchers beamed light through its skull to stimulate a small group of cells in the visual cortex. With a second laser, they recorded rising levels of calcium in each neuron as it fired, thus imaging the activity of individual cells.
Before optogenetics, scientists had to open the skull and implant electrodes into living tissue to stimulate neurons with electricity and measure their response. Even a mouse brain of 100 million neurons, nearly a thousandth the size of ours, was too dense to get a close look at groups of neurons.
Optogenetics allowed researchers to get inside the brain non-invasively and control it far more precisely. In the last decade, researchers have restored sight and hearing to blind and deaf mice, and turned normal mice aggressive, all by manipulating specific brain regions.
The breakthrough that allowed researchers to reprogram a cluster of cells in the brain is the culmination of more than a decade of work. With tissue samples from the mouse visual cortex, Yuste and his colleagues showed in a 2003 study in Nature that neurons coordinated their firing in small networks called neural ensembles. A year later, they demonstrated that the ensembles fired off in sequential patterns through time.
As techniques for controlling and observing cells in living animals improved, they learned that these neural ensembles are active even without stimulation. They used this information to develop mathematical algorithms for finding neural ensembles in the visual cortex. They were then able to show, as they had in the tissue samples earlier, that neural ensembles in living animals also fire one after the other in sequential patterns.
The current study in Science shows that these networks can be artificially implanted and replayed, says Yuste, much as the scent of a tea-soaked madeleine takes novelist Marcel Proust back to his memories of childhood.
Pairing two-photon stimulation technology with two-photon calcium imaging allowed the researchers to document how individual cells responded to light stimulation. Though previous studies have targeted and recorded individual cells none have demonstrated that a bundle of neurons could be fired off together to imprint what they call a "neuronal microcircuit" in a live animal's brain.
"If you told me a year ago we could stimulate 20 neurons in a mouse brain of 100 million neurons and alter their behavior, I'd say no way," said Yuste, who is also a member of the Data Science Institute. "It's like reconfiguring three grains of sand at the beach."
The researchers think that the network of activated neurons they artificially created may have implanted an image completely unfamiliar to the mouse. They are now developing a behavioral study to try and prove this.
"We think that these methods to read and write activity into the living brain will have a major impact in neuroscience and medicine," said the study's lead author, Luis Carrillo-Reid, a postdoctoral researcher at Columbia.
Dr. Daniel Javitt, a psychiatry professor at Columbia University Medical Center who was not involved in the study, says the work could potentially be used to restore normal connection patterns in the brains of people with epilepsy and other brain disorders. Major technical hurdles, however, would need to be overcome before optogenetic techniques could be applied to humans.
The research is part of a $300 million brain-mapping effort called the U.S. BRAIN Initiative, which grew out of an earlier proposal by Yuste and his colleagues to develop tools for mapping the brain activity of fruit flies to more complex mammals, including humans.
Story Source:
The above post is reprinted from materials provided by Columbia University.Note: Content may be edited for style and length.
Journal Reference:
Rafael Yuste et al. Imprinting and recalling cortical ensembles.Science, August 2016 DOI: 10.1126/science.aaf7560
Tweet
Founded by Russian entrepreneur Dmitry Itskov in February 2011 with the participation of leading Russian specialists in the field of neural interfaces, robotics, artificial organs and systems.
The main goals of the 2045 Initiative: the creation and realization of a new strategy for the development of humanity which meets global civilization challenges; the creation of optimale conditions promoting the spiritual enlightenment of humanity; and the realization of a new futuristic reality based on 5 principles: high spirituality, high culture, high ethics, high science and high technologies.
The main science mega-project of the 2045 Initiative aims to create technologies enabling the transfer of a individual's personality to a more advanced non-biological carrier, and extending life, including to the point of immortality. We devote particular attention to enabling the fullest possible dialogue between the world's major spiritual traditions, science and society.
A large-scale transformation of humanity, comparable to some of the major spiritual and sci-tech revolutions in history, will require a new strategy. We believe this to be necessary to overcome existing crises, which threaten our planetary habitat and the continued existence of humanity as a species. With the 2045 Initiative, we hope to realize a new strategy for humanity's development, and in so doing, create a more productive, fulfilling, and satisfying future.
The "2045" team is working towards creating an international research center where leading scientists will be engaged in research and development in the fields of anthropomorphic robotics, living systems modeling and brain and consciousness modeling with the goal of transferring one's individual consciousness to an artificial carrier and achieving cybernetic immortality.
An annual congress "The Global Future 2045" is organized by the Initiative to give platform for discussing mankind's evolutionary strategy based on technologies of cybernetic immortality as well as the possible impact of such technologies on global society, politics and economies of the future.
Future prospects of "2045" Initiative for society
2015-2020
The emergence and widespread use of affordable android "avatars" controlled by a "brain-computer" interface. Coupled with related technologies "avatars' will give people a number of new features: ability to work in dangerous environments, perform rescue operations, travel in extreme situations etc.
Avatar components will be used in medicine for the rehabilitation of fully or partially disabled patients giving them prosthetic limbs or recover lost senses.
2020-2025
Creation of an autonomous life-support system for the human brain linked to a robot, 'avatar', will save people whose body is completely worn out or irreversibly damaged. Any patient with an intact brain will be able to return to a fully functioning bodily life. Such technologies will greatly enlarge the possibility of hybrid bio-electronic devices, thus creating a new IT revolution and will make all kinds of superimpositions of electronic and biological systems possible.
2030-2035
Creation of a computer model of the brain and human consciousness with the subsequent development of means to transfer individual consciousness onto an artificial carrier. This development will profoundly change the world, it will not only give everyone the possibility of cybernetic immortality but will also create a friendly artificial intelligence, expand human capabilities and provide opportunities for ordinary people to restore or modify their own brain multiple times. The final result at this stage can be a real revolution in the understanding of human nature that will completely change the human and technical prospects for humanity.
2045
This is the time when substance-independent minds will receive new bodies with capacities far exceeding those of ordinary humans. A new era for humanity will arrive! Changes will occur in all spheres of human activity – energy generation, transportation, politics, medicine, psychology, sciences, and so on.
Today it is hard to imagine a future when bodies consisting of nanorobots will become affordable and capable of taking any form. It is also hard to imagine body holograms featuring controlled matter. One thing is clear however: humanity, for the first time in its history, will make a fully managed evolutionary transition and eventually become a new species. Moreover, prerequisites for a large-scale expansion into outer space will be created as well.
Key elements of the project in the future
• International social movement
• social network immortal.me
• charitable foundation "Global Future 2045" (Foundation 2045)
• scientific research centre "Immortality"
• business incubator
• University of "Immortality"
• annual award for contribution to the realization of the project of "Immortality".