/

News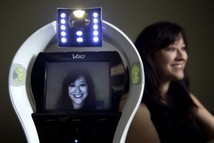 16.09.2016
Robotic surrogates help chronically ill kids maintain social, academic ties at school
Chronically ill, homebound children who use robotic surrogates to "attend" school feel more socially connected with their peers and more involved academically, according to a first-of-its-kind study by University of California, Irvine education researchers.
"Every year, large numbers of K-12 students are not able to go to school due to illness, which has negative academic, social and medical consequences," said lead author Veronica Newhart, a Ph.D. student in UCI's School of Education. "They face falling behind in their studies, feeling isolated from their friends and having their recovery impeded by depression. Tutors can make occasional home visits, but until recently, there hasn't been a way to provide these homebound students with inclusive academic and social experiences."
Telepresence robots could do just that. The Internet-enabled, two-way video streaming automatons have wheels for feet and a screen showing the user's face at the top of a vertical "body." From home, a student controlling the device with a laptop can see and hear everything in the classroom, talk with friends and the teacher, "raise his or her hand" via flashing lights to ask or answer questions, move around and even take field trips.
However, the robots have gone straight from production to consumer, the researchers noted, and there is great need for objective, formal studies in order for schools, hospitals and communities to responsibly engage in this innovative educational practice.
The exploratory case study -- co-authored by Mark Warschauer, UCI professor of education and informatics -- involved five homebound children, five parents, 10 teachers, 35 classmates and six school/district administrators. The students -- four males and one female -- ranged in age from 6 to 16, and their chronic illnesses included an immunodeficiency disorder, cancer and heart failure.
Getting to see their friends and staying socially connected was what they said they liked best about using the robots. The school day felt more normal, they reported, because they were able to participate in discussions, interact with peers and undergo new experiences with their classmates.
"Further research is required to determine the impact of robot utilization on students' health and well-being, as well as the most effective ways to implement this technology in various settings," said Newhart, who presented the findings at the 23rd International Conference on Learning, held in July at the University of British Columbia.
"Collaboration among education, technology and healthcare teams is key to the success of virtual inclusion in the classroom for improved learning, social and health outcomes for vulnerable children."
This fall, telepresence robots will become available on the UCI campus -- a gift from the class of 2016. "This is a solution for any student who's prevented from completing a course or degree program because of a long-term injury or illness," said Newhart, who will soon launch additional studies in school districts across the country.
Story Source:
The above post is reprinted from materials provided by University of California, Irvine. Note: Content may be edited for style and length.
Tweet
Founded by Russian entrepreneur Dmitry Itskov in February 2011 with the participation of leading Russian specialists in the field of neural interfaces, robotics, artificial organs and systems.
The main goals of the 2045 Initiative: the creation and realization of a new strategy for the development of humanity which meets global civilization challenges; the creation of optimale conditions promoting the spiritual enlightenment of humanity; and the realization of a new futuristic reality based on 5 principles: high spirituality, high culture, high ethics, high science and high technologies.
The main science mega-project of the 2045 Initiative aims to create technologies enabling the transfer of a individual's personality to a more advanced non-biological carrier, and extending life, including to the point of immortality. We devote particular attention to enabling the fullest possible dialogue between the world's major spiritual traditions, science and society.
A large-scale transformation of humanity, comparable to some of the major spiritual and sci-tech revolutions in history, will require a new strategy. We believe this to be necessary to overcome existing crises, which threaten our planetary habitat and the continued existence of humanity as a species. With the 2045 Initiative, we hope to realize a new strategy for humanity's development, and in so doing, create a more productive, fulfilling, and satisfying future.
The "2045" team is working towards creating an international research center where leading scientists will be engaged in research and development in the fields of anthropomorphic robotics, living systems modeling and brain and consciousness modeling with the goal of transferring one's individual consciousness to an artificial carrier and achieving cybernetic immortality.
An annual congress "The Global Future 2045" is organized by the Initiative to give platform for discussing mankind's evolutionary strategy based on technologies of cybernetic immortality as well as the possible impact of such technologies on global society, politics and economies of the future.
Future prospects of "2045" Initiative for society
2015-2020
The emergence and widespread use of affordable android "avatars" controlled by a "brain-computer" interface. Coupled with related technologies "avatars' will give people a number of new features: ability to work in dangerous environments, perform rescue operations, travel in extreme situations etc.
Avatar components will be used in medicine for the rehabilitation of fully or partially disabled patients giving them prosthetic limbs or recover lost senses.
2020-2025
Creation of an autonomous life-support system for the human brain linked to a robot, 'avatar', will save people whose body is completely worn out or irreversibly damaged. Any patient with an intact brain will be able to return to a fully functioning bodily life. Such technologies will greatly enlarge the possibility of hybrid bio-electronic devices, thus creating a new IT revolution and will make all kinds of superimpositions of electronic and biological systems possible.
2030-2035
Creation of a computer model of the brain and human consciousness with the subsequent development of means to transfer individual consciousness onto an artificial carrier. This development will profoundly change the world, it will not only give everyone the possibility of cybernetic immortality but will also create a friendly artificial intelligence, expand human capabilities and provide opportunities for ordinary people to restore or modify their own brain multiple times. The final result at this stage can be a real revolution in the understanding of human nature that will completely change the human and technical prospects for humanity.
2045
This is the time when substance-independent minds will receive new bodies with capacities far exceeding those of ordinary humans. A new era for humanity will arrive! Changes will occur in all spheres of human activity – energy generation, transportation, politics, medicine, psychology, sciences, and so on.
Today it is hard to imagine a future when bodies consisting of nanorobots will become affordable and capable of taking any form. It is also hard to imagine body holograms featuring controlled matter. One thing is clear however: humanity, for the first time in its history, will make a fully managed evolutionary transition and eventually become a new species. Moreover, prerequisites for a large-scale expansion into outer space will be created as well.
Key elements of the project in the future
• International social movement
• social network immortal.me
• charitable foundation "Global Future 2045" (Foundation 2045)
• scientific research centre "Immortality"
• business incubator
• University of "Immortality"
• annual award for contribution to the realization of the project of "Immortality".