/

News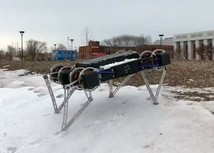 01.03.2017
Ghost Minitaur™ Highly Agile Direct-Drive Quadruped Demonstrates Why Legged Robots are Far Superior to Wheels and Tracks When Venturing Outdoors
Ghost Robotics, a leader in fast and lightweight direct-drive (gearless) legged robots, announced today that its patent-pending Ghost Minitaur™ has been updated with advanced reactive behaviors for navigating grass, rock, sand, snow and ice fields, urban objects and debris, and vertical terrain. (https://youtu.be/bnKOeMoibLg)
The latest gaits adapt reactively to unstructured and dynamic environments to maintain balance, ascend steep inclines (up to 35º), handle curb-sized steps in stride (up to 15cm), crouch to fit under crawl spaces (as low as 27cm), and operate at variable speeds and turning rates. Minitaur's high-force capabilities enable it to leap onto ledges (up to 40cm) and across gaps (up to 80cm). Its high control bandwidth allows it to actively balance on two legs, and high speed operation allows its legs to manipulate the world faster than the blink of an eye, while deftly reacting to unexpected contact.
Continue Reading
Ghost Minitaur(TM) Highly Agile Direct-Drive Quadruped Demonstrates Why Legged Robots are Far Superior to Wheels and Tracks When Venturing Outdoors.
"Our primary focus since releasing the Minitaur late last year has been expanding its behaviors to traverse a wide range of terrains and real-world operating scenarios," said Gavin Kenneally, and Avik De, Co-founders of Ghost Robotics. "In a short time, we have shown that legged robots not only have superior baseline mobility over wheels and tracks in a variety of environments and terrains, but also exhibit a diverse set of behaviors that allow them to easily overcome natural obstacles. We are excited to push the envelope with future capabilities, improved hardware, as well as integrated sensing and autonomy."
Ghost Robotics is designing next-generation legged robots that are superior to wheeled and tracked autonomous vehicles in real-world field applications, while substantially reducing costs to drive adoption and scalable deployments. Its direct-drive technology creates the lowest cost model with durability for commercializing very small to medium size legged UGV sensor platforms over any competitive design. The company's underlying research and intellectual property have additional applications in ultra-precise manipulators that are human-safe, and advanced gait research.
While a commercial version of the Ghost Minitaur™ robot is slated for delivery in the future, the current development platform is in high demand and has been shipped to many top robotics researchers worldwide because of its design simplicity, low cost and flexible software development environment for a broad range of research and commercialization initiatives.
"We are pleased with our R&D progress towards commercializing the Ghost Minitaur™ to prove legged robots can surpass the performance of wheel and track UGVs, while keeping the cost model low to support volume adoption, which is certainly not the case with existing bipedal and quadrupedal robot vendors," said Jiren Parikh, Ghost Robotics, CEO.
In the coming quarters, the company plans to demonstrate further improvements in mobility, built-in manipulation capabilities to interact with objects in the world, integration with more sensors, built-in autonomy for operation with reduced human intervention, as well as increased mechanical robustness and durability for operation in harsh environments.
About Ghost Robotics
Robots that Feel the World™. Ghost Robotics develops patent-pending, ultrafast and highly responsive direct-drive (no gearbox) legged robots for instantaneous and precise force feedback applications, offering superior operability over wheeled and tracked robots. The lightweight and low-cost Ghost Minitaur™ robot platform can be used as an autonomous vehicle fitted with sensors for ISR, search and rescue, asset management and inspection, exploration, scientific and military applications where unknown, rough, varied, hazardous, environmentally sensitive and even vertical terrain is present. Ghost Robotics is privately held and backed by the University of Pennsylvania and PCI Ventures with offices in Philadelphia. www.ghostrobotics.io
SOURCE Ghost Robotics, LLC
Related Links
Tweet
Founded by Russian entrepreneur Dmitry Itskov in February 2011 with the participation of leading Russian specialists in the field of neural interfaces, robotics, artificial organs and systems.
The main goals of the 2045 Initiative: the creation and realization of a new strategy for the development of humanity which meets global civilization challenges; the creation of optimale conditions promoting the spiritual enlightenment of humanity; and the realization of a new futuristic reality based on 5 principles: high spirituality, high culture, high ethics, high science and high technologies.
The main science mega-project of the 2045 Initiative aims to create technologies enabling the transfer of a individual's personality to a more advanced non-biological carrier, and extending life, including to the point of immortality. We devote particular attention to enabling the fullest possible dialogue between the world's major spiritual traditions, science and society.
A large-scale transformation of humanity, comparable to some of the major spiritual and sci-tech revolutions in history, will require a new strategy. We believe this to be necessary to overcome existing crises, which threaten our planetary habitat and the continued existence of humanity as a species. With the 2045 Initiative, we hope to realize a new strategy for humanity's development, and in so doing, create a more productive, fulfilling, and satisfying future.
The "2045" team is working towards creating an international research center where leading scientists will be engaged in research and development in the fields of anthropomorphic robotics, living systems modeling and brain and consciousness modeling with the goal of transferring one's individual consciousness to an artificial carrier and achieving cybernetic immortality.
An annual congress "The Global Future 2045" is organized by the Initiative to give platform for discussing mankind's evolutionary strategy based on technologies of cybernetic immortality as well as the possible impact of such technologies on global society, politics and economies of the future.
Future prospects of "2045" Initiative for society
2015-2020
The emergence and widespread use of affordable android "avatars" controlled by a "brain-computer" interface. Coupled with related technologies "avatars' will give people a number of new features: ability to work in dangerous environments, perform rescue operations, travel in extreme situations etc.
Avatar components will be used in medicine for the rehabilitation of fully or partially disabled patients giving them prosthetic limbs or recover lost senses.
2020-2025
Creation of an autonomous life-support system for the human brain linked to a robot, 'avatar', will save people whose body is completely worn out or irreversibly damaged. Any patient with an intact brain will be able to return to a fully functioning bodily life. Such technologies will greatly enlarge the possibility of hybrid bio-electronic devices, thus creating a new IT revolution and will make all kinds of superimpositions of electronic and biological systems possible.
2030-2035
Creation of a computer model of the brain and human consciousness with the subsequent development of means to transfer individual consciousness onto an artificial carrier. This development will profoundly change the world, it will not only give everyone the possibility of cybernetic immortality but will also create a friendly artificial intelligence, expand human capabilities and provide opportunities for ordinary people to restore or modify their own brain multiple times. The final result at this stage can be a real revolution in the understanding of human nature that will completely change the human and technical prospects for humanity.
2045
This is the time when substance-independent minds will receive new bodies with capacities far exceeding those of ordinary humans. A new era for humanity will arrive! Changes will occur in all spheres of human activity – energy generation, transportation, politics, medicine, psychology, sciences, and so on.
Today it is hard to imagine a future when bodies consisting of nanorobots will become affordable and capable of taking any form. It is also hard to imagine body holograms featuring controlled matter. One thing is clear however: humanity, for the first time in its history, will make a fully managed evolutionary transition and eventually become a new species. Moreover, prerequisites for a large-scale expansion into outer space will be created as well.
Key elements of the project in the future
• International social movement
• social network immortal.me
• charitable foundation "Global Future 2045" (Foundation 2045)
• scientific research centre "Immortality"
• business incubator
• University of "Immortality"
• annual award for contribution to the realization of the project of "Immortality".