/

News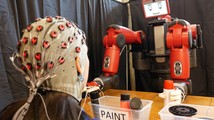 08.03.2017
Researchers Take A Step Toward Mind-Controlled Robots
What if your friend the robot could tell what you're thinking, without you saying a word?
Researchers at MIT's Computer Science and Artificial Intelligence Lab and Boston University have created a system where humans can guide robots with their brainwaves. This may sound like a theory out of a sci-fi novel, but the goal of seamless human-robot interaction is the next major frontier for robotic research.
For now, the MIT system can only handle simple binary activities such as correcting a robot as it sorts objects into two boxes, but CSAIL Director Daniela Rus sees a future where one day we could control robots in more natural ways, rather than having to program them for specific tasks — like allowing a supervisor on a factory floor to control a robot without ever pushing a button.
"Imagine you look at the robots, and at some point one robot is not doing the job correctly," Rus explained. "You will think that, you will have that thought, and through this detection you would in fact communicate remotely with the robot to say 'stop.' "
Rus admits the MIT development is a baby step, but she says it's an important step toward improving the way humans and robots interact.
Currently, most communication with robots requires thinking in a particular way that computers can recognize or vocalizing a command, which can be exhausting.
"We would like to change the paradigm," Rus said. "We would like to get the robot to adapt to the human language."
The MIT paper shows it's possible to have a robot read your mind — at least when it comes to a super simplistic task. And Andres Salazar-Gomez, a Boston University Ph.D. candidate working with the CSAIL research team, says this system could one day help people who can't communicate verbally.
Meet Baxter
For this study, MIT researchers used a robot named Baxter from Rethink Robotics.
Baxter had a simple task: Put a can of spray paint into the box marked "paint" and a spool of wire in the box labeled "wire." A volunteer hooked up to an EEG cap, which reads electrical activity in the brain, sat across from Baxter, and observed him doing his job. If they noticed a mistake, they would naturally emit a brain signal known as an "error-related potential."
"You can use [that signal] to tell a robot to stop or you can use that to alter the action of the robot," Rus explained.
The system then translates that brain signal to Baxter, so he understands he's wrong, his cheeks blush to show he's embarrassed, and he corrects his behavior.
The MIT system correctly identified the volunteer's brain signal and then corrected the robot's behavior 70 percent of the time.
Making robots effective "collaborators"
"I think this is exciting work," said Bin He, a biomedical engineer at the University of Minnesota, who published a paper in December that showed people can control a robotic arm with their minds.
He was not affiliated with the MIT research, but he sees this as a "clever" application in a growing yet nascent field.
Researchers say there's an increasing desire to find ways to make robots effective "collaborators," not just obedient servants.
"One key aspect of collaboration is being able ... to know when you're making a mistake," said Siddhartha Srinivasa, a professor at Carnegie Mellon University who was not affiliated with the MIT study. "What this paper shows is how you can use human intuition to boot-strap a robot's learning of what its world looks like and how it can know right from wrong."
Srinivasa says this research could potentially have key implications for prosthetics, but cautions it's an "excellent first step toward solving a harder, much more complicated problem."
"There's a long gray line between not making a mistake and making a mistake," Srinivasa said. "Being able to decode more of the neuronal activity... is really critical."
And Srinivasa says that's a topic that more scientists need to explore.
Potential real-world applications
MIT's Rus imagines a future where anybody can communicate with a robot without any training — a world where this technology could help steer a self-driving car or clean up your home.
"Imagine ... you have your robot pick up all the toys and socks from the floor, and you want the robot to put the socks in the sock bin and put the toys in the toy bin," she said.
She says that would save her a lot of time, but for now the mechanical house cleaner that can read your mind is still a dream.
Tweet
Founded by Russian entrepreneur Dmitry Itskov in February 2011 with the participation of leading Russian specialists in the field of neural interfaces, robotics, artificial organs and systems.
The main goals of the 2045 Initiative: the creation and realization of a new strategy for the development of humanity which meets global civilization challenges; the creation of optimale conditions promoting the spiritual enlightenment of humanity; and the realization of a new futuristic reality based on 5 principles: high spirituality, high culture, high ethics, high science and high technologies.
The main science mega-project of the 2045 Initiative aims to create technologies enabling the transfer of a individual's personality to a more advanced non-biological carrier, and extending life, including to the point of immortality. We devote particular attention to enabling the fullest possible dialogue between the world's major spiritual traditions, science and society.
A large-scale transformation of humanity, comparable to some of the major spiritual and sci-tech revolutions in history, will require a new strategy. We believe this to be necessary to overcome existing crises, which threaten our planetary habitat and the continued existence of humanity as a species. With the 2045 Initiative, we hope to realize a new strategy for humanity's development, and in so doing, create a more productive, fulfilling, and satisfying future.
The "2045" team is working towards creating an international research center where leading scientists will be engaged in research and development in the fields of anthropomorphic robotics, living systems modeling and brain and consciousness modeling with the goal of transferring one's individual consciousness to an artificial carrier and achieving cybernetic immortality.
An annual congress "The Global Future 2045" is organized by the Initiative to give platform for discussing mankind's evolutionary strategy based on technologies of cybernetic immortality as well as the possible impact of such technologies on global society, politics and economies of the future.
Future prospects of "2045" Initiative for society
2015-2020
The emergence and widespread use of affordable android "avatars" controlled by a "brain-computer" interface. Coupled with related technologies "avatars' will give people a number of new features: ability to work in dangerous environments, perform rescue operations, travel in extreme situations etc.
Avatar components will be used in medicine for the rehabilitation of fully or partially disabled patients giving them prosthetic limbs or recover lost senses.
2020-2025
Creation of an autonomous life-support system for the human brain linked to a robot, 'avatar', will save people whose body is completely worn out or irreversibly damaged. Any patient with an intact brain will be able to return to a fully functioning bodily life. Such technologies will greatly enlarge the possibility of hybrid bio-electronic devices, thus creating a new IT revolution and will make all kinds of superimpositions of electronic and biological systems possible.
2030-2035
Creation of a computer model of the brain and human consciousness with the subsequent development of means to transfer individual consciousness onto an artificial carrier. This development will profoundly change the world, it will not only give everyone the possibility of cybernetic immortality but will also create a friendly artificial intelligence, expand human capabilities and provide opportunities for ordinary people to restore or modify their own brain multiple times. The final result at this stage can be a real revolution in the understanding of human nature that will completely change the human and technical prospects for humanity.
2045
This is the time when substance-independent minds will receive new bodies with capacities far exceeding those of ordinary humans. A new era for humanity will arrive! Changes will occur in all spheres of human activity – energy generation, transportation, politics, medicine, psychology, sciences, and so on.
Today it is hard to imagine a future when bodies consisting of nanorobots will become affordable and capable of taking any form. It is also hard to imagine body holograms featuring controlled matter. One thing is clear however: humanity, for the first time in its history, will make a fully managed evolutionary transition and eventually become a new species. Moreover, prerequisites for a large-scale expansion into outer space will be created as well.
Key elements of the project in the future
• International social movement
• social network immortal.me
• charitable foundation "Global Future 2045" (Foundation 2045)
• scientific research centre "Immortality"
• business incubator
• University of "Immortality"
• annual award for contribution to the realization of the project of "Immortality".