/

News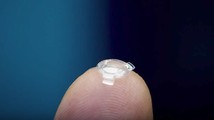 31.08.2017
A Bionic Lens Undergoing Clinical Trials Could Give You Superhuman Abilities In Two Years
Maybe you watched Ghost in the Shell and maybe afterwards you and your friend had a conversation about whether or not you would opt in for some bionic upgrades if that was possible - like a liver that could let you drink unlimitedly or an eye that could give you superhuman vision. And maybe you had differing opinions but you concluded that it's irrelevant because the time to make such choices is far in the future. Well, it turns out, it's two years away.
А Canadian company called Ocumetics Technology Corporation1 is currently doing clinical testing for their Bionic Lens - a medical device that could make glasses and contact lenses obsolete. If everything goes smoothly, the lens could be in your eye-surgeon's hands and in your eyes in two years. And the capabilities it will give you are truly mind-blowing.
The Bionic Lens is a dynamic lens that replaces the natural lens inside the eye via one of the most common and successful procedures in medicine - cataract surgery. Once there, the lens restores clear vision at all distances without any visual quality problems. It can auto-regulate within the eye by connecting to the muscles that change the curvature of our natural lenses, which allows it to focus at different ranges - potentially much wider ranges than our natural sight is capable of. In addition, because the Bionic Lens responds with less than 1/100 the amount of energy of the natural lens, you can also focus on something all day without any strain on the eyes.
The Bionic Lens could improve on the 20/20 vision threefold. Imagine that you can see a clock's dial 10 feet away. With the lens you would be able to see the dial in the same detail when it is 30 feet away. What happens when you combine the super sharp focus and the ability to tune the lens to improve sight well beyond the capabilities of the eye, is that you can see really sharp details at very close distances. If you looked at a tiny sliver of your finger, for example, you would be able to see the cellular detail in it.
What is even more exciting is that the lens is developed with components that allow for further easy access to it and the ability for upgrades and modifications. Like, for example, installing projection systems that will give the user capabilities of projecting their phone screen, or integrating NASA technologies to allow for better focusing resolution than anything seen before, or even installing a system that allows for slow drug delivery inside the eye.
Dr. Garth Webb, the sole innovator behind the Bionic Lens and an optometrist with over 40 years of experience says:
"We have developed the Bionic lens to, in its default mode, make our lives function better in their normal realm and in its augmented capacity to allow for us to integrate seamlessly with the entire digital world. […] My humble perception is, that us human beings will be the center of artificialintelligence activity. So, I believe that we are going to filter and chaperonartificial intelligence that will be either around our head, or on our watch, or maybe both. So, it is, if you will, augmenting the human beyond what wenormally anticipate."
Commenting on the dark side of this technology, Webb notes that, in fact, its absence is what will eventually become the problem, as it provides "unfair" advantage to those who have it.
The early adopters will have to pay about $3200 per lens, excluding the cost of the surgery. The company has already started compiling a list of clinics and surgeons, via referrals, that it will work with.
The Bionic Lens will not be a panacea for all types of eye conditions. It can't treat color-blindness, cloudy corneas, severe macular degeneration, severe genetic retinal diseases or torn or damaged optic nerves. It does provide, however, an upgraded version of our own biological lens, which inevitably deteriorates with age.
Below you can watch Dr. Garth Webb's full presentation of this exciting new invention at the Superhuman Summit 2016.
Tweet
Founded by Russian entrepreneur Dmitry Itskov in February 2011 with the participation of leading Russian specialists in the field of neural interfaces, robotics, artificial organs and systems.
The main goals of the 2045 Initiative: the creation and realization of a new strategy for the development of humanity which meets global civilization challenges; the creation of optimale conditions promoting the spiritual enlightenment of humanity; and the realization of a new futuristic reality based on 5 principles: high spirituality, high culture, high ethics, high science and high technologies.
The main science mega-project of the 2045 Initiative aims to create technologies enabling the transfer of a individual's personality to a more advanced non-biological carrier, and extending life, including to the point of immortality. We devote particular attention to enabling the fullest possible dialogue between the world's major spiritual traditions, science and society.
A large-scale transformation of humanity, comparable to some of the major spiritual and sci-tech revolutions in history, will require a new strategy. We believe this to be necessary to overcome existing crises, which threaten our planetary habitat and the continued existence of humanity as a species. With the 2045 Initiative, we hope to realize a new strategy for humanity's development, and in so doing, create a more productive, fulfilling, and satisfying future.
The "2045" team is working towards creating an international research center where leading scientists will be engaged in research and development in the fields of anthropomorphic robotics, living systems modeling and brain and consciousness modeling with the goal of transferring one's individual consciousness to an artificial carrier and achieving cybernetic immortality.
An annual congress "The Global Future 2045" is organized by the Initiative to give platform for discussing mankind's evolutionary strategy based on technologies of cybernetic immortality as well as the possible impact of such technologies on global society, politics and economies of the future.
Future prospects of "2045" Initiative for society
2015-2020
The emergence and widespread use of affordable android "avatars" controlled by a "brain-computer" interface. Coupled with related technologies "avatars' will give people a number of new features: ability to work in dangerous environments, perform rescue operations, travel in extreme situations etc.
Avatar components will be used in medicine for the rehabilitation of fully or partially disabled patients giving them prosthetic limbs or recover lost senses.
2020-2025
Creation of an autonomous life-support system for the human brain linked to a robot, 'avatar', will save people whose body is completely worn out or irreversibly damaged. Any patient with an intact brain will be able to return to a fully functioning bodily life. Such technologies will greatly enlarge the possibility of hybrid bio-electronic devices, thus creating a new IT revolution and will make all kinds of superimpositions of electronic and biological systems possible.
2030-2035
Creation of a computer model of the brain and human consciousness with the subsequent development of means to transfer individual consciousness onto an artificial carrier. This development will profoundly change the world, it will not only give everyone the possibility of cybernetic immortality but will also create a friendly artificial intelligence, expand human capabilities and provide opportunities for ordinary people to restore or modify their own brain multiple times. The final result at this stage can be a real revolution in the understanding of human nature that will completely change the human and technical prospects for humanity.
2045
This is the time when substance-independent minds will receive new bodies with capacities far exceeding those of ordinary humans. A new era for humanity will arrive! Changes will occur in all spheres of human activity – energy generation, transportation, politics, medicine, psychology, sciences, and so on.
Today it is hard to imagine a future when bodies consisting of nanorobots will become affordable and capable of taking any form. It is also hard to imagine body holograms featuring controlled matter. One thing is clear however: humanity, for the first time in its history, will make a fully managed evolutionary transition and eventually become a new species. Moreover, prerequisites for a large-scale expansion into outer space will be created as well.
Key elements of the project in the future
• International social movement
• social network immortal.me
• charitable foundation "Global Future 2045" (Foundation 2045)
• scientific research centre "Immortality"
• business incubator
• University of "Immortality"
• annual award for contribution to the realization of the project of "Immortality".