/

Фото конкурс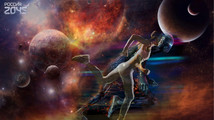 05.10.2012
8. Ксения Комарова. Освоение космического пространства / Ksenia Komarova. Space Exploration
Tweet
Professor Alexander Y.
KAPLAN

Ph.D. in Biology, Head of the Neurophysiology and Neural Interfaces Lab at the Russian State University Biology Department (MGU)

'By the time sustaining a brain artificially becomes possible, bio-robots will have been perfected to the point of looking like a decent human body...'

Sergei V.
Krichevskiy

Doctor of philosophy, professor

One temporary solution, in my opinion, is to create a "cosmic person", and start doing so on Earth, within the "future person" project, as part of the "Russia 2045" Initiative.

Mikhail Y.
YABLOKOV

Ph.D. in Physical and Mathematical Sciences, Senior Researcher of the Heat-Resistant Thermoplastics Laboratory at ISPM (Russian Academy of Sciences), creator of nanosensor neurologic 'Electronic nose' system

'When creating an artificial human, we need to add an emotional trend to the predominant robotics one. It's an all-inclusive idea, and it's in the air...'

Barry
Rodrigue

Professor at the University of Southern Maine, co-chairman of GF2045

"While innovation is often presented as a technological process, it also needs to be applied everywhere and to everything. We need innovation in human affairs, from family relations to business affairs. Innovation has to address both ecological balance of species and destruction of inorganic habitats. Alternatives must be found for warfare and the arms industry. In short, innovation is a process that applies to all existence..."

Dmitry
Itskov

Chairman of the organizing committee of the political party "Evolution 2045", founder of the movement "Russia 2045", president of the congress GF2045

Do you remember The Surrogates movie? It perfectly demonstrates the abilities of a mind-controlled artificial human body, or an avatar. It is what our project is all about. The Surrogates' screenwriters were not consistent enough (probably due to the lack of imagination) in the evolution of their ideas. There is no doubt that the mankind needs an avatar.

Sergey
Pereslegin

Researcher, fiction and alternate history theorist. Is a literary critic and political essayist, sociologist, socionics specialist and military historian

"Project 2045 also requires enormous engineering support. And I would claim that both for Russia and for the entire world, the only possibility of overcoming the phase barrier is not to solve biological tasks, not biotechnology, but to solve the task for maintaining engineering for the critical period of 20 years".

Nick
Bostrom

PhD, Professor of Oxford University, co-founder (with David Pearce) of the World Transhumanist Association

"The digital path [of extreme longevity] would be, if we could develop technology eventually to do human whole brain emulation, where we would create a very detailed model of a particular human brain and then emulate that in the computer, where we would have an indefinite life span potential, we could make backup copies and so forth..."

Witali L.
Dunin-Barkowski

Doctor of physics and mathematics, Head of the Department of Neuroinformatics at the Center for Optical Neural Technologies of the Scientific Research Institute for System Analysis of the Russian Academy of Sciences

' If the job is to be taken seriously, we can get a detailed model of a brain prototype within five years or so. And since many research areas concerned with the subject develop in parallel, it may well be that we can achieve these results even faster...'

Alexander A.
Frolov

Professor, head of the laboratory in the Institute of Higher Nervous Activity and Neurophysiology RAS

'The problem of creating artificial memory devices capable of storing the natural memory of a given individual is, understandably, complex but by no means unsolvable...'

Dmitry A.
SHAMENKOV

President of the Center for Cellular and Biomedical Technologies, First Moscow Medical University and expert on the conscious management of health, biotherapy and the prevention of aging

'The body gradually becomes artificial; new tissues replace existing ones, and new media, somehow extending the limits of our body, are being invented. Of course, man and technology are being knitted together. Step by step, we are moving towards the formation of a cybernetic organism...'

Professor Boris K.
GAVRILYUK

Ph.D. in Medicine, Head of the Cells and Tissues Growth Laboratory of Theoretical and Experimental Biophysics (Russian Academy of Sciences)

"For skin on a cyborg, you simply need to create a nutrition system. And basically . . . we are not really complex in design! There are only a few systems: the circulatory system carries oxygen and nutrients; the excretory system extirpates the waste. The rest is end-effectors. To begin we can create a very simple living organism—then, later, more complex systems. . . ."

Dmitry H.
BULATOV

Artist, art theorist, Curator of the National Center of Contemporary Arts (Kaliningrad branch)

'In the near future, hybrid combinations of living and nonliving elements will help to recover lost or missing original features. And of course, greatly enhance them in comparison to the usual ones...'

Sergey
Jukov

Head of the Space Technology and Telecommunications Cluster at the Skolkovo

"I am absolutely convinced that the movement "2045' happened exactly at the right time and the right place as I believe in the great future for Russia, in her success after temporary difficulties".
More opinions