/

Фото конкурс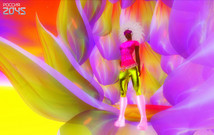 05.10.2012
16. Yarosh Nohkan. Аватар Г. Виртуальная реальность / Yarosh Nohkhan. Avatar D. Virtual Reality
Tweet
Timour N.
SHCHOUKINE

"2045" Initiative Coordinator in Russia, Ph.D. in Psychology

'The world is at the point when the functions humans consider to be their essential attributes (thinking, decision making, emotions) are on the edge of being finally alienated. Soon they will be performed by artificial systems...'

Sergey
Pereslegin

Researcher, fiction and alternate history theorist. Is a literary critic and political essayist, sociologist, socionics specialist and military historian

"Project 2045 also requires enormous engineering support. And I would claim that both for Russia and for the entire world, the only possibility of overcoming the phase barrier is not to solve biological tasks, not biotechnology, but to solve the task for maintaining engineering for the critical period of 20 years".

Viktor F.
Petrenko

Correspondent member of RAS, professor of the Moscow State University, head of the laboratory "Psychology of communications and psychosemantics" (MSU)

"I think that as a working hypothesis, it is possible that forms of contacts with highly advanced civilizations are possible as a result of this profound meditation..."

Sergey
Jukov

Head of the Space Technology and Telecommunications Cluster at the Skolkovo

"I am absolutely convinced that the movement "2045' happened exactly at the right time and the right place as I believe in the great future for Russia, in her success after temporary difficulties".

Maxim
Kalashnikov

Russian futurologist writer, journalist

"This is something that nobody in the world could pass up. Creation of super- and posthuman, I believe, is a gaining of new strength while saving from degeneration and extinction, . This could potentially make Russia the world leader…'

Nick
Bostrom

PhD, Professor of Oxford University, co-founder (with David Pearce) of the World Transhumanist Association

"The digital path [of extreme longevity] would be, if we could develop technology eventually to do human whole brain emulation, where we would create a very detailed model of a particular human brain and then emulate that in the computer, where we would have an indefinite life span potential, we could make backup copies and so forth..."

Alexander A.
Frolov

Professor, head of the laboratory in the Institute of Higher Nervous Activity and Neurophysiology RAS

'The problem of creating artificial memory devices capable of storing the natural memory of a given individual is, understandably, complex but by no means unsolvable...'

Akop Pogosovich
Nazaretyan

Ph.D. philosopher and psychologist, editor-in-chief of Historical Psychology and Sociology magazine, and a professor at Moscow State University

"The intelligence of modern man is an artificial intelligence . . ."

Professor Sergey V.
VARFOLOMEEV

Ph.D. in Chemistry, Head of the Chemical Enzymology Department at the Moscow State University, corresponding member of the Russian Academy of Sciences, Director of the Institute of Biochemical Physics (Russian Academy of Sciences)

'An electronic version of the brain is needed. The physical brain, in my opinion, can not be a subject of study, since it is very subtle. But an electronic analog having all the receptor equipment and the same story, incentives, motivation - it might be very interesting...'

Dmitry A.
SHAMENKOV

President of the Center for Cellular and Biomedical Technologies, First Moscow Medical University and expert on the conscious management of health, biotherapy and the prevention of aging

'The body gradually becomes artificial; new tissues replace existing ones, and new media, somehow extending the limits of our body, are being invented. Of course, man and technology are being knitted together. Step by step, we are moving towards the formation of a cybernetic organism...'

Anders
Sandberg

Researcher, science debater, futurist, transhumanist, and author

"... I certainly think that practical benefits of being able to live for ever, if I transmit myself digitally, I will be able to run on bodies which are not biological or enhanced biological and be able to backup copies in case, if something goes wrong, would be enormous. So, I think, that in the future I am hoping to be software..."
More opinions