/

Фото конкурс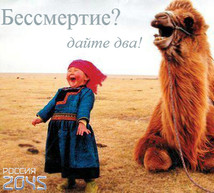 08.10.2012
6. Доктор Манхеттен. Бессмертие? Дайте два! / Doctor Manhattan. Immortality? Give me two!
Tweet
Dmitry H.
BULATOV

Artist, art theorist, Curator of the National Center of Contemporary Arts (Kaliningrad branch)

'In the near future, hybrid combinations of living and nonliving elements will help to recover lost or missing original features. And of course, greatly enhance them in comparison to the usual ones...'

Akop Pogosovich
Nazaretyan

Ph.D. philosopher and psychologist, editor-in-chief of Historical Psychology and Sociology magazine, and a professor at Moscow State University

"The intelligence of modern man is an artificial intelligence . . ."

Professor Boris K.
GAVRILYUK

Ph.D. in Medicine, Head of the Cells and Tissues Growth Laboratory of Theoretical and Experimental Biophysics (Russian Academy of Sciences)

"For skin on a cyborg, you simply need to create a nutrition system. And basically . . . we are not really complex in design! There are only a few systems: the circulatory system carries oxygen and nutrients; the excretory system extirpates the waste. The rest is end-effectors. To begin we can create a very simple living organism—then, later, more complex systems. . . ."

Sergey
Jukov

Head of the Space Technology and Telecommunications Cluster at the Skolkovo

"I am absolutely convinced that the movement "2045' happened exactly at the right time and the right place as I believe in the great future for Russia, in her success after temporary difficulties".

Witali L.
Dunin-Barkowski

Doctor of physics and mathematics, Head of the Department of Neuroinformatics at the Center for Optical Neural Technologies of the Scientific Research Institute for System Analysis of the Russian Academy of Sciences

' If the job is to be taken seriously, we can get a detailed model of a brain prototype within five years or so. And since many research areas concerned with the subject develop in parallel, it may well be that we can achieve these results even faster...'

Anders
Sandberg

Researcher, science debater, futurist, transhumanist, and author

"... I certainly think that practical benefits of being able to live for ever, if I transmit myself digitally, I will be able to run on bodies which are not biological or enhanced biological and be able to backup copies in case, if something goes wrong, would be enormous. So, I think, that in the future I am hoping to be software..."

Professor Vyacheslav Y.
RYABININ

Ph.D. in Biology, Inventor of the "Bioartificial liver" device

Dmitry
Itskov

Chairman of the organizing committee of the political party "Evolution 2045", founder of the movement "Russia 2045", president of the congress GF2045

Do you remember The Surrogates movie? It perfectly demonstrates the abilities of a mind-controlled artificial human body, or an avatar. It is what our project is all about. The Surrogates' screenwriters were not consistent enough (probably due to the lack of imagination) in the evolution of their ideas. There is no doubt that the mankind needs an avatar.

Professor Sergey V.
VARFOLOMEEV

Ph.D. in Chemistry, Head of the Chemical Enzymology Department at the Moscow State University, corresponding member of the Russian Academy of Sciences, Director of the Institute of Biochemical Physics (Russian Academy of Sciences)

'An electronic version of the brain is needed. The physical brain, in my opinion, can not be a subject of study, since it is very subtle. But an electronic analog having all the receptor equipment and the same story, incentives, motivation - it might be very interesting...'

Mikhail Y.
YABLOKOV

Ph.D. in Physical and Mathematical Sciences, Senior Researcher of the Heat-Resistant Thermoplastics Laboratory at ISPM (Russian Academy of Sciences), creator of nanosensor neurologic 'Electronic nose' system

'When creating an artificial human, we need to add an emotional trend to the predominant robotics one. It's an all-inclusive idea, and it's in the air...'

Maxim
Kalashnikov

Russian futurologist writer, journalist

"This is something that nobody in the world could pass up. Creation of super- and posthuman, I believe, is a gaining of new strength while saving from degeneration and extinction, . This could potentially make Russia the world leader…'

Sergei V.
Krichevskiy

Doctor of philosophy, professor

One temporary solution, in my opinion, is to create a "cosmic person", and start doing so on Earth, within the "future person" project, as part of the "Russia 2045" Initiative.
More opinions