/

Nomination №2. Motivator illustrations

08.10.2012

The "Neo-humanity" illustration competition.

Cast your vote!

Nomination #2. Motivator illustrations - Microsoft Xbox 360 250Gb + Kinect.

Voting conditions:

1. The online voting will last for two weeks. The winners from each categpru will be announced on Tuesday, 23 October.

2. You may only vote once in each category and for only one illustration.

3. Only members of the "2045" Initiative may vote.

We wish all of the nominees good luck!

Let's go!

1. Ivan Kolchanov. Compromise

Electronic brains? Better than no brains at all.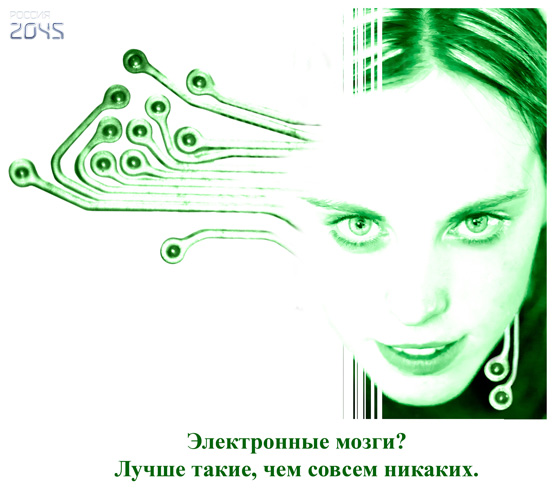 2. Ivan Kolchanov. Avatar for a cat
"When are they going to solve the problem of avatars for cats?!!!" The future will confront us with different challenges. ))))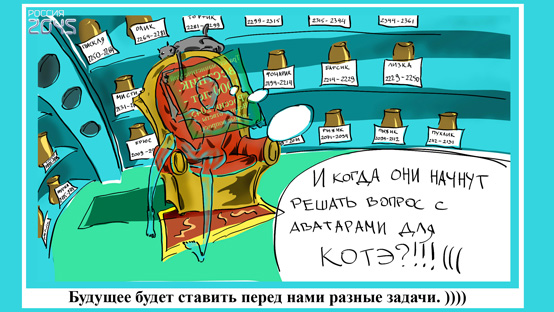 3. Anna Zavrazina. Eternal love
Don't part with your love ones. Resurrect your love ones. Avatar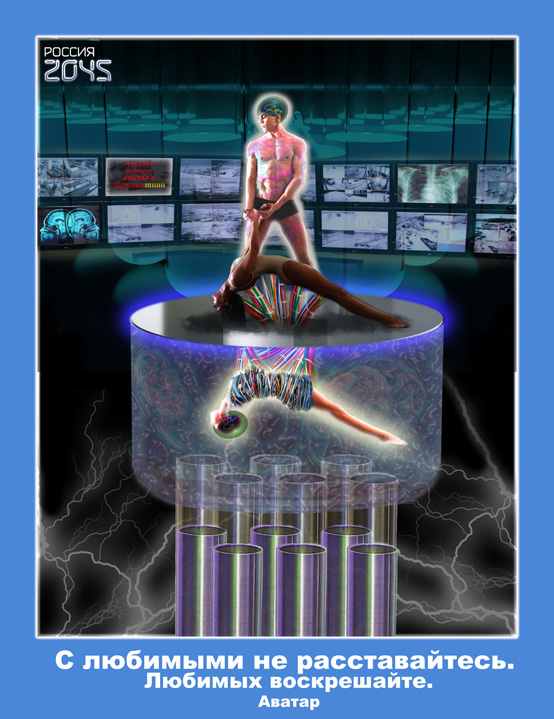 4. Doctor Manhattan. Neosapiens take care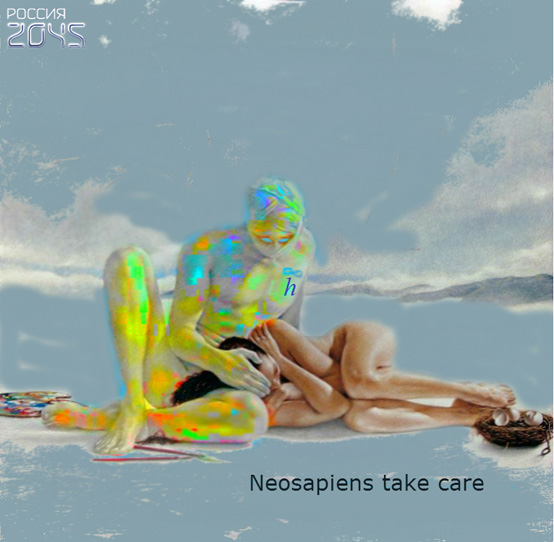 5. Doctor Manhattan. Children of the future
We are the children of the future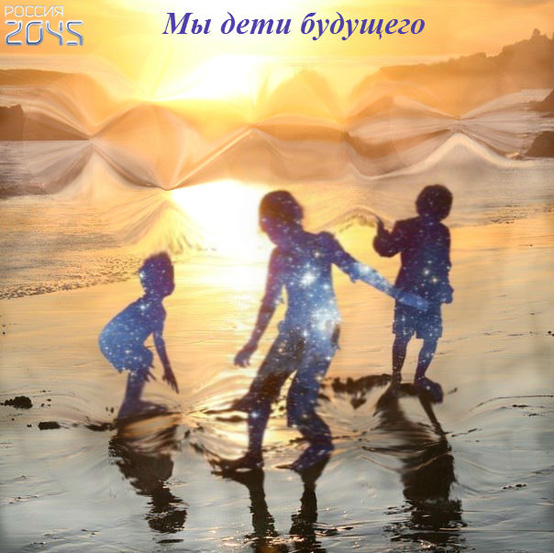 6. Doctor Manhattan. Immortality? Give me two!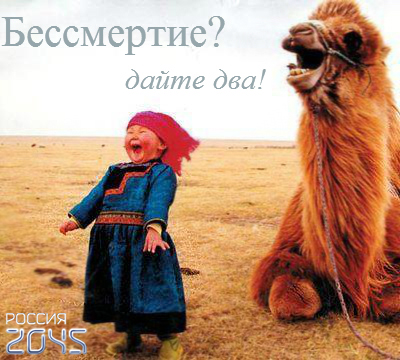 7. Slonchak. Are you ready for the future?
Immortal, Eternal, Unlimited , New powers and Capabilities, Youth, Excellent, Vision, Touch, Taste, Tactile, Feelings, A new look at the world And yourself in it, Revealing New Limits to Yourself, Conquering time and space, The New Human, New Society, No Wars No Hunger No Death, An Ideal World Of Perfect People, Who Do Not Know Pain and Fear, Rage and Anger, The Era of the Human, Of Reason, All Culture, All History, All Art, Music, Literature, Painting, Inside Human Beings Themselves, Unlimited Access to the Works and Knowledge of Humanity, Life and Prosperity of the Human Being, The Main Value of the New Civilization, The Foundation, Perfection of the World and Yourself Of Order Moving Beyond the Limits, Of the Possible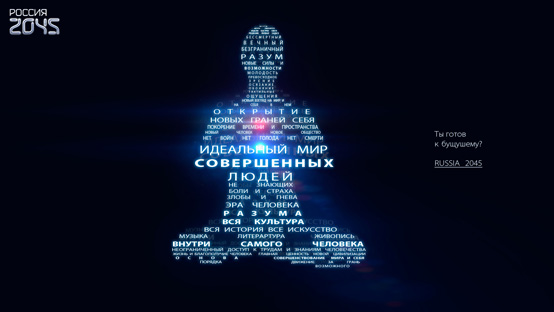 Tweet
Sergey
Jukov

Head of the Space Technology and Telecommunications Cluster at the Skolkovo

"I am absolutely convinced that the movement "2045' happened exactly at the right time and the right place as I believe in the great future for Russia, in her success after temporary difficulties".

Viktor Yurievich
Argonov

Ph.D. in Physical and Mathematical Sciences, Senior Researcher of the V.I.Il`ichev Pacific Oceanological Institute (Russian Academy of Sciences), composer, philosopher

"I think that before initiating a radical cyborgization of the brain, you have to find the neural correlate of consciousness. Does it have a physical or purely informational nature in the form of neurosignals? Is there a group of neurons that is directly responsible for consciousness? Or perhaps consciousness is produced by still smaller elements within neurons. . . ."

Professor Sergey V.
VARFOLOMEEV

Ph.D. in Chemistry, Head of the Chemical Enzymology Department at the Moscow State University, corresponding member of the Russian Academy of Sciences, Director of the Institute of Biochemical Physics (Russian Academy of Sciences)

'An electronic version of the brain is needed. The physical brain, in my opinion, can not be a subject of study, since it is very subtle. But an electronic analog having all the receptor equipment and the same story, incentives, motivation - it might be very interesting...'

Timour N.
SHCHOUKINE

"2045" Initiative Coordinator in Russia, Ph.D. in Psychology

'The world is at the point when the functions humans consider to be their essential attributes (thinking, decision making, emotions) are on the edge of being finally alienated. Soon they will be performed by artificial systems...'

Alexander A.
Frolov

Professor, head of the laboratory in the Institute of Higher Nervous Activity and Neurophysiology RAS

'The problem of creating artificial memory devices capable of storing the natural memory of a given individual is, understandably, complex but by no means unsolvable...'

Dmitry H.
BULATOV

Artist, art theorist, Curator of the National Center of Contemporary Arts (Kaliningrad branch)

'In the near future, hybrid combinations of living and nonliving elements will help to recover lost or missing original features. And of course, greatly enhance them in comparison to the usual ones...'

Akop Pogosovich
Nazaretyan

Ph.D. philosopher and psychologist, editor-in-chief of Historical Psychology and Sociology magazine, and a professor at Moscow State University

"The intelligence of modern man is an artificial intelligence . . ."

Mikhail Y.
YABLOKOV

Ph.D. in Physical and Mathematical Sciences, Senior Researcher of the Heat-Resistant Thermoplastics Laboratory at ISPM (Russian Academy of Sciences), creator of nanosensor neurologic 'Electronic nose' system

'When creating an artificial human, we need to add an emotional trend to the predominant robotics one. It's an all-inclusive idea, and it's in the air...'

Professor Alexander Y.
KAPLAN

Ph.D. in Biology, Head of the Neurophysiology and Neural Interfaces Lab at the Russian State University Biology Department (MGU)

'By the time sustaining a brain artificially becomes possible, bio-robots will have been perfected to the point of looking like a decent human body...'

Professor Vyacheslav Y.
RYABININ

Ph.D. in Biology, Inventor of the "Bioartificial liver" device

Vladimir A.
KONYSHEV

President of Neyrobotiks

'The transfer of the brain into an artificial body, more enduring, more perfect, is the only way the human race to stay on Earth...'

Viktor F.
Petrenko

Correspondent member of RAS, professor of the Moscow State University, head of the laboratory "Psychology of communications and psychosemantics" (MSU)

"I think that as a working hypothesis, it is possible that forms of contacts with highly advanced civilizations are possible as a result of this profound meditation..."

Professor Aleksandr A.
BOLONKIN

Ph.D. in Technical Sciences

'An artificial mechanical body will have great power and withstand extreme environmental conditions: high temperature, pressure, radiation, space...'

Anders
Sandberg

Researcher, science debater, futurist, transhumanist, and author

"... I certainly think that practical benefits of being able to live for ever, if I transmit myself digitally, I will be able to run on bodies which are not biological or enhanced biological and be able to backup copies in case, if something goes wrong, would be enormous. So, I think, that in the future I am hoping to be software..."
More opinions